Are you considering opening a used Bookshop, terrific?
The world needs more brave souls, especially the type that thinks they can make their community a better place to live in by making available great books at a decent price. If you're like I was in the months leading up to your opening you must be craving insight, information and tips on things to be wary of. I like to think that you've come to the right place.
The Bookshop Blog is full of articles written by successful book dealers just like this one on Universal Truths by George of Fairs Fair Books. Take notice though, I don't want your shop to end up like mine, closed. If you don't want your shop to fail (– who does?) then take to heart some lessons by one who knows what it feels like to hang a sign in his window saying:
"Thanks to all those who have supported us, our shop is now Permanently Closed. Best wishes to all of you."
There are plenty of success stories out there and I can confidently tell you that making a used bookshop work is not impossible, even during tougher times. What you don't often hear is a story from a failed dealer explaining his mistakes. I've made a few and I don't want you to do the same. First of all I want you to know that I don't consider my bookshop to be a complete failure, only a partial one.
I still own the business; it has just evolved into an Online only enterprise as this suits my present circumstances better. I also met a great number of terrific folks and built a certain reputation for myself in the community that I can take pride in. I'm often stopped in the supermarket or post office and asked (sincerely) how things are, how the baby is etc.
I have four things to talk about, things that I would love to see you do better than I did. First though, a very brief biography of our shop is in order. Zeeba Books is the name and although I never had a lifelong dream of opening a book store, I am the type that loves to work for myself, be in control of my destiny and had no fear of the challenges that this task would present.
We managed to stay open for almost four years, plenty enough time to learn a thing or two about the trade. We met a lot of great folks and were quite appreciated by the few book lovers that regularly made use of our place. We were an Internet-Café-Bookshop, and I highly suggest that all bookshops add a couple Internet stations if you have the technical ability.
The price of computers and Internet access has come down quite a bit but typical rates for accessing the Net from coffee shops has not. It has remained near $4.00 – $5.00 an hour. It can easily add a few hundred dollars a month to your bottom line. We often had couples come in because the wife needed Net access to check on her work email and to kill time the husband would buy a book or two. (one of many examples of crossover buying).
The real problem came down to cash flow and starting a family. When cash gets smaller while your family gets bigger it's not a great situation. So we made the big decision to pack up 'The Dream' and find some gainful employment. I'm fortunate to have a background in software troubleshooting and tweaking so finding a good career (with good benefits) wasn't too difficult.
Let's move on to the point of this story, the mistakes I don't want to see you making. In no particular order here are four of the things I should have done differently.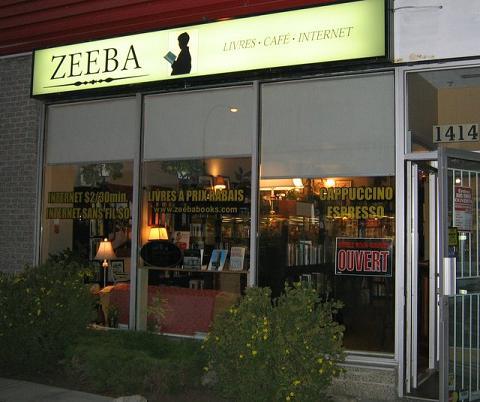 Location, Location and Location. As eluded to earlier George wrote a nice piece about this. The decision we made was to open in a smaller than ideal location (under 1000 sq. ft) on a busy avenue that was across the street from a grocery store but had no foot traffic on our side. We assumed that starting small would minimize our risk if things should go sour. It did actually, when closing it was easy to sub-let the spot but I strongly believe that it was the main reason for our demise. We should have risked more and opened in the quaint village down the street, in as big a place as we could have found. Here's a simple reasoning to explain the size factor. We would have ladies come in and browse our cookbook selection of about 250 books. Often they would not see anything that got their attention and walk out. If this section had 2 000 books in it I'm pretty sure that they would have made a purchase. So don't go small, go big or go home. And you MUST have foot traffic. Hardly a soul would bother to make the harrowing journey across the street and I know. I watched hundreds of them walk in and out of that supermarket every day.
Window Display/Signage. I had a huge window that I did not take full advantage of. It should have had 'BOOKS' in the largest letters that I could find. My sign, though elegant and well lit had our name 'Zeeba' and in smaller letters 'livres-cafe-Internet'. No one ever noticed it. There is a lady with a shop in a neighbouring community that has a giant sign that says BOOKS!. That's what I should have done. Skip the cute and elegant, go BIG and to the point on your signage and in your window. Scream out what people can expect to find in your shop. Never have somebody walk in and say, 'What do you do here?'.




This one is a little more minor but do all you can to watch cash flow. Cash needs to be coming in all the time. One tweak you can do is the trade/credit policy. We did a straight credit system. Give me $20.00 worth of books and you can spend your credit as you see fit. What I should have done is state that they could use up to 50% of their credit against any book purchase. That way I always have $$$ coming in. I had some quiet nights where I saw many books leave our store and the cash till never opened.
This is the most important of all and probably the most difficult to admit. You absolutely have to squash your ego as the business opens. I sat on my stool by the cash looking at my beautiful, charming, well lit, cozy, well stocked, Empty store thinking about how beautiful it was. I always assumed that once a few people came in and saw what a charming place we had, what great prices and great stock that it would be inevitable that everyone that read would be eager to come by. My arrogance told me that I built a sweet store and everyone will love it, my work is done. What I needed to do was bust my behind, going door to door if I had to telling everyone about the shop. I should have stood outside and gave away pocketbooks, I should have been at the mall talking up the place, I should have been at all the local sporting events…I should have screamed to everyone within 100 miles telling them to come by for a visit. Honestly I had one lady that literally lived around the corner coming by our shop, In Our Third Year!, saying that she had no idea we existed – and she was a very avid reader. Ouch. There is a great restaurant makeover show called Kitchen Nightmares (or Ramsay's kitchen nightmares – the original British show) where Chef Ramsay helps a floundering business get on its feet. Part of every show includes a promotion of some sort where they attend or sponsor some type of event to get the word out. You Must get the word out yourself consistently. Word of mouth is terrific and I still think it's the best advertising for a small shop. I also still advise against spending on traditional advertising but you and your friends need to be very visible in your community. Don't do as I did and sit on your comfy chair with your fat head thinking – let them come to me, I don't need to beg or grovel for clients. It's not begging it's just part of business and it's your business so get out there! Watch two or three episodes of Kitchen Nightmares (rent them or view online if you must) then look around your shop like Chef Ramsay might and think objectively 'what can I do to get this ball rolling?'.
I sincerely hope this helps one or two of you. As for myself I'm quite happy in my new surroundings, happy to be working with software again and of course, thrilled to still be in the book business. In fact I am sitting in my floor to ceiling library that I use as an office writing this, it feels nice being surrounded by old friends. Please feel free to offer any comments or observations that you think may also help out new or potentially new owners.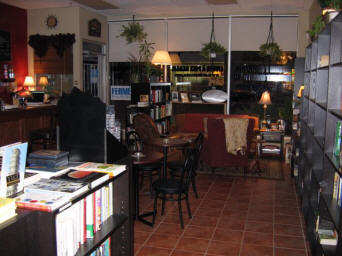 ***  I received this comment by George this morning (he wrote the post on Universal Truths mentioned above). I feel the comment ads much to this post and should be included within so that none will miss it. Here it is.
********************
Hi Bruce – I am devastated by your news and not only because I had been making plans to visit your shop in Montreal sometime in 2010.
I definitely feel the pain associated with your words ""Thanks to all those who have supported us, our shop is now Permanently Closed. Best wishes to all of you."
The website you have developed is outstanding and hopefully you will continue to provide the articles providing so much valuable information to all of us in the book business – none of us will every know enough so more information is always appreciated.
Here it is just after 3:00 AM in Calgary and for no paticular reason I couldn't sleep after closing our Mount Royal shop at 9:00 PM and your news is compounding the problem.
We have had many used books stores close in our area over the past couple of years and McNally Robinson abandoned our city in August 2008. Most of the stores complained about landlords increasing their rents exhorbitantly but that is usually the easiest thing to complain about because it is so "in your face".
I think all of us are lured into the book business because of an unfathomable and unreasonable love of books we picked up somewhere along the way. Unfortunately, it turns out there is a HUGE component of business to the book business and most of us are ill-prepared and often oblivious to all the facets we have to learn in that area – on top of the fact we quickly learn the book business itself is so broad and has so much depth we will never learn more than a sliver of it!
In my twenty years in the business I have not met another dealer who didn't have something to teach me – from display to signage to location to customer relations to general outlook on life. Book dealers are generally a minority in the population at large in that most of them would be considered well-read and quite studious by nature – but it is possible to make that a fatal double-edged sword if you get lost in the learning and allow very much of the dogwork required to slide.
Your points – Yes, the word BOOKS in large letters on a sign is like a magnet to book lovers – sandwich boards and window displays stop traffic.
Cash flow is a problem for almost any retail business and allowing people to just trade for other books is a hazard of the trade. I have mentioned to some customers that I still don't know if what we are doing makes much sense – allowing a customer the option of rolling their books over in trades so that they can get a quantity of books worth a new value of $400 for books we would normally buy for $100 cash. Some book stores I have been in did not allow any trades – they just bought books for cash. I still feel there is a tipping point where the trade option – especially for books they purchased from you – tends to lock in customers over the long term.
As for getting the word out – anything you can do along that line is worthwhile. During our 2nd-5th years in business we had up to two flea market stalls sending customers to our first store – the flea markets tripled our sales the second year, doubled them again the third year and I don't fully recall why we ever shut them down – it was probably a mistake.
Another couple of suggestions I would make to anyone who wants to go into the book business – There is little point in arriving with an outstanding work ethic, and then ramp it up a bit – work your A** off and learn to look forward to and love change because books that sell today won't tomorrow and books that stop selling today will sometimes get hot again. Don't turn down Gor books, Conan, Harry Potter, Dr. Seuss, Pride & Prejudice, most of the classics for that matter, Think & Grow Rich, The Magic of Thinking Big, The E-Myth and The E-myth Revisited, Gurdjieff, Ouspensky, Lobsang Rampa, Freud & Jung and any books relating to them, etc., etc.
I know a Children's and a Young Adult Section present a difficult challenge but they drag in all the parents, grandparents, aunts, and uncles who have ever been touched by a book and would like to share memories of something really special in their lives.
Bruce – I still hope we can meet someday, hell I'll only be 70 this year – my mentor was 80 when I met him, and if you keep your blog going I will be among the many in your debt.
If the internet sales aspect can keep you in the book business it will one of the few nice things I will have to say about it. I wish you well.