While it's not common to have a bookshop near you that contains the perfect combination of sage advice and adventure books (not to mention ladders a la Disney's Beauty and the Beast), many writers have given us enchanting bookshops within their books. Here are six of our favorite fictional bookshops in literature.  
Carl Conrad Coreander's bookshop in The Neverending Story 
Michael Ende's classic 1979 German fantasy novel (translated into English as The Neverending Story) invites us into the interior of Carl Conrad Coreander's bookshop. This eccentric shop and its owner have an uncanny way of knowing what type of books a reader needs. In the case of The Neverending Story, the main character, Bastian Balthazar Bux, steals the Neverending Story book and goes on an adventure like no other.                                                                                                                                                        
The Bookshop From If on a Winter's Night a Traveller
Italo Calvino's 1979 work If on a Winter's Night a Traveller (Se una notte d'inverno un viaggiatore in the original Italian) can definitely be described as being meta. A postmodern work in the form of a frame story, the book starts by following you (the reader) as you start reading a book before realizing that it's the wrong book and then taking the book (the book you're currently reading) back to the bookshop.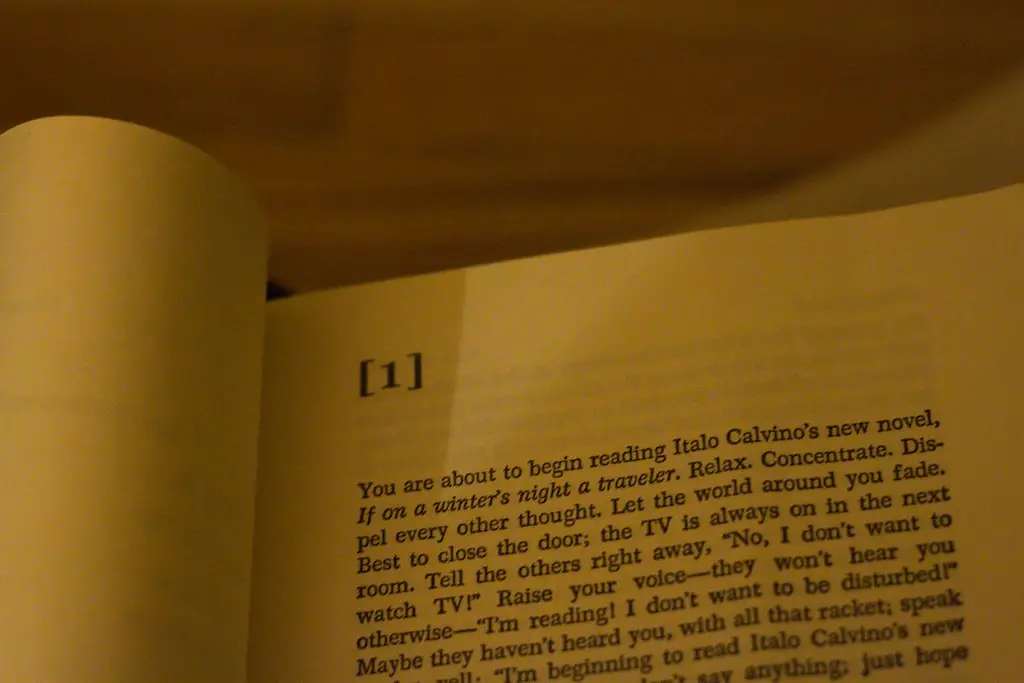 If you're looking for a book with a bit more teeth and will leave you thinking, If on a Winter's Night a Traveller is perfect. Follow it up with Calvino's Cosmicomics and some of Umberto Eco's works, like The Name of the Rose, for some awesome 20th-century Italian literature that will keep you up way past your bedtime.
Mr. Penumbra's 24-Hour Bookstore 
Mr. Penumbra's 24-Hour Bookstore is a Winner of the Alex Award, a finalist for the Los Angeles Times Book Prize for First Fiction, and named a Best Book of the Year by NPR, Los Angeles Times, and San Francisco Chronicle—and we're not surprised. Also, who doesn't want a 24-hour bookstore in their neighborhood? Because sometimes, you need the next installment of your book series when you finish a volume at 3 A.M. 
Mr. Penumbra's bookstore seems as much a curiosity shop as a bookshop, and who doesn't love peeking into the corners of obscure bookshops, especially when the bookshop is a front for something a lot larger.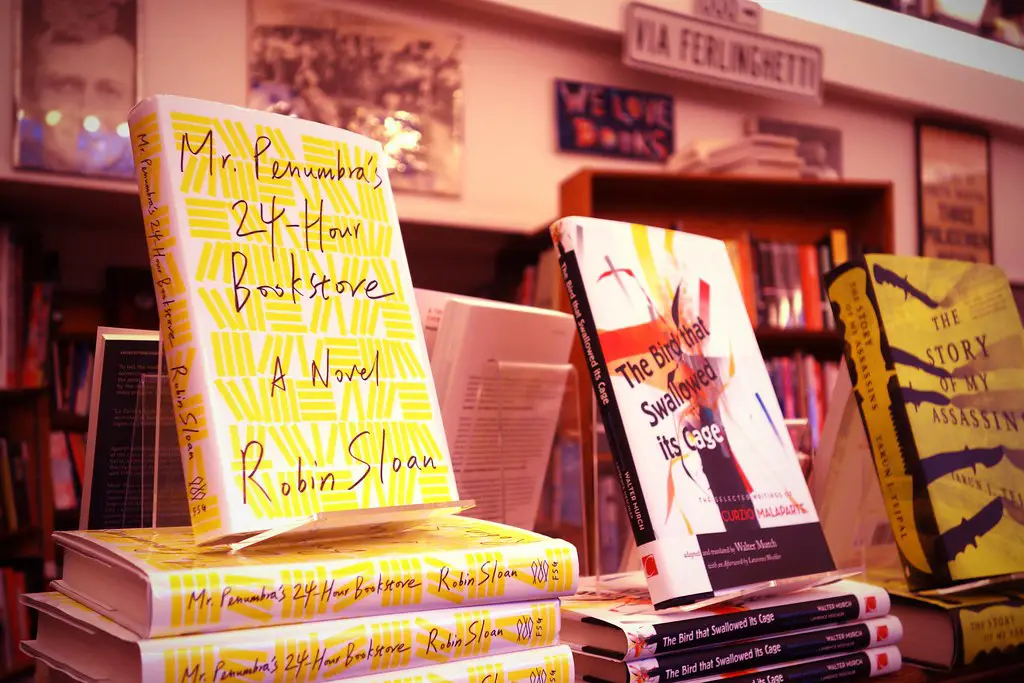 This novel is called "an ode to the beauty of dead-tree books" by The New York Times review and we heartily agree. There is something about bookshops in the "real world"—whether they sell only new books, secondhand books, or a mixture of the two—that remain a magical treasure trove. Who knows what you might learn from a book in your local bookstore, not to mention what you may come across when browsing the books contained in Mr. Penumbra's 24-Hour Bookstore!
Flourish and Blotts From Harry Potter 
All bookworms know about the magic contained in a bookshop. The ones that tingle down your spine when you find the perfect book, the perfume of paper and ink (and sometimes even leather), but Flourish and Blotts in Diagon Alley from the Harry Potter books contains actual magical books. In need of a grimoire for class? Then this is where you need to go, and it makes a delightful change from buying boring textbooks for subjects you dislike in real life! 
Parnassus on Wheels 
Written by Christopher Morley and first published in 1917, Parnassus on Wheels is a story about a traveling book-selling service. This book-filled wagon, drawn by a horse called Pegasus, is another reference to Greek myth (Parnassus refers to Greek mythology in which Mount Parnassus is the home of the Muses).
The whimsy of the books is also shown in the verse advertisement for the fictional book wagon bookstore: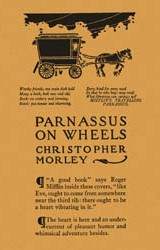 ROGER MIFFLIN'S
TRAVELLING PARNASSUS
Worthy friends, my wain doth hold
Many a book, both new and old;
Books, the truest friends of man,
Fill this rolling caravan.
Books to satisfy all uses,
Golden lyrics of the Muses,
Books on cookery and farming,
Novels passionate and charming,
Every kind for every need
So that he who buys may read.
What librarian can surpass us?
MIFFLIN'S TRAVELLING PARNASSUS
By R. Mifflin, Prop'r.
Star Job Print, Celeryville, Va.
Monsieur Labisse's Bookshop From The Invention of Hugo Cabret 
Massive, filled to the brink with books and a wise proprietor (in the form of Monsieur Labisse)—what's not to love? The bookshop in the train station, as seen in the movie adaptation of The Invention of Hugo Cabret—Hugo—gives an idea of the shop's scope and, wow, wouldn't we all enjoy browsing all those piles and piles of exquisite hardback books! 
And let's not forget the touching scene between Monsieur Labisse and Hugo when the Monsieur gifts Hugo the volume of Robin Hood containing stories that Hugo and his father used to read together. 
Conclusion 
With more and more books (and ebooks) being bought online, we can miss out on the magic that only brick-and-mortar bookstores or specialty bookstores can give. Reading about these bookstores—whether they're filled with magical grimoires or everyday books—lets us remember why we love our local bookshops in the first place. They're all filled to the brim with the magic that only books can give.