by Jas Faulkner
writer's note: Abject apologies to Diane.  This is late and I am sorry.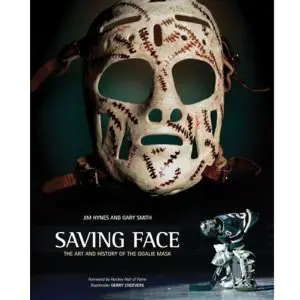 The email -the second this month asking me about  hockey books- came from Sam and Tab.  Someone brought in copies of "Saving Face: The Art and History of the Goalie Mask" and "Shooting Stars: Photographs of the Portnoy Collection at the Hockey Hall of Fame" and wanted to know if I thought they had a chance of selling them.  In "God, Flag, and Football" country that Mississippi can be, I told them to get them for their own enjoyment while they're at work and hope someone from Southaven, current home of the River Kings, might take an interest and buy them.  Neither of the girls are particularly interested in hockey, but both love sports photography and these books have some shots that would be assessed as gorgeous by anyone who loves looking at beautifully composed pictures.
Even though the two books Sam asked about are thoroughly researched and well written, it brings to mind the fact that , as we get closer to the biggest gift buying and giving time of the year in North America, a whole section of books that are meant to be seen and not heard- er- read will make an appearance on sales tables at brick and mortar stores all over the continent.