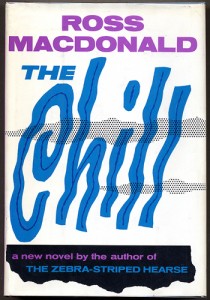 This is the very reason it took me so long to create the Best 100 Mysteries of All Time list. I keep reading. If I keep reading, especially vintage crime fiction, I'm bound to hit a couple of  'holy crap!' books along the way. A 'holy crap' is one where at the end I yell, holy crap!  More likely in language a bit more salty. I finished a 'holy crap!' book about one hour ago, and felt I needed to express my frustration at not being able to add, switch, change, or somehow acknowledge the book in that list.
But the very fact that so many books are that good, should make me happy. And it does, while reading. However, my thinking tank starts placing it before one book, or after another, knocking something off, but then I think, 'no, that book was really fascinating, book B should go, and so on.' And the list would never be finished. I had to end that kind of thinking, and set the list, without room for more reads down the line.
The Chill, Ross MacDonald, 1963 shouldn't have been that good. I've read Kenneth Millar before. Millar as Ross MacDonald has been praised as the next thing to Hammett and Chandler in PI stories. But I've not found him that compelling. Good, not great. I think his wife, Margaret Millar is a far superior writer, who although acknowledged by the mystery community, hasn't the place in history her husband enjoys. They both came from a little Canadian town, married and moved to Southern California, where most of their books are set. His is the straight forward detective tale, hers are more psychological and character driven.  Her stories are haunting, and not easily forgotten. Or they can be funny as hell.