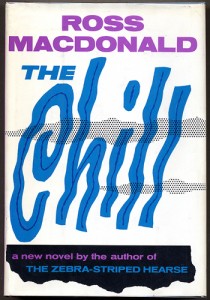 This is the very reason it took me so long to create the Best 100 Mysteries of All Time list. I keep reading. If I keep reading, especially vintage crime fiction, I'm bound to hit a couple of  'holy crap!' books along the way. A 'holy crap' is one where at the end I yell, holy crap!  More likely in language a bit more salty. I finished a 'holy crap!' book about one hour ago, and felt I needed to express my frustration at not being able to add, switch, change, or somehow acknowledge the book in that list.
But the very fact that so many books are that good, should make me happy. And it does, while reading. However, my thinking tank starts placing it before one book, or after another, knocking something off, but then I think, 'no, that book was really fascinating, book B should go, and so on.' And the list would never be finished. I had to end that kind of thinking, and set the list, without room for more reads down the line.
The Chill, Ross MacDonald, 1963 shouldn't have been that good. I've read Kenneth Millar before. Millar as Ross MacDonald has been praised as the next thing to Hammett and Chandler in PI stories. But I've not found him that compelling. Good, not great. I think his wife, Margaret Millar is a far superior writer, who although acknowledged by the mystery community, hasn't the place in history her husband enjoys. They both came from a little Canadian town, married and moved to Southern California, where most of their books are set. His is the straight forward detective tale, hers are more psychological and character driven.  Her stories are haunting, and not easily forgotten. Or they can be funny as hell.
The book starts out with a case having just been wrapped up, private eye Lew Archer, has testified in court for the defense, and is ready for a vacation. A young overexcited fellow approaches Archer begging him to find his missing newlywed wife, Dolly, who walked out of their honeymoon night after a visitor with a long beard was seen talking with her at their motel.
Here's an example of MacDonald's prose:
"We found him, a thin spry man wearing a heavy camera like an albatross around his neck. Among the colored beach clothes and bathing costumes, his dark business suit make him look like an undertaker. He was taking some very candid pictures of a middle aged woman in a bikini who didn't belong in one. Her umbilicus glared at the camera like an eyeless socket."
MacDonald's writing is sparse, clean, and not prone to over description.  It makes reading his work easy and enjoyable. That's not to say the plot is just as easy. He leads the reader through the ponderous info he keeps developing, and we go along for the ride, having no idea which route will lead us to our destination.
The young man's wife is located, Dolly's been hired as a driver for an older lady whose son, Roy Bradshaw, is a professor of a small college in a small college town. Dolly's also recently enrolled in the college. She won't explain her reasons for leaving, who the bearded man was, or why she won't go back to her husband. While getting the lay of the land, Archer meets many of the characters that will play a role in the unfolding drama, including one whose murder seems to be tied to Dolly's childhood, and  Constance, her mother, whose murder was supposedly done at the hands of her father, whom Dolly testified against at trial 10 years before.
So, I'm reading, thinking, all very interesting, but not yet compelling–which wasn't exactly the truth. The book kept calling for me to read it–when I was doing other chores, when I awoke in the night, when I got up for a new day, when I should be feeding the dogs but needed to finish just one more chapter. MacDonald's ability to hook the reader is subtle and unnoticeable, at least to me. Each new lead Archer gets, the reader wants to see what the results bring. We are eager to find out if a suicide long ago, has anything to do with the latest murder, and if so how, and why? Could all three deaths be related? As  the reader is trying to fit things together, MacDonald is painting a picture of the murderer that should be obvious to the reader. But it wasn't, at least not to this one.
SPOILER ALERT
In the final snapshot of this mystery, the reader is aware that a redheaded blowzy woman thought to be dead, is most certainly not, and besides, was married to a professor of the college, Bradshaw, although no one was aware, not even his mother, known for making him into a 'mama's boy.'  He had, under secrecy, married very young, and stayed married for decades–to an older woman, the red head,  who, madly jealous, had done murder. Through huge deception, he divorced the redhead in Reno a few months before current events. The first murder by his wife was in self defense, her face was being beaten by a former lover who found her in bed with Bradshaw. She wrestled the gun away, and shot him in the face. Orders from the former lover's widow and the widow's family  money covered up the murder, with the cop who investigated the murder told to claim it was an accident. His young teenage daughter, Helen,  knew better, she was friends with Bradshaw, who obviously witnessed the shooting. A few years later, while Bradshaw was in school, he fell in love with Constance, the newlywed Dolly's mother. Constance was shot to death and her husband put in jail for the deed. Constance  was victim number two. Years later, the cop's daughter, Helen,  blackmailing Bradshaw, whom she was seen with as if dating, is also shot to death. So where is this wildly out of control woman with whom Bradshaw took such lengths to divorce? And to pretend Helen was a new love interest, when all the time it was a fellow professor, Laura, he was ditching his wife for? Bradshaw, when finally confronted with the entire truth, admits to knowing about all the murders and who was responsible, claims he put the redhead whose name has been confirmed as Letitia, on a plane to South America.
As the reader, I'm thinking over the suspects, just as Archer does–and he rules out every older woman:  the wife of the cop; the sister of Letitia; Laura, who is too young to fit; the dead Helen who is also too young; and other peripheral characters. None fit. And then came the 'holy crap' moment. The answer was right there, logical in front of my face. Bradshaw's overbearing mother, who runs his life, holds the purse strings, is in reality, his older wife and murdering maniac, Letitia. HOLY CRAP!
END OF SPOILER ALERT
The final revelation isn't done with fanfare, or dramatics, as some authors tend to do, but as the logical extension of a long convoluted story. MacDonald wraps it up quickly, and decisively  but not abruptly. The Chill fits the requirements I laid out in my Best list, but alas, I read it too late for inclusion. Perhaps that's better, though. Many of my choices were read so long ago, I can't remember them clearly. Since all the pertinent details are still fresh in my mind, my summation and review of The Chill may be a bit more substantive. I hope so, because this is a book that should be read.
PS. In 1963, when this was written, a person in their 60s was considered OLD. And I mean old, with the capitalization, because MacDonald's descriptions of the elderly in this book could fit an octogenarian today. I suppose life expectancy was lower then, still, 60s wasn't a dottering old age, even then.