by Jas Faulkner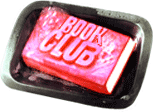 I swear, there are days when writing for this site feels like I've been jumped in to The Fight Club.
"You can write about this, but you can't tell where…"
"I would appreciate it if you didn't reveal my sources for…."
"Just don't use my name."
Okay, maybe it's not exactly like The Fight Club.  After all, I've been talking about The Fight Club and the first rule of The Fight Club is you don't talk about The Fight Club.  To be fair, the former social worker in me gets it.  Stay in the field long enough and you get a mental rolodex going for the official and not-quite-so-official sources for everything anyone might need and there are times when you feel protective of that information.  There is always that fear that someone will not understand the delicate balance that has to be maintained in order to keep that resource available when someone needs it.