by Jas Faulkner
A quick note here, since I have received some questions about this: It's no accident that many of the books on these lists are older. My purpose is twofold.  I want to point readers to books they might have missed and booksellers, especially resellers, to books that might move off the display table .  The genres I've chosen are those I read, enjoy and refer to fairly frequently.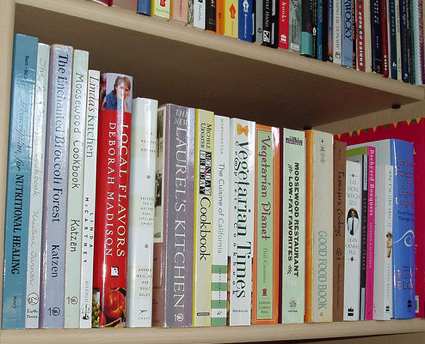 Before we take a look at this week's list, let's consider the supposed audience for vegan and vegetarian cookbooks.  People who choose to live exclusively on plant-based nutrition have gotten a bad rap over the last half-century.  They are the target of ridicule by celebrity chefs like Anthony Bourdain and Gordon Ramsey and in day to day life they have to dodge and weave around the stereotypes.
The stereotypes.  Do we even want to go there?  Alas, they do exist, those mental images of underfed, pasty, testy, self-righteous types who glare the plates containing a cut of something that once mooed, baahed, oinked, or clucked.  Those Birkenstock and hemp sock wearing culinary pharisees are enough to scare anyone away from the vegetarian shelves in the cookbook section.  This is a pity, especially when so many otherwise good general cookbooks tend to go light on the sides and veggie main courses unless they're heavy on the starch, fat, and salt.