by Jas Faulkner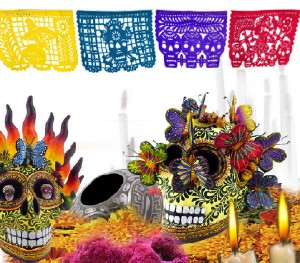 Oh, you thought I meant the crafts as in The Craft.
No.
It's October and frankly, writing about the Craft would be a bit too precious and  disrespectful to Wiccans and Pagans,  don't you think?
I'm talking about crafts and crafters.    It's a subject near and dear to my heart.  Given that the days of triple-digit killer heat seem to be over for a while and gift-giving season is upon us, maybe it's time to give it some thought.  Those of you who sell books might want to think about crafts, too.
Inclement weather, snow days, and holidays are not too far off, which means potential buyers are going to scour the internet for craft ideas.  I understand the argument that  many people will stop at the hand full of  ideas they can find online.  In fact, I agree with it, to an extent.  That person is more than likely a casual crafter who may have a few finished projects, a half-dozen unfinished masterpieces, and a box of never opened craft supplies.  Odds are pretty good they're not going to be buying craft books  from your store any time soon. They're the grazers you'll rarely if ever meet.  Let's move on.
When I first mentioned crafts and you realized I was not going to give you a virtual tour of Wicca, you may have immediately thought about your sweet Aunt Elmira or the fussy older guy at the end of the block who stencils ivy on his mailbox, tools leather and sews costumes for his chihuahuas.  Even if you're not a crafty type of person, you have this audience sewn up already (Sewn up!  I made a FUNNY!) with the usual holiday crafts books and Martha Stewart guides to everydamnedthing. Those people are your granny crafters and they love you for carrying traditional instruction books for people wanting to learn cable stitching and Precious Moments patterns.
That  brings us, me, you, whoever, to the group of crafters who are looking for something that is a little more than just a booklet of instructions.  These crafters actually read and many of them, us -yes, I am one of them- are looking for books with a little extra.  We want something that is a delight to eyes and rich in content so we'll be happy to pull it off the shelf for a quick read even if our muses are screaming and jumping on our chests at three in the morning.  (Your muse doesn't do that?  Really?  Wow…)  Many of the books and authors on this list started out as internet celebrities, and you can find some of their projects online.  Why buy their books?  Their instructions are clear and doable.  Their books are works of art.  These crafty authors can write!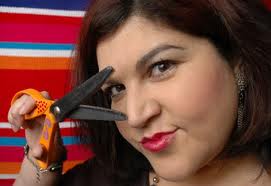 Kathy Cano-Murillo – Known to her devoted fans as The Crafty Chica, Cano-Murillo has created her extensive queendom based on encouraging everyone to find their own creative spark.  Her work is inspired by her Mexican heritage and many of the projects are simplified versions of older, quite intricate forms of folk art from that tradition.  However, her ethnic-specific style is far from restrictive.  She offers a positive approach to finding and using whatever is nearby and working it into something beautiful and definitely individual to each artist.  Most of the projects are appropriate for beginners but experienced crafters will find some new twists on old favourites.  Publishers have finally caught that La Kathy's books are not only beautifully illustrated, but content-rich.  She has written two novels in addition to her line of craft titles.
Best titles for starters:
The Crafty Chica Collection 
Paperback: 152 pages
Publisher: Quarry Books (November 1, 2006)
ISBN-10: 1592533051
 The Crafty Chica's Art de la Soul
Paperback: 208 pages
Publisher: Harper Design (February 7, 2006)
ISBN-10: 0060789425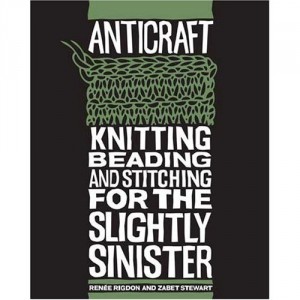 The Anti-Craft  Zabet Stewart and Renee Rigdon created the perfect antidote for everyone who loves the idea of making stuff by hand but would balk at the seafoam perfection of Martha Stewart's Good Things.  Their blog, which is updated monthly, debuted Samhain of 2005 with an issue titled, "You're Going To Die Anyway, So You Might As Well Knit."  Dark as a politician's heart but ten times as witty and only a nineteenth as evil, their work has an edge you won't find in any Woman's Day Magazine.
In 2007, North Light Books, a part of F&W Media, tapped the sinister duo to produce their own book.  The result is a collection of their best designs with reflections from the editors and various designers about art, craft and living la vida goth.
Anticraft: Knitting, Beading, and Stitiching For The Slightly Sinister
Paperback: 160 pages
Publisher: North Light Books (November 30, 2007)
ISBN-10: 1600610307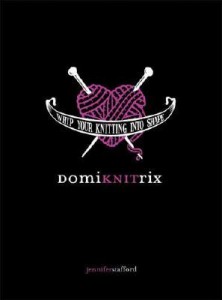 Another North Light Books release to look for is Jennifer Stafford's Domiknitrix.  The delightfully kinky black vinyl cover contains some excellent instructions for correcting common problems that many self-taught knitters encounter and often fail to correct before they become entrenched in their technique.  The most ironic thing about Stafford's book is that for all of the goth/BDSM trappings, it is probably the closest to a full-on tutorial of any of the books included in this list.  Taken out of the context of this book and her blog, many of the projects would make great gifts for almost anyone. Still, the prose is fun and the book is enjoyable both as an instructional piece and as mind candy for knitters.
Domiknitrix: Whip Your Knitting Into Shape
Paperback: 256 pages
Publisher: North Light Books (November 23, 2006)
ISBN-10: 1581808534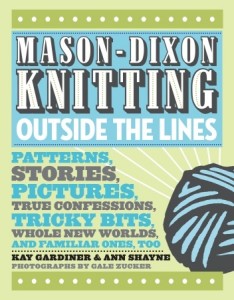 At the other end of the spectrum from the Goth Girls are Kay Gardiner and Ann Shayne, the founders of Mason-Dixon Knitting.  Whipsmart and worldly, the writers of this blog and the two books it has spawned have never abandoned the homespun comfort of the click of needles as a background accompaniment for the telling of a good story. They manage to combine traditional knitting and motifs with real world applications and technique.  The letters from one author to the other will pique the interest of the most hard-bitten knitting refusenik and the stories in both books are well worth the cover price even before you get to the knitting patterns.
Mason-Dixon Knitting's Titles:
Mason-Dixon Knitting: The Curious Knitter's Guide: Stories, Patterns, Advice, Opions, Questions, Answers, Jokes, and Pictures
Paperback: 160 pages
Publisher: Potter Craft; Reprint edition (February 9, 2010)
ISBN-10: 0307586456
ISBN-13: 978-0307586452
Mason Dixon Knitting Outside The Lines: Patterns. Stories, Pictures, True Confessions, Tricky Bits, Whole New Worlds and Familiar Ones, Too.
Hardcover: 160 pages
Publisher: Potter Craft (September 16, 2008)
ISBN-10: 0307381706
ISBN-13: 978-0307381705
Somewhere roughly in the middle of the spectrum between the dark, campy goodness of the Dominitrix  and the homespun charm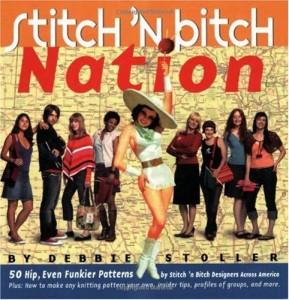 Mason-Dixon Knitting is the needles and yarn juggernaut known as Stitch n' Bitch.  The original group was intended as a vehicle to reintroduce knitting and crocheting to a new generation of crafters.  From its grassroots beginnings, it has become a nationwide movement with 1374 groups in 289 locations. The website includes author Debbie Stoller's blog, an active forum, and information on purchasing everything from books to swag to tickets for a Stitch n' Bitch cruise.
While there is not a dud in the lot, the best places to start with Stoller's Stitch n' Bitch books are these two:
Stitch n' Bitch: The Knitter's Handbook
Paperback: 256 pages
Publisher: Workman Publishing Company; First Edition edition (September 3, 2004)
ISBN-10: 0761128182
ISBN-13: 978-0761128182
Stitch n' Bitch Nation
Paperback: 192 pages
Publisher: Workman Publishing Company (November 12, 2004)
ISBN-10: 0761135901
ISBN-13: 978-0761135906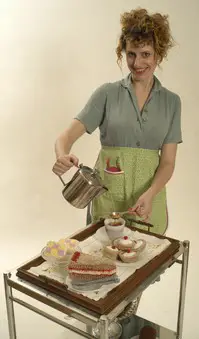 Across the Atlantic, Rachael Matthews and Amy Plant created their own guerilla knitting collective,
The Cast Off Knitting Club for Boys and Girls
.  They often unnerved passersby by simply arriving at a prearranged destination and sitting and knitting.  Matthews has written two books with the help of Plant.  Knitorama and Hookorama contain projects of varying complexity.  Unlike all of the other books in this list that concentrate on utility or a specific aesthetic (Goth, Modern Americana, Victoriana) the Cast Off designers focused on creating playful items that you may not need, but will want to try.  After all, a  knitted hand grenade could come in handy during the playoffs and who can resist the charm of knitted dishrags and a no-calorie yarn high tea?
Available titles from Rachael Matthews and Cast Off:
Knitorama: 25 Great and Glam Things to Knit 
Hardcover: 144 pages
Publisher: Octopus Publishing Group (April 30, 2006)
ISBN-10: 1840729864
ISBN-13: 978-1840729863
Hookarama: 25 Fabulous Things to Crochet
Paperback: 144 pages
Publisher: Spruce (October 25, 2006)
ISBN-10: 1846011205
ISBN-13: 978-1846011207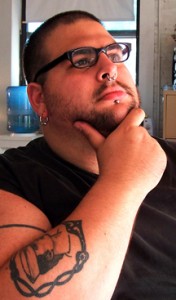 As a teenager, Greg Der Ananian was the big, pierced, tatted guy who would cause your Dad to get a case of the side eye.  Less than an hour later, this same big scary guy would garner a quick nod toward the kitchen from Dad when you came downstairs to find out where he'd disappeared to.   While you were playing vintage Black Flag, your buddy was  busy chatting up your Mom about needlepoint.  
Bazaar Bizarre Not Your Granny's Crafts
is a chronicle of his role in creating the punk crafts movement that also pays tribute to the women in his family who fostered his love of making things.  While it is primarily Der Ananian's story, he is generous with the spotlight. Profiles of fifteen other artisans with sample project instructions  round out this small but mighty book.
Bazaar Bizarre: Not Your Granny's Crafts
Paperback: 272 pages
Publisher: Studio (October 6, 2005)
ISBN-10: 0142005061
ISBN-13: 978-0142005064
Of course this is just a start.  Check with your local knitting or crafting group.  Someone is bound to have a good idea of what would appeal to your local crafters.  You could also start your own crafting group.  Of course that would mean getting a new book case to hold those craft books…