A Book Nerd's Dream: Stories Toward Opening A Bookstore
This is the beginning of a story that (I hope) will have in it the part about me opening a bookstore. I hope the story doesn't end there – as you booksellers know, it's the ongoing narrative that's the stuff dreams are made of, not the single moment of opening the doors.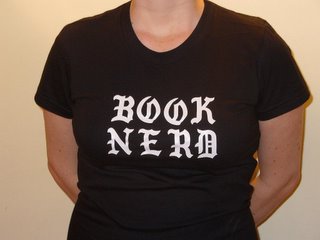 I'm a bookseller too, and have been for quite a while, but I haven't yet made it to that climactic moment of owning my own store. In hopes that it will prove interesting both for booksellers and for those with entrepreneurial ambitions, I'd like to offer my story, unspooling behind me as it unfolds ahead of me, for the Bookshop Blog.
Chapter I. The First Bookstore Job
Not to get all Dickensian or Salingerian on you, but I'll begin at the beginning of my life – because I wouldn't want to open a bookstore if I wasn't the person that I am. I grew up bookish, which isn't unusual. But I was homeschooled until sixth grade, with a mother for a teacher who believed that we'd learn just as much by reading for pleasure as by sitting down for lessons. I edited the high school literary magazine, wrote poetry, worked on the newspaper, did great in English classes, and everyone seemed to think I'd become a writer or a professor – and I guessed I did too. But I needed to find out somewhere completely different, so I left my California hometown on a scholarship to New York University.
And I almost went home after the first year. It's a dark, dirty city when you're far from home. Luckily, I made a few good friends, did okay in class, and got some good jobs – not jobs that paid well, but ones that gave me the safe place I needed. My first gig in a warm little family-run bakery probably saved my life, and I later worked as the night manager of a Dean & Deluca – I never thought that would come in handy for my career, but the diversity of nationalities and languages in that coffee shop taught me a great deal about how to talk to employees and coworkers.
I had a great poetry teacher my junior year – a grad student who understood what I was trying to do in writing and could help me find my way to doing it. She took our class out for an end-of-the-year party at a Mexican place (that served pitchers of Margaritas and never carded), and at some point asked casually if I was looking for a job. I was sick of the night shift in Rockefeller Center and said yes, and she revealed that she was leaving her job at a bookstore to finish her master's. She gave me the proprietor's number and told me to get in touch.
And then I totally forgot about it. I didn't make the call until my teacher called to remind me, and it's weird to think how nearly I missed out on my life. I went in to the bookstore, Three Lives & Company in the West Village, one afternoon. I later heard it described as a jewel of a bookstore – a tiny spot, but lighted well, with wood shelves and counters I later learned were homemade, and every book looking as though it had been specially placed in its spot, waiting to come under your hand.
The proprietor was a pleasantly brusque woman named Jill, and she took me down to her office and told me that if L.B. (my teacher) said I was okay then the job was mine. The place had always gotten its employees by serendipity, she said, and it always seemed to work out. She told me what shifts I'd be working and sent me on my way. I remember I bought myself a bunch of flowers (which I couldn't afford) to celebrate on the way home, then pinned them on the wall of my dorm until they dried down to lovely husks – apparently I knew even then that that was a good day.
Much of the store's history and lore I found out later. It was first opened in 1978 – the year I was born. The name came from Gertrude Stein's novel Three Lives
, and from the three women who founded the store together. The store was run by Jill and her partner, Jenny – the third "life" had left for California long ago. Though a Barnes & Noble was just around the corner on 6th Avenue, the store never seemed to be in trouble. There were too many regulars, too many folks who came out of their way to go to the shop, too many people who came in just to look and came away with a book or three because of a recommendation, or just because they wanted to own a little piece of that place.
Why they kept me on there, I'll never know. I was green and dreamy, sometimes forgetting to come in altogether, changing my schedule because of classes, and often making mistakes. But I'm grateful. I ran into Jill and Jenny a few months ago – apparently they'd been keeping up with my doings. "So you want to be a bookseller now, huh?" Jill said. "Who would have thought?" I didn't say so, but it was partly her fault. Working at Three Lives made me fall in love with the bookselling life, and with New York, and started me on the path toward opening a bookstore.
Jessica Stockton Bagnulo
[editor's note]
Stay tuned to the bookshop blog for the ongoing story. Jessica will be keeping us all updated with her dreams, goals and any progress made or pitfalls encountered. In order to not miss a story you can subscribe by putting your email address in the box on the top right or by clicking on the orange button if you are already using a feed reader.
Chapter 2: The Epiphany