If your child demands that you check the closets and under the bed before they can go to sleep at night, this article is for you. It is also for parents of older children who get up repeatedly asking for yet another glass of water, then linger before running quickly down a dark hallway to their rooms. And it is for anyone who has lain awake at night wondering if that shadow you're almost certain is the blanket you left draped over the chair just moved.
Related: Forgotten Children's Classics
So really, this article is for anyone who worries about the monsters that come to visit our homes in the darkness when no one is looking.
Helpful Monsters
When the hero of Amanda Noll's picture book, I Need My Monster, checks under the bed, he finds a note – "Gone fishing. Back in a week." This sets up the problem that Ethan works to solve in this wonderful story that turns a child's fear of monsters on its head. Ethan needs his monster, Gabe. This is the monster that keeps him in his bed with his toes tucked securely under the blanket and allows him to get a good night's sleep.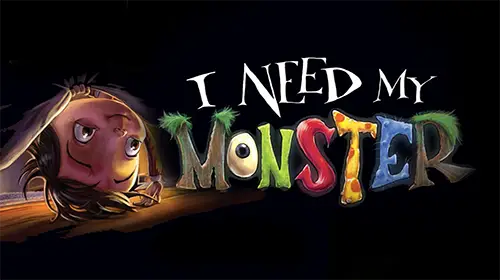 Now that Gabe has decided to take a vacation, Ethan is left with no choice but to seek a replacement. The book brings us a string of monsters that any child might find scary enough to keep them in bed, but not Ethan. No one but Gabe will do. Fortunately, Gabe does show up before the night is over declaring that the fish were much too easy to scare—no challenge at all. So, he is back, which leads to the final page showing Ethan sound asleep with his monster, Gabe, peacefully sleeping under the bed.
Any child that thought some of the substitute monsters might be welcome in their home will be happy to learn that they make a comeback in Noll's sequel to this delightful book. Hey! That's My Monster sends Ethan in search of a monster for his little sister, Emma, who is now big enough to get out of bed by herself and make noise all night long. Gabe tries his best to scare Emma back into bed, but she isn't the slightest bit bothered by the monster that Ethan needs and is happy to have back. Some of the substitute monsters that Ethan rejected during Gabe's vacation return to try their hands at scaring Emma back to bed. But every one of them fails, until finally…well, the reader will be surprised to discover which monster turns out to be just right for Emma.
Monsters That Disappear
For a child who is not convinced that monsters in their room at night might actually be helpful, Ed Emberley's picture book, Go Away, Big Green Monster is a good choice. The clever cutaways in this book show the monster appearing one feature at a time, from its big yellow eyes to its scraggly purple hair. But then, in the second half of the book, the reader gets to eliminate the monster one feature at a time with equally clever cutaways.
And Monsters That Do Homework
For older children, the ones who hate doing homework or trying new foods, Danny Schnitzlein's monster books might just be the ticket. The Monster Who Did My Math introduces a scary-looking monster who just happens to be great with numbers. This monster can add and subtract like a whiz and is very happy to do the main character's math homework…for a price. So, what is the price?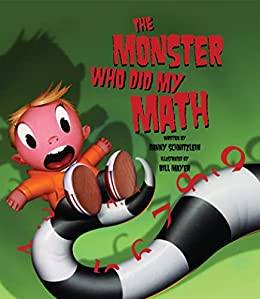 After turning in two perfect homework papers, the teacher naturally calls him to the board where he can't compute a single sum. If that isn't bad enough, the monster demands $64 to settle the bill. As the child searches for money from deep in his drawers and the lining of his coats, he adds everything carefully until the right amount is found. And after that, he discovers that doing his own homework is not so hard after all.
What about those new foods? It starts with peas. In The Monster Who Ate My Peas, Schnitzlein shows a monster sprouting spinach for hair who eats peas in exchange for first the main character's soccer ball and then later, his bike. But when the monster demands the family dog in exchange for gobbling down all the peas in the evening's dinner stew, the child finally balks. He won't give up his beloved puppy! This time, he forces himself to eat the peas discovering that actually, they're pretty good!
Showing Monsters Who's the Boss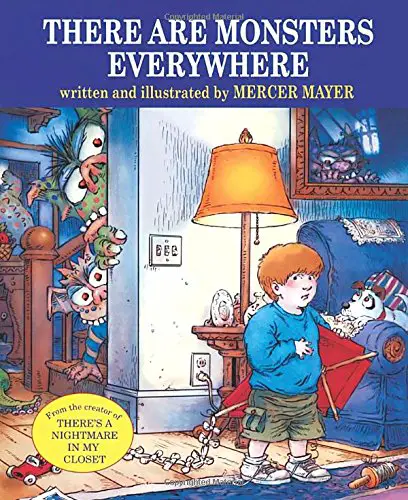 There is an age when children understand that grown-ups just don't see what they see. Mercer Mayer's There Are Monsters Everywhere reveals monsters all around the house that Mom and Dad just don't seem to be able to see. Mom does take out pajamas for the main character even though he is the only one that knows there is a monster lurking next to the dresser. And Dad causally says goodnight completely ignoring the monster in the bottom bunk just waiting for the door to close and leave him alone with the child in the top bunk.
The child finds his own solution when he sees an advertisement for karate class. With lots of practice, he is able to turn the table on those monsters showing them who is boss. The monsters never quite go away but they do learn to stay in their assigned bunk or the corner of the basement. As with all of Mercer Mayer's books, his illustrations are detailed and fun for both the child and the parent who will likely find this book to be a nighttime favorite.
Monsters in Underwear
If you want to set off peals of laughter from your toddler, just say the word 'underpants.' Clair Freedman and Ben Cort have taken advantage of that particular quirk of a young person's sense of humor in Monsters Love Underpants. Who knew that monsters wore all kinds of underpants ranging from stripes and spots to flowers and pirate skulls? There are even the ones that live in dungeons and wear armor bloomers as well as mountain monsters clad in frozen briefs. The ones to watch out for the most are the slimy swamp monsters whose underwear keep slipping down!
And in the Imagination (Where They Belong!)
For a classic treatment of the monsters in a child's imagination, few books are better than the Caldecott-winning Where the Wild Things Are by Maurice Sendak. In this story, Max is happy to sail away from his home where his mother has called him a wild thing to the land where the wild things really live. These wild things may look scary, but not to Max. He simply tames them with his magic trick of staring into their eyes; then celebrates with a wild rumpus until they are all tired and Max is ready to return home. The best part of this whimsical adventure is that what it celebrates the most is Max's imagination.
And isn't imagination the place where the best monsters live?