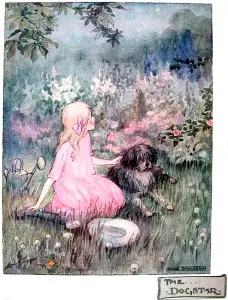 Having explored all the children's classics I haven't read, I thought I'd delve into those old kids books long ago buried, most for very good reason. The 'classics' of my post title, is tongue in cheek, although there must be some books I have hanging around because of  illustrations that are familiar to readers. Raise your hands if you've ever heard of : The Cuckoo Clock, The Enchanted Castle, The Cruise of the Little Dipper and other Fairy Tales, Granny's Wonderful Chair, Princess Goldenhair and the Wonderful Flower, The Sleepy Song Book, Rag Doll Jane, Jackanapes, or  the book I give the prize for the most bizarre illustrations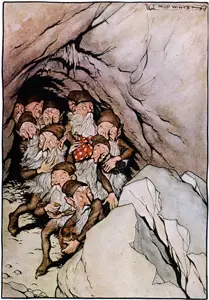 and odd story, Come Unto These Yellow Sands. A few of the titles I began with high hopes, the stories looked intriguing, the illustrations thrilling, the chapters short. I fell asleep reading most–although The Sleepy Song Book can't really count, obviously. What makes these books so classless? They ramble. Around. A lot. Granny's Wonderful Chair essentially retells typical fairy tales and Mother Goose, but in a dull, only line drawings, way. I endured Princess Goldenhair through many chapters–something about having to travel great distances for something blah blah and gnomes are involved–so is a witch that hangs weird stuff on her wall. There's a King Otto (I knew him!), a selfish prince trying to kill a little fawn, and the princess of the golden type hair. Milo Winter illustrated the book so my thoughts were it had to be half decent–why else would he do it?
Stupid assumption–he did it to be paid, duh. They were illustrators who took what jobs came their way. I suppose they had some input into which scene would be illustrated
and in what style, I've no idea. I should inquire of today's children's book illustrators–how does that work? The author, editor, publisher, matches up with an artist and one of the three or all collaborate, or command how to proceed with the artwork? I imagine that someone of Arthur Rackham's reputation and more than likely great demand, had a huge say in what and how he rendered his illustrations. At least by the end of his career. And it never hurts if the illustrator is also the author, as Rackham, Anne Anderson, and many others were. The time frame of when the books were published makes a marked difference to my attention span. Victorian isn't my era. Edwardian is better, but I can get with the program when the 20s and 30s are covered. The Cruise of the Little Dipper should have enthralled me, published in the early 20s, yet I can't remember a word. So I opened to the first page and these scintillating sentences greeted me: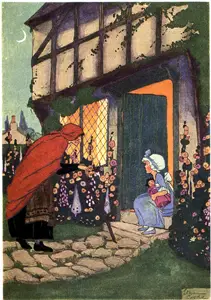 "Long long ago, the countries where some of the strange things in this book took place-China and Old Russian and other far-off places–were still parts of Fairyland. They were ruled by Kings and Queens, Emperors and Princes. Some of the rulers were good and some were very wicked. The good ones reigned for long, long times, but the wicked ones had trouble, and soon got what they deserved." Yawn.  Oh. That was just the intro–well, the second intro–here's the actual first line:
"Once upon a time there was a very poor boy who had no cap on his head, no shoes on his feet and never a penny in his pocket. He was so poor that he did not even have a name. His father had gone to sea many years before in a ship called the 'Big Dipper', and as he had never returned people said surely he must be dead, So the boy had gone to live in a small dark house beside the sea, with his great-aunt who was very old and cross and strict. She did not let him have any sugar on his cereal or butter on his bread, and every day spanked min soundly for all the mistakes he had made that day and if he had not made any . . . ." and on and on and on. Yet the illustrations hint at beauteous wonder within. Sigh. (today, a guardian would be metaphorically spanked if they gave kids sugar and butter. Oh the times they have a'changed.)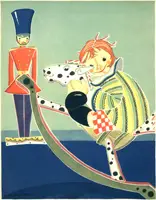 Rag Doll Jane is a picture book, so, reading is fairly easy, even for me. Illustrated by Fern Bisel Peat–it's a confection of colors, sherbet for the eye. The Enchanted Castle is a little story written about the silent screen actress, Colleen Moore's 'dollhouse.' I put that in quotations because her dollhouse is to others as Windsor Castle is to a bungalow down the shore. It's gigantic, full of priceless miniatures hand made by scene designers, painted with illustration from Arthur Rackham, Kay Nielsen and other contemporary artists of the time. The story is cute and fits the spirit of the 'miniature' castle perfectly. (If in Chicago–do not miss seeing this prize–in the Museum of Science, for whatever reason, it has a nook to itself.)
The Cuckoo Clock was my recent find, and of course I bought it for the illustrations by F. S. Cooke, but surprisingly, the story almost seemed palatable. Almost. I started it, haven't finished. Apparently Mrs. Molesworth, as the author was known, was a prolific writer of children's stories and extremely popular during her time. Her time was eons ago. I also own Tales By Mrs. Molesworth  illustrated by Cooke, Edna, not F. S. I wonder what kids today would make of these antiquated stories and plot lines? Not much. As much as I did the so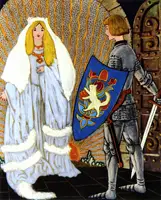 called classics, ha. I can't locate Jackanapes–illustrated by the Edna of the Cookes, so won't even begin to explain its plot, as I doubt if it has any. The best and weirdest and yet unfinished but guaranteed to be read through, is Come Unto These Yellow Sands. How can I explain the plot? It's science and evolution vs. fairies, in a nutshell. A married pair of scientists–(whoopee, the mother is intelligent and shares her husband's work) have a son they named, wait for it–Darwin. They have taken a cottage by the sea one summer and as Darwin is forbidden to play with toy soldiers-his parents are heartfelt pacifists-he wanders around making up terrifying beasts out of his fervid imagination. He can't play cricket, which is all the other boys seem to care about besides war, so he finds himself involved with a local girl who insists fairies are real and not to rile them up or they will become quite angry and you don't want angry fairies around you. This kind of talk is ridiculous to Darwin, and he denounces the invisible sprites. All sorts of havoc begins to take place within the once content Darwin household, with Darwin being blamed for fairy doings–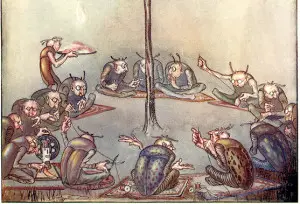 which he now half believes in–having seen them. The really bizarreness of the book are the illustrations that border on macabre, and the placement. It seems as though the artist, blank, would choose a line here or there of no real import to illustrate. So when the little girl is describing how fairy shoes are made by beetles–one sentence–he creates a outlandish piece of art with beetles in a circle sewing. The plot-line of the book is barely represented. One picture does show Darwin on the edge of the pool where the fairies reside, however the others seem to ignore the humans altogether to follow imaginary fairy doings as explained by the little girl's own dreams, or actual fairy pranks. All with that sinister undertone. I suppose the moral of this story is, science doesn't know everything.
So, there you have it. I'll list the books with authors just in case my exploration of them here whipped up a frenzy of excitement and you'all must must read them.
The Cuckoo Clock, Mrs. Molesworth, Illustrator, F. S. Cooke.
Stories From Mrs. Molesworth, Mrs. Molesworth, illustrator, Edna Cooke.
Rag Doll Jane, Carolyn Treffinger, illustrator, Fern Bisel Peat
The Enchanted Castle, Colleen Moore, Illustrator, Marie A. Lawson
Granny's Wonderful Chair, Frances Browne, Illustrator, Florence White Williams
The Sleepy Song Book, music by H. A. J. Campbell, words by Eugene Field, May Byron, Illustrator-Anne Anderson
The Cruise of the Little Dipper and other Fairy Tales, Suzanne K, Langer, Illustrator, Helen Sewell
Come Unto These Yellow Sands, Margaret L. Woods
Princess Goldenhair and the Wonderful Flower, Flora Spiegelberg, Illustrator, Milo Winter
Jackanapes, Juliana Horatia Ewing, Illustrator, Edna S, Cooke