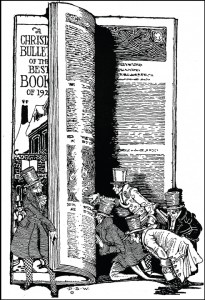 I hate paying for shipping. For anything. Psychologically, the seller would be better off charging the shipping within the price, and give 'free' shipping, rather than add it on–for me, anyway. I've desired a certain Oxalis plant for years. The only online store that sells the bulbs charges so much shipping, I won't buy them. For three teeny rhizomes, I'm to shell out 10 bucks? Really? So, I deprive myself of that gorgeous plant.
Recently, I finally had to give into my desire for a certain book–well, the illustrations within the book. I've never heard of it before–a friend on flickr had scanned plates from it, and it's weird and quirky enough for me to lust after the book. Problem–I can't afford the prices being asked for this title. Even though under 100 bucks, that's still to rich for me at the moment. I knew there was a copy for around 45 dollars out there, and was still listed every time I checked. I finally broke down and decided I had to have it, even though in rather poor condition, and not a first. Another crappy thing–the book is in the UK–not unusual as it was published there. And, I'm guessing, never published in the US. I expect to pay more shipping, logically that would have to be the case. When I checked the shipping price, it seemed very reasonable–I think it was 6 or 7 dollars, as opposed to US regular shipping costs–around 4 or 5. So, I'm  excited. I took the plunge, ordered the book, now to wait for it's arrival and to drool over the contents–all 16 crazy plates, plus black and whites I've never seen. And because the illustrations are so intriguing–I'm going to do the unthinkable–read the book too.
So, when an e-mail comes through from ABE confirming my order, I'm happy as a book reading clam. When the e-mail from the dealer arrives, it is puzzling–because it's not really from the dealer, but some kind of automated thing requesting more shipping monies because it needs to go airmail and it weighs some heavy amount–or so I assume, since I don't know weights and measures in other country speak. Ok, I'm thinking–10 bucks? Maybe a little more–but the sum they wanted nearly made my brain explode. 22 extra bucks!! Sure, I can blame a crappy US economy on bad exchange rates, but really–how bad could it be? Not that bad. So the book is around 37 dollars, they had some kind of  discount, that's nice considering the condition:
"Numerous lovely full-color illustrations by J Hancock. Some staining and damage to rear board; hinge between spine-strip and rear board split but still attached; corners and edges rather scuffed; largely clean internally, but some staining to the corners of some plates, affecting borders rather than illustration itself. Many pages and plates quite clean"
Add 22.00 to the cost, and it's now way over what I wanted to pay, let alone annoying as hell to be told that this is what you need to pay if you want a package sent to you from us–and oh, if you want to mail it surface, it will take your lifetime, and the lifetime of your offspring–but if this method is something you are interested in–you will need to contact us personally. There is no option to click or write back from the e-mail sent–yes, quote me the surface rate. I have to click on an answer–yes I will accept the extra charges, or no, I won't. Gee, guess what I decided?
Today I got the official cancellation of the order. Now, here's my beef. Why couldn't they send a personal e-mail explaining the options? One that was a bit warmer than an ABE rote thing? What happened to customer contact? Do the booksellers think that adding on more than half the price of the book for shipping will go unnoticed or paid for gladly?
In this case adding the cost of shipping into the price wouldn't have worked for me either. That is too much of a jump for me to accept. What would have perhaps kept the sale for them, assuming they cared about keeping a sale–send the personal e-mail explaining costs, and give the option of surface at a much reduced price, and then let me decide. Maybe I needed the book yesterday for some reason–or–maybe I don't need to get it for 6 weeks, it should be my call, not an automated system. One that alienated me enough to not bother trying to acquire that particular copy.
I'd have to go to the postal rates for the UK, check weight etc, to find out if their quote is correct–and maybe it is–maybe for air it is the going rate. If so, the British postal system is making a damn fortune. However, for those of us who aren't millionaires, surface mail still works, and should always be an easily accessed option. Now I wait until I dredge up enough dough for a first mailed from the US for the princely sum of 4 bucks, or forget about the entire thing. Yeah, I know–a 78 total is far more than a 59.44–but you know what? The book is a first, in really good condition, and I know I'll be paying for the book itself, not for its transportation from there to here. And that's exactly how it suits me.