A bookstore can be a transformative experience. And in my time in Seattle, Washington, I visited the enchanting and incredibly charming Twice Sold Tales. I went to Seattle for a month this summer and one of my top priorities was to go out to some local used bookstores to take home some books with me.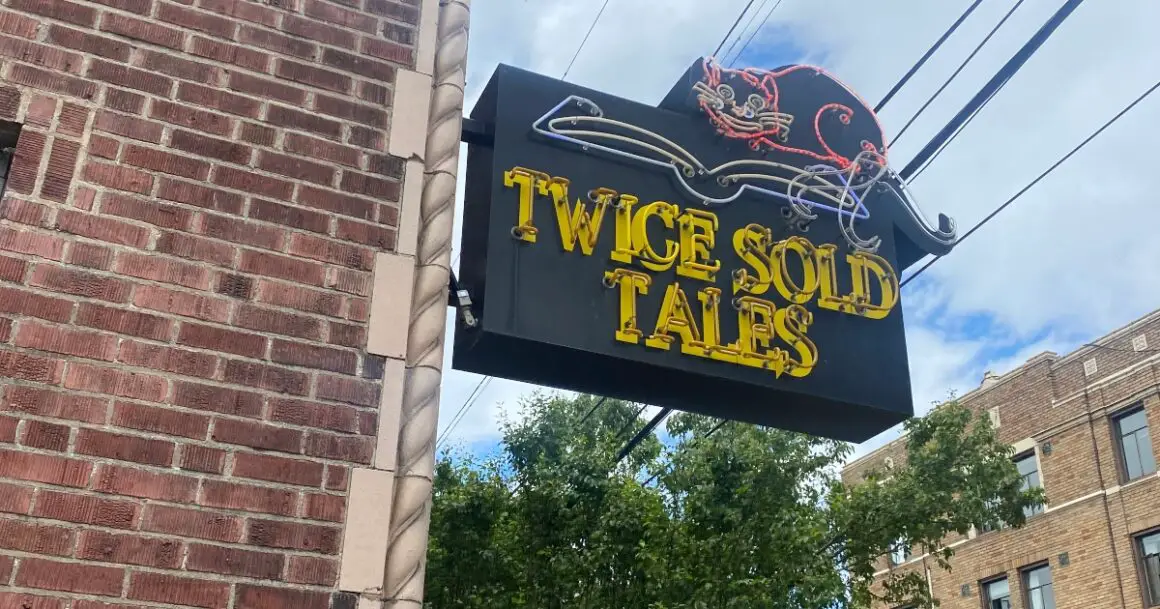 On a clear, sunny day in Capitol Hill, I stumbled upon this beautiful corner bookstore with these stunningly worn brick walls and charming neon signs and knew straight away that I had to go in. The general "book lovers" aesthetic was personified in this used book store and so, the adventure began.
Twice Sold Tales: Endless Possibilities
As I walk up, there is this very creaky wooden ramp that brings you up into the store's main entrance, and as soon as I walk in, my eyes pretty much bulged out of my head. Stacks upon stacks of used books filled bookcases, cabinets, and empty spaces on the worn-out and stained carpet below. Even the front counter was littered with them. There was not one single crevice of that store that did not have a book in it. The hallways were narrow, and each room that you branch out into felt like its own little treasure hunt for some great finds. From new and popular titles to some tried and true classics, this bookstore had it all. I pretty much stayed in the romance and fiction section for hours because I just could not tear my eyes away without examining each and every book they had.
The way bookstores feel as they are described in books is how it felt to walk through here. Honestly, getting lost in Twice Sold Tales is your best bet because it would be the greatest "main character" moment for any book lover. Being around so many books is like being presented with an infinite number of escapes from our own realities. Every kind of adventure out there could be right in the palm of your hand if you just look hard enough.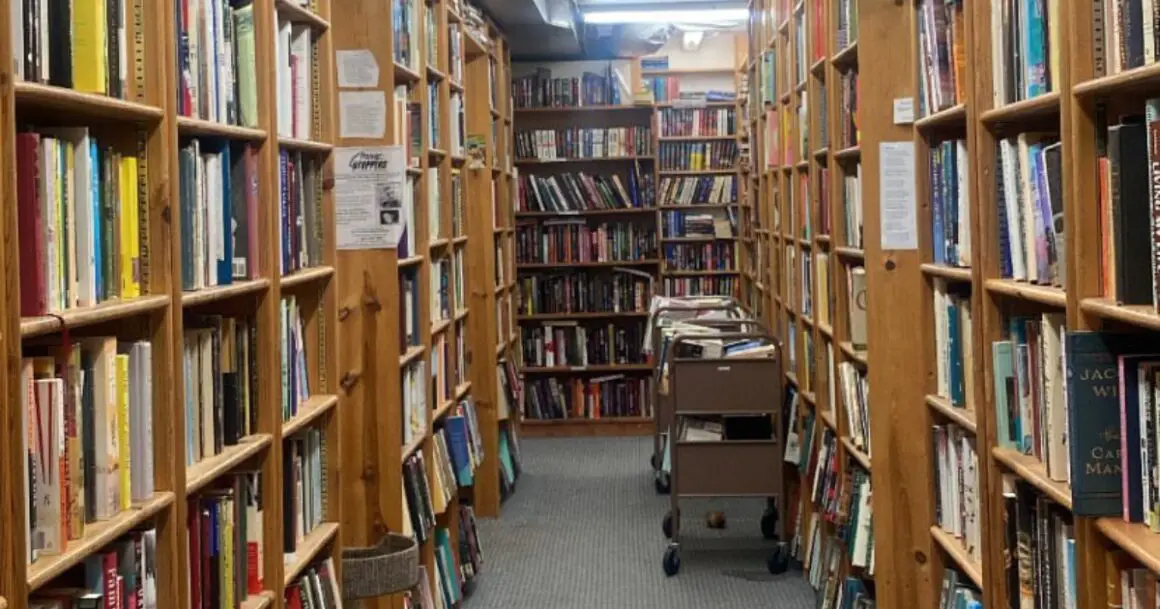 Of course, there are genres present for everyone. From philosophy and self-help books to LGBTQ+ romance, science-fiction, and horror, Twice Sold Tales is the perfect place if you are looking for a book to get you into new genres. You also have the chance of finding some special editions of classic favorites. Not to mention that the prices are all reasonably discounted because it is a used book store. 
Fun with Some Feline Friends
However, what was probably the best part of it all was that this bookstore had a few little live-in feline residents that just wandered through the stacks of books, slept in random pet beds throughout the store, and occasionally would come up to you for a cuddle. They just added to the cozy, warm, and friendly environment of the store. Having the cats in there breathed even more life into this place and had me completely hypnotized.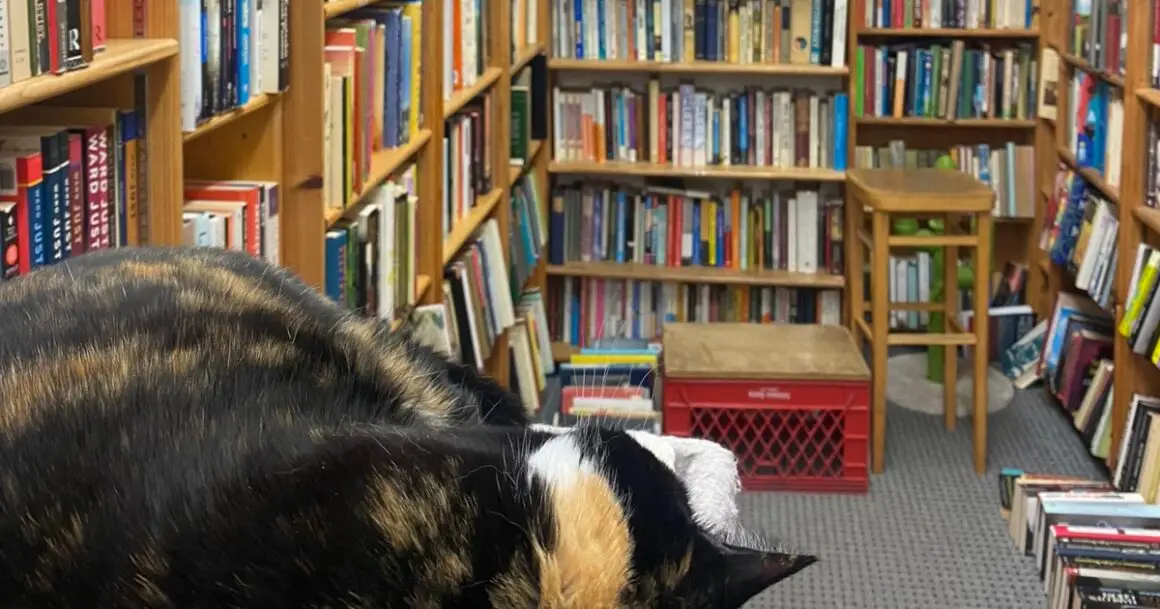 It was like being secluded without being alone, like having little friends there with you. And honestly, the character of this bookstore shined with this small little quirk and will 100% be a stand-out experience if you happen to visit.
The Magic of a Good Used Book Store
I spent hours in that bookstore. I also love how it is a used book store. I love a good bargain and I like the challenge of finding books in the seemingly endless supply of them. Will every book you are looking for be in there? Of course not. In a used book store, you don't get the certainty that a Barnes & Noble gives. However, the selection in Twice Sold Tales was absolutely fantastic and for a store that seems incredibly chaotic (in a good way, of course), it was very well organized. They had books for everyone and pretty much every section of it was labeled by genre and by author's last name to help narrow down your search if you please. Of course, since the books are stacked up to the ceiling in most places, it may take a while to scan through them all, but in my opinion, it is definitely worth it.
The books were also very reasonably priced. One of the worst things about buying books is that it is not a cheap hobby, especially if you are only buying books new. One of the best solutions I have found is a solid used book or thrift store. Twice Sold Tales is located on the corner of Denny Way and Harvard Ave in Capitol Hill, so it is close enough for a tourist to visit but also tucked away enough that you feel like you have been plopped right in the middle of a really good small-town romance novel. The store also included a few places to settle down and maybe read a little with some of the cats. It felt like magic inside.
I will definitely be going back every time I am in Seattle in the future.
*Twice Sold Books is located at 1833 Harvard Ave, Seattle, WA 98122 and can be found on Instagram and Facebook