by Jas Faulkner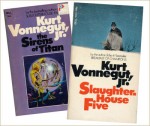 S., a college friend, asked me if I would like to pick up a few boxes of her discards to donate to the Samaritan Center and/or use for Bookcrossing drops.  Packed in one box was a row of Kurt Vonnegut novels and essay collections.  This little section of mass market paperbacks included most of Papa K's output up to the mid-eighties.  I recognised them because they had taken such a prominent place on the shelves in her dorm room for the better part of Spring Semester one year.  During weekly visits to the UBSs near campus, she declared that the upcoming break would be her "Vonnegut Summer".
She spoke of her intention to immerse herself in the work of a single author the way other coeds would discuss taking a trip to Europe with the intention to tryst with the locals.  Maybe it was her choice of material, which tended to divide the department into camps who thought Vonnegut's work was overrated and precious and those who felt that we had simply not grown to the point where we could appreciate his genius.
For a while, I assumed that this was something particular to S.   A year or two later, when working on an individual project of my own, one of the faculty members who was on my multi-disciplinary advisory committee noticed I had cited Vonnegut in my bibliography.
"When did you go through your Vonnegut phase?" she asked.
My Vonnegut phase?  Was this an English major thing?  Having never majored in English, I assumed everyone who did and who showed promise as a writer was encouraged to take on Vonnegut or some other author as a sort of proxy boyfriend for the months away from school.
Looking at the box of books, I asked S. if her estimation of Kurt Vonnegut had diminished over the years.
"Not at all!" she said, and then showed me the newer Dial Press paperbacks she was getting to replace the well-thumbed mass market and trade books that had populated one shelf in her library for so long.
"It's someone else's turn to have a summer with books you wouldn't mind getting dented and foxed in a purse or backpack. "
"Do you remember your 'Vonnegut Summer'?  I think it was between freshman and sophomore year."
She rolled her eyes and laughed.  Of course she remembered.  She took a book from the box and showed where she made a note inside the front cove of when she read it r. Then she beckoned me over to the laptop she had open in another corner of her library. Using LibraryThing, an online catalog program, she had actually reconstructed her reading lists for every summer from her first year of undergraduate school in 1982 to last year.
The lists told the story of her adult life.  Her first summer as a serious student was spent with Vonnegut, Marquez and Robbins (1982).  There was the summer when her job required that she spend all of her time on one very tough federal case.  She emailed everyone she knew and asked all of us for the funniest titles we could think of.  That summer (2003), Michael Thomas Ford's nine-year-old self would get in a snit with his family and pack for The Rapture,  and S. made repeat visits to Rita Mae Brown's Runnymeade, Maryland and Terry Pratchett's Ankh-Morpork.  The summer our magical family of choice in Memphis was reduced by one (1989), S. took a vacation from Law School and reality completely.  She retreated into the free floating wanderings of Arthur Dent and Dirk Gently and  for the first time stepped into Pratchett's cosmos where it was turtles all the way down.   The worlds contained in those books, so masterfully created and full of life  also created a literary map of S's life.
Holding a book can mean holding an entire universe in your hand, whether it's the limits of our understanding of the universe as explained by Carl Sagan or the elegantly constructed places where Joanne Harris' modern fairy tale heroes roam.  Opening those books, sometimes even touching the creased spine of a deceptively mute traveling companion take us back to places in our lives when we turn to their pages to reveal the worlds inside, sometimes to escape our own and sometimes to better understand it.