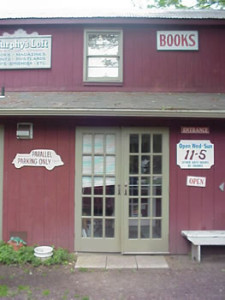 Murphy's Loft, Mullica Hill NJ.
This was my third experience in this laid back book and ephemera store. I visited years ago, and then a few months back, right after the original owner retired, and her son (grandson?) took the reins. Unfortunately, his mother decided to rid herself of half the inventory, so he let it be known he was fine with trade ins, if I had them. Ha, is the pope catholic? (at least he was when the smoke cleared). It took me months to get myself in gear and bring the boxes piled up at my mother's front door–yes there was still room to go in and out–barely. I had around 5 filled regular sized boxes, and a couple of bag pretty nice copies. Most were unread hardcovers, probably 90 per cent inscribed by the author. As much as it pained me to give the inscribed copies away, I can't find room to inch around anymore, and eventually I will need to move—and the picture in my head of how that would go, spurs me on to downsize books. But, as I wrote in another article–I have my husband take photos of the cover and inscription before each title leaves home and finds another spot on someone's shelf. That way I feel I'm not abandoning the spirit of the words an author spent time thinking about and writing on the title page for me.
The bookshop is a wonderful throwback to the cosy stores of yore. Shelves upon shelves of books greet you, with 1 dollar items outside. It's a fairly large space, with two floors to browse. And the prices are divine. So reasonable, you can find gems for almost a pittance. The trip a few months ago netted the store 100 dollars, and us around 3 boxes of fantastic finds. Mostly children's illustrated titles and a couple of science fiction pulp magazines made up our stash. This trip my friend and I lugged my boxes of brodart covered inscribed first editions and various and sundry other things in through the quaint doors, to be told that they had a new policy of not accepting hardcovers with a publishing date earlier than 2010. Well, I owned nothing dated after that point, and I was about to become acutely disappointed and downright upset, when the lovely lady who was in charge at the moment, saw the condition of the titles and the inscriptions, and made an exception. A very nice exception. All but a small box and a couple of overly used paperbacks were taken in for credit–of which I was astounded at the amount. My friend had already located diamonds in the rough in the next room over, so we immediately started to eat away at the credit.
On the lower floor besides the vintage children's titles, there are a vast number of cookbooks. Across from them are shelves devoted to collecting antiques, which is good, because the store now offers vintage glassware etc.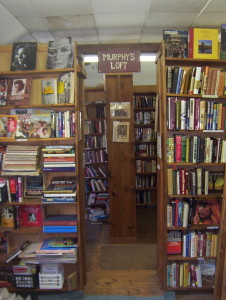 In the area of the desk and check out counter where the trade-ins took place, are file cabinets filled with old postcards, beautifully organized for easy browsing. There are unpretentious boxes filled with loads of 60s and 70s Life magazines–it was shocking for a moment to see the assassination attempt on then racist Governor George Wallace blown up on one cover. Underneath those were other older magazines–two of which went into our to buy pile–a 1929 Home and Gardens, and a 1920s magazine called The Etude–the interior is worthless except to music lovers, for there is no content other than music–no illustrations, no interesting articles, and barely any ads, and those that exist are naturally within the world of orchestras. But the covers of The Etude are beautiful, and this one has marionettes depicted. Marionettes are another collectible of mine–yes, I seem to collect neverendingly. (Is that a word? Spellcheck doesn't think so.)
On the other side of the check out room, there is a large somewhat emptier space, with a wall devoted to pulp. Mostly science fiction, the condition of the magazines and digests are not great, but the wacky style of art still remains, so for my husband's sake, I pulled a couple I thought were extraordinary. The crime pulp paperbacks had been picked over, so not much was left for me to do damage, however I managed to find around three scantily clad babes whose past is questioned. A little alcove is chock full of more sci fi, both nicer conditioned higher priced pulp magazines, and regular used paperbacks.
My friend had long before stepped upstairs, so I followed up the sort staircase. Here is where nice compact aisles of books were showcased. More children's books, all manner of fiction, non fiction, and mystery hardcover and soft weaved in and out–the term 'among the stacks' is a perfect description of the upper treasure trove.  There is no chance I could enter a bookstore such as this and not check out the mystery section. I didn't peruse long, we had already  sailed through a couple of hours, (if left to my own devices, I may lose all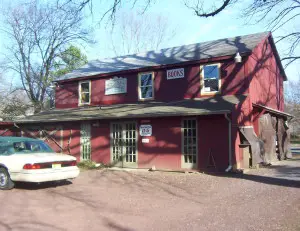 sense of time, and be locked inside at night) so after I plucked a couple of things I needed to re-read for my Best 100 Mysteries of All Time List, and a few Rex Stouts I hadn't read, we were ready to see how much money I owed over my credit. Turns out–I still have some credit left!! Which means another trip soon so I can wipe that out, and feel perfectly fine about bringing my next 100 books or so in for trade! Hopefully they will sell the ones already there, and the new buyers will learn about some 'Diane' that the author says nice things about. An all around win situation!
From the Mullica Hill Business Directory website:
"Sallie Murphy, Proprietor
Established in 1987 by Sallie Murphy, this bookstore is unique not only to Mullica Hill but we are unique to the east coast. We have something for everyone Postcards, Prints, Vintage Magazines, period sheet music, Paper ephemera, 50,000 great used books at amazing prices. Why not bring your whole family down to Visit us, kids under 12 get a free children's book. We have a down at home family atmosphere here at Murphy's Loft." 53 North Main Street, Mullica Hill NJ 08062  (856) 478-4928