In the realm of inventive, imaginative, and productive ways of bringing books, authors, and readers together, visionary Terry Gilman of Creating Conversations in Redondo Beach, California, has enough know-how to fill a guidebook. Her statement in a recent interview, "The only thing I do is sell books," is a bit modest when you consider the multiple successful book ventures she has initiated in communities and schools throughout Southern California.
The listener understands that the wheels of her next brainchild-book-idea to engage readers of all ages are forever spinning. When lifelong philanthropist Terry learns that something book-related is missing from an entity that's within her power to provide, she often begins a sentence with, "So I thought that …" and formulates an innovative program to meet that need. "I love developing these programs and coming up with new ideas that people have never done. If it involves books, that's my niche."
A Page-Turner Story Past to Present
Terry turned her childhood love of books and recommending them to others into a wildly successful store in San Diego called Mysterious Galaxy in 1993. "When my son was 4 and my daughter was 2, I was sole proprietor of a non-book-related business, but I was still searching for something else. The short story is I met a young couple, both managers of book stores who had a business plan for a multi-genre book shop, and over my dining room table, I, Maryelizabeth Hart, and Jeff Mariotte put together a plan to open Mysterious Galaxy."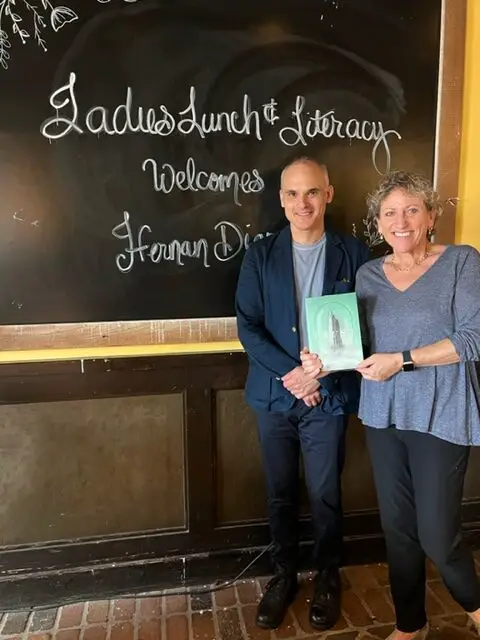 Mystery, science fiction, fantasy, and horror were their chosen genres. The shop's tagline Books of martians, murder, magic, mayhem (they later added & more) attracted attention, but as for any bookstore, momentum took a while to build. "It's very, very difficult to start a bookstore and to find an audience." The opening on May 8, 1993, featured such notable authors as Ray Bradbury, Robert Crais, and David Brin, and over the years, the store brought in droves of destination and collector audiences. The store moved four times. Terry sold it to the current owners in Jan. 2020.
In the quest for finding or recommending the book a reader wants, Terry puts her sleuthing skills to the task, always aligned with the seeker's personal tastes. She starts by asking "What is your favorite book?" and the search goes from there. She relates the fun she and fellow bookseller Maryelizabeth have "when a person comes into a bookstore and says, 'I just read a book I loved, and I don't remember the book's name or the author, but I want to read more like that.' We begin with 'What was the cover or color of this book? Do you remember where it took place?' We never doubt that we can uncover what that customer is actually looking for, discover the book title and author, and what they were in love with. Surprisingly, we get there. It's like a little teeny mystery wrapped up in a book."
Terry moved to the South Bay in Los Angeles in 2001, managing Mysterious Galaxy from there. In 2008, her thoughts returned to plans for a second local Mysterious Galaxy and café, which she opened in Redondo Beach in 2011. Although that location proved unsuccessful as a bricks-and-mortar shop, always looking to develop something new and exciting, indefatigable Terry created her current book business, Creating Conversations, with thoroughly original programs that bring dedicated readers from near and far.
A boon to Creating Conversations came when an event planner asked that Terry take on a series of special outside book events. "She introduced me to the various organizations and I started doing this pop-up business where I would send booksellers to brunches and book festivals and different organizations and that just grew. The publishers began to call and say, 'Will you pop up this and that event,' and most of the bookstores in LA were too busy with their own bookstores. That business started to blossom and I realized that I had a vibrant outside events business. Thousands of people attended, from L.A. to Santa Barbara to Corona. The effort was really worth it. Then came March 2020 and outside events ended." 
Building the audience remains high on Terry's list, but she approaches this with different solutions. She mentions that her solid relationships with publishers are a priority. "Basically, you look ahead at the authors of books coming out and request that those authors come to your store. Over time, we developed a really good reputation that we were able to draw crowds for the big authors, as well as for the small ones." As for her unique twist on the business of book promotion, "I never do the same program twice or repeat what I've done before." The element of surprise and the opportunity to mingle with authors and friends and buy books is what keeps people interested and coming back for more.
Author Event: Ladies, Lunch & Literacy  
The names Terry chose for her events and programs are not gender-based or specific, but she tells us, "It's all about alliteration. At the end of the day, it's all about words. That's how this all came about." The chronological progression began with Ladies, Lunch & Literacy.
"When I moved to Southern California and contemplated opening a bookstore once again, I knew that in order to do so I would need to build up my customer base. I decided I wanted to create a luncheon series, not based on having it every month or at specific times, but based on when I fell in love with a book. And the idea was that I wanted to share that book, something of substance, with my community. So I focused mainly on debut writers and the discovery of their work so that people would come to my lunches and they would trust that they would meet an author whose book was worth reading."  Her first debut author, Lauren Groff, now a well-known literary success, gave a lunch talk about The Monsters of Templeton.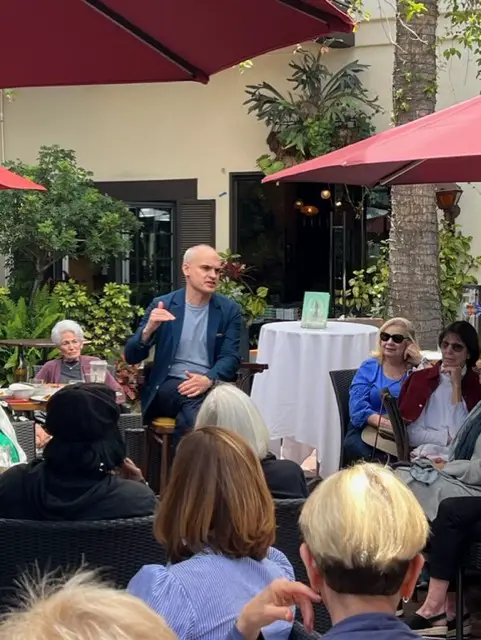 "My idea," explains Terry, "was to make this a very sought-after event that would sell out and that people would rush to them. Well, that didn't exactly happen, but I have sold out lunches and have grown the list from an initial 40 friends to over 1,000." A few weeks ago, she held her first in-person lunch in 2 ½ years and was excited to see 50 attendees. That lunch featured writer Hernan Diaz, author of Trust, a turn-of-the-century novel about men who built wealth on the stock market. She worried that some women would not relate to the story, but in fact, Diaz wrote a sort of feminist book, having researched in depth the otherwise disregarded writings and observations of the women of the time, bringing an unusual perspective to the work. 
"What makes these programs successful is when the author is articulate and thoughtful, has a plan, delves deeply into the book they've written, and is passionate about it. Diaz was helpful and charming and possessed all of the traits we look for. Happily, the program was an absolute smash."
Terry comes from a very philanthropic family, kind and giving, and as such, she wanted to "make it a book-filled full-circle sort of event. Every year, I identified a non-profit literacy organization in Los Angeles that would in some way benefit from my lunches." When her program had been operating for 10 years, (Ladies, Lunch & Literacy 10th Anniversary 2008 – 2018), a girl who worked with Terry encouraged her to list her non-profit partners for the first 10 years and the authors who spoke at the lunches during the same time period. Among the non-profits are WriteGirl (U.S. Poet Laureate Amanda Gordon took courses there, and in 2009, the group gave Terry 'A Friend' of the Los Angeles group for her volunteerism and mentorship), The Wonder of Reading, KIPP:LA, A to K LA, and Ready, Set, Read! "The authors," says Terry, "were all over the place, some well-known, some aren't, some books have gone on to be amazing, some we've never heard of."  Among the 52 authors are Sue Grafton, Bill Clegg, Jennifer Egan, Pete Nelson, Emma Straub, Kathryn Stockett, Madeline Miller, and Anchee Min. Because of her intuitive sense of books and her passion for the right picks, Terry usually gets it right.
Like Speed Dating Turned Upside Down: Smart Summer Reads
As an attendee, I found that it doesn't get much more fun than an afternoon at Smart Summer Reads. In years past, Terry hired Mychal's, a non-profit that trains and employs developmentally disabled adults, to offer baked goods and coffee from pop-up go-carts to attendees. In her house, Terry holds a round-robin event where six authors speak for seven minutes about a book they have written to a group of 10-15 attendees in six groups, placed throughout her house. "There are so many fun and interesting books that come out in the summer, and since I only hold lunches from September through May, I embarked on this entertaining event." Participants move from author to author. 
Terry tells the authors to "change your elevator pitch up, don't make it the same each time. The people are really there to get to know you. Engage your audience and have a conversation."  At the end of the event, authors and attendees mingle and talk. Attendees choose whatever books caught their fancy and have them signed by the authors. So many book lovers value signed and dated books for whatever reason – personal, memories, gifting, collectibles, first editions signed and dated — a whole different category and discussion for another time. Sometimes there is a non-profit presence per Terry at the program, the ideal way to give back to one's community.
KIPP:LA: Terry's Philanthropic Pride and Joy
In 2010, Terry received the Manhattan Beach Women's Chamber of Commerce's Women in Business Heart and Soul Award'. Her philanthropic efforts are many and notable. She does have a favorite, though, the KIPP schools, introduced to her by her mother. "If I had only one thing left to support and promote, it would be KIPP, the non-profit organization of which I am most proud. The initials stand for Knowledge is Power Program, a series of elementary and middle public charter schools that I have helped fund and promote in multiple ways." The school's slogan: 'Work hard. Be Kind.' speaks for the children who attend the schools (there are 15 in underserved areas of Southern California, built from grade 1 up, one grade at a time) and those affiliated with the successful endeavor.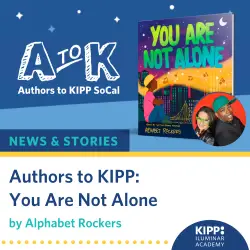 Terry founded and helped fund through donations A to K LA, an inspirational mini non-profit program affiliated with KIPP:LA that brings authors and children together over books and stories, helping instill the desire to start one's own home library and contribute to readership for life. It's an educational partnership that rewards the participants. "It's heartwarming to see." Each attendee receives a book, and the school library is gifted with at least 15 books. Creating Conversations has coordinated middle school visits to KIPP grades 1 and 2 sites.   
Worthwhile Partnerships Make a Lasting Difference
Ever the optimist, Terry doesn't know what the future holds for booksellers, but she hopes for the best. She does end on an upbeat note of good advice. "The business and personal relationships we form are meaningful and work to our mutual benefit," she says. Terry mentions Mission Viejo Library as a "great partner, having produced virtual events together including events with authors and publishers." She continues to partner with Orange County Library, which places book orders with her when they receive grants. Among others, Huntington Beach Library and Cerritos came on board.
"Whether it's a partnership with my community Ladies, Lunch & Literacy or Smart Summer Reads, or it's a long-standing partnership with book publishers, or the library that said during the pandemic, 'We'll buy books from you'; to the Long Beach Literary Women who asked, 'How can we support you during the pandemic?' and I said, 'Why don't I create a virtual series for you?' We supplied this amazing virtual series and they still want to continue to do it, even following the pandemic. That's been the most rewarding thing for me, and it's very much a partnership. They appreciate what I do for them and I appreciate that they want me and trust me to carry out these things."
Bookstore is located at: 2850 Artesia Blvd. #209, Redondo Beach, CA 90278