June is one of the best months for new releases. June marks the beginning of summer and summer brings summer reading. Readers who didn't before now have the time to spend hours outside reading some of the new summer releases. And don't forget, June is also Pride Month. So there are plenty of LGBTQIA books coming out in June you won't want to miss out on. The books previewed below are worth putting on your summer reading lists. 
The House Across the Lake by Riley Sager
The House Across the Lake is the latest thriller from Riley Sager. It follows Casey Fletcher, a recent widow who has been spying on Tom and Katherine Royce from across the lake. When one of them goes missing, Casey discovers the perils of intoxicated voyeurism. Riley Sager's latest mystery thriller novel is full of his famous twists and psychological suspense.
More Than You'll Ever Know by Katie Gutierrez
Katie Gutierrez's debut novel More Than You'll Ever Know tells the story of Dolores "Lore" Rivera who in 1985 marries Andres Russo in Mexico City. But Dolores is already married to Fabian Rivera in Laredo, Texas, and is the mother of twins. Her profession as an international banker allows Dolores to divide her time between the two men until her double life is revealed and one of her husbands is arrested for murdering the other.
Related: A Classic Summer
In 2017, true-crime blogger Cassie Bowman finds out about Dolores's story and wants to find out more. She wonders why a woman would risk everything to live a double life. Soon, Cassie tracks down Dolores and begins to investigate the details of the murder.
In 1923, Saffron Everleigh, a freshly anointed research assistant, attends a dinner reception for the University College of London. The meal, which was intended to be about the university's expedition to the Amazon, is disrupted when Dr. Henry, the wife of one of the professors, collapses dead on the floor, having been poisoned by an unknown toxin. Dr. Maxwell, Saffron's mentor, is the prime suspect, having had a heated disagreement with Dr. Henry just a few days before. Saffron, realizing that the only person who can clear Dr. Maxwell's name is her, sets out to find the real killer.
Three years ago, passionate surfer Kenna Ward lost her two great loves. After her boyfriend drowned, she hung up her surfboard and swore off the water for good. But she is drawn back to it when her friend, Mikki, becomes engaged to a man Kenna has never met—a member of a tight-knit group of surfers. 
Kenna travels to a remote Australian beach, entering a dangerous world far from a civilization world. A place where only the waves, weather, and tides are all that matter. Kenna is tempted back into the surf and drawn into the dazzling group and the beach they call their own. But this coastal paradise has a dark side, and members of the group begin to go missing. Kenna realizes that in order to protect Mikki and learn more about the surfers, she must become one of them…without becoming one of their victims.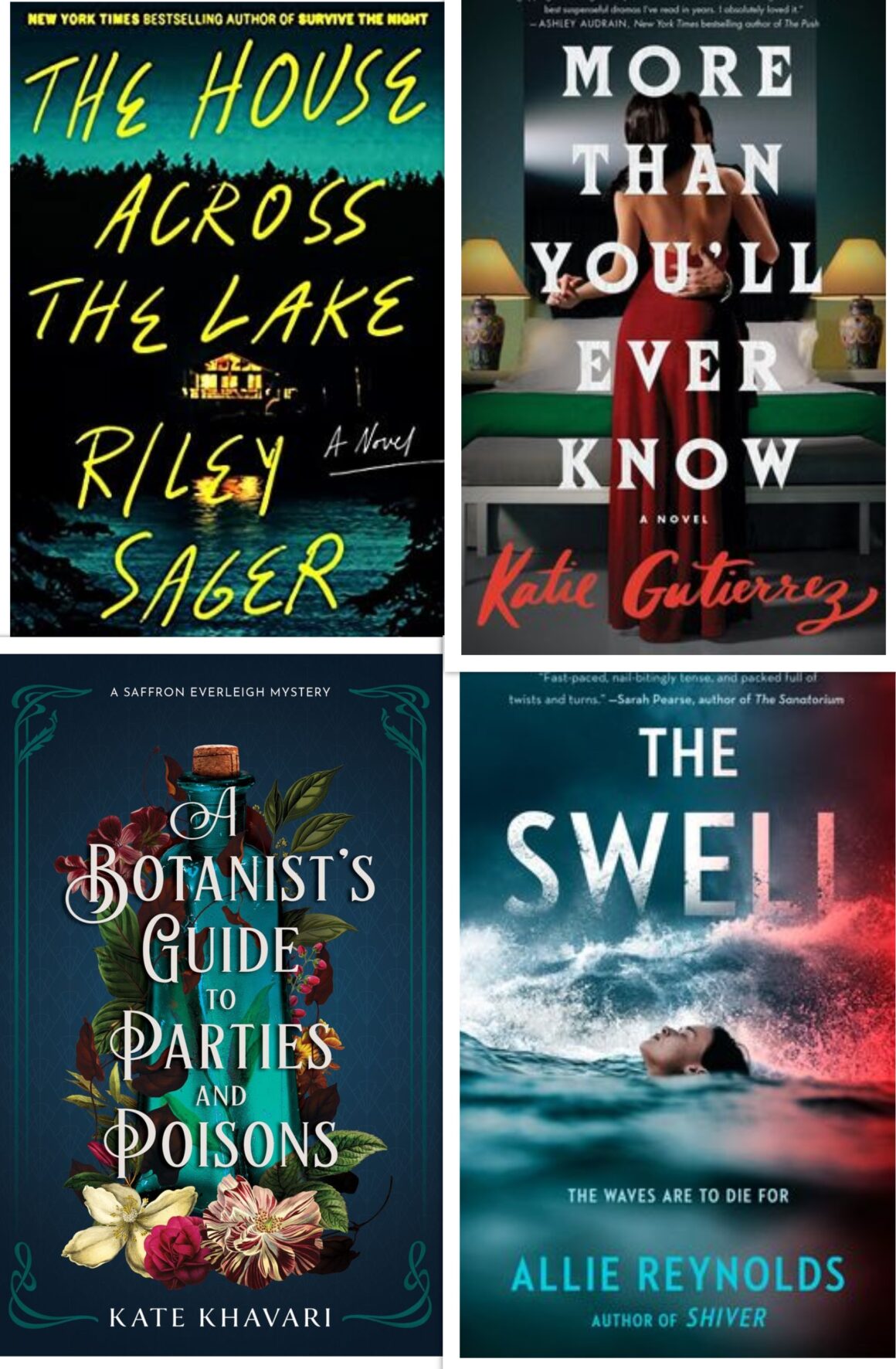 Nora Goes Off Script by Annabel Morgan 
As a romance channel screenwriter, Nora Hamilton knows the formula for love better than anyone. But when her husband leaves her and their kids, Nora turns the loss into her best script. So good it is picked up for the big screen and is set to film on location at her home. When Leo Vance, the leading man playing her ex-husband, asks Nora to stay an extra week at her home after filming has wrapped, and in return, he'll pay her $7,000 dollars, Nora accepts. The money will give Nora some breathing room, but the need in Leo's eyes makes her say yes. 
Jada Townsend-Matthews is the most reviled woman in America after turning down a proposal on a reality dating show. When she comes home to lick her wounds, Jada finds herself working at San Diego's newest cupcake bakery, Sugar Blitz. She works alongside the uptight owner and professional football player Donovan Dell. When a reporter mistakenly believes Jada and Donovan are an item, they realize they could use the misunderstanding to help the bakery and rehabilitate Jada's image. Faking a relationship should be simple, but sometimes love is the most unexpected ingredient. 
Ghanaian-American Angela Appiah has checked off all the boxes for the "Perfect Immigrant Daughter. She enrolled in an elite medical school, snagged a suitable boyfriend, and surrounded herself with successful and/or loyal friends. But then it quickly all falls apart. Her boyfriend dumps her, she bombs the most important exam of her medical career, and her best friend pulls away. And her parents, whose approval seems to hinge on how closely she follows the path they chose, are a lot less proud of her. It's a quarter-life crisis of epic proportions.
Angie, who has always faced her problems by working "twice as hard to get half as far," is at a loss. Suddenly, she begins to question everything: her career choice, her friendships, even why she's attracted to men who don't love her as much as she loves them. And just when things couldn't get more complicated, enter Ricky Gutierrez— brilliant, thoughtful, sexy, and most importantly, seems to see Angie for who she is instead of what she can represent. Unfortunately, he's also got "wasteman" practically tattooed across his forehead, and Angie's done chasing mirages of men. Or so she thinks. For someone who's always been in control, Angie realizes that there's one thing she can't plan on: matters of her heart.
Amber McCloud's desire of becoming cheer captain is difficult to be enthused about when Robbie, the football team's quarterback, is killed in a car accident. It's hard for the team to see Robbie be replaced by rookie Jack Walsh. But when it's revealed that Jack is actually short for Jaclyn, all hell breaks loose. The players are unwilling to be led by a girl and the cheerleaders are upset about the changes to their traditions. 
Not to mention, Robbie has been outshined by Jack and that has enraged more than a few Atherton Alligators. It becomes clear to Amber she will only have a future on the squad if she joins them in taking down Jack. Amber must decide if her loyalty lies to her squad and her dream, or to Jack, the person she is falling for.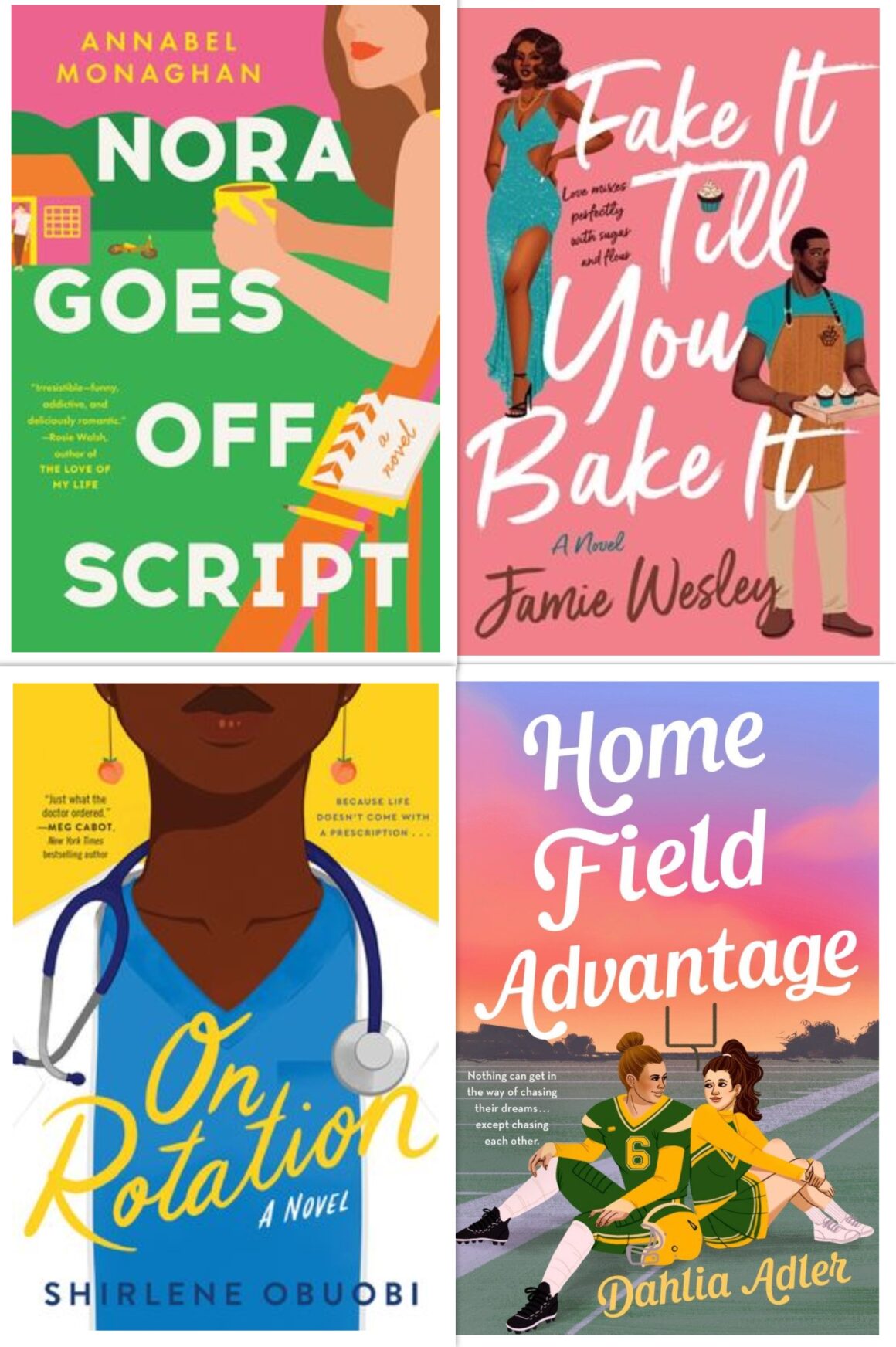 Three weddings. Three funerals. Alessa's gift from the gods is supposed to magnify a partner's magic, not kill every suitor she touches. Now, with only weeks left until a hungry swarm of demons devours everything on her island home, Alessa is running out of time to find a partner and stop the invasion. When a powerful priest convinces the faithful that killing Alessa is the island's only hope, her own soldiers try to assassinate her. 
Desperate to survive, Alessa hires Dante, a cynical outcast marked as a killer, to become her personal bodyguard. But as rebellion explodes outside the gates, Dante's dark secrets may be the biggest betrayal. He holds the key to her survival and her heart. But is he the one person who can help her master her gift or destroy her once and for all?
Sylah dreams of days growing up in the resistance, being told she would spark a revolution that would free the empire from the red-blooded ruling classes' tyranny. That spark was extinguished the day she watched her family murdered before her eyes. Anoor has been told she's nothing, no one, a disappointment, by the only person who matters: her mother, the most powerful ruler in the empire. But when Sylah and Anoor meet, a fire burns between them that could consume the kingdom—and their hearts. 
Hassa moves through the world unseen by the upper classes, so she knows what it means to be invisible. But invisibility has its uses: It can hide the most dangerous of secrets, secrets that can reignite a revolution. And when she joins forces with Sylah and Anoor, together these grains of sand will become a storm. As the empire begins a set of trials of combat and skill designed to find its new leaders, the stage is set for blood to flow, power to shift, and cities to burn. 
Rising above the city of Collis is the holy Sanctum. And watching over its spires is Catrin, an orphan girl with unique skills—for she alone can spot the building's flaws in construction before they turn deadly. But when Catrin witnesses a murderer escaping the scene of his crime, she's pulled into the web of a dangerous man who will definitely strike again. 
Assigned to capture the culprit is the mysterious, brilliant, and enigmatic Simon, whose insights into the mind of a killer are frighteningly accurate. As the grisly crimes continue, Catrin finds herself caught between murderer and detective while hiding her own secret—a supernatural sight granted by the moon, destined to make her an outcast, and the only thing that might save her and those she loves from becoming the next victims…
Luca Laine Thomas lives on a cursed island. To the outside world, Parris is an exclusive, idyllic escape accessible only to the one percent. There's nothing idyllic about its history, though, scattered with the unsolved deaths of young women—deaths Parris society happily ignores to maintain its polished veneer. But Luca can't ignore them. Not when the curse that took them killed her best friend, Polly, three years ago. Not when she feels the curse lingering nearby, ready to take her next. 
When Luca comes home to police cars outside her house, she knows the curse has visited once again. Except for this time, it came for Whitney, her sister. Luca decides to take the investigation of Whitney's death into her own hands. But as a shocking betrayal rocks Luca's world, the identity of Whitney's killer isn't the only truth Luca seeks. And by the time she finds what she's looking for, Luca will come face to face with the curse she's been running from her whole life.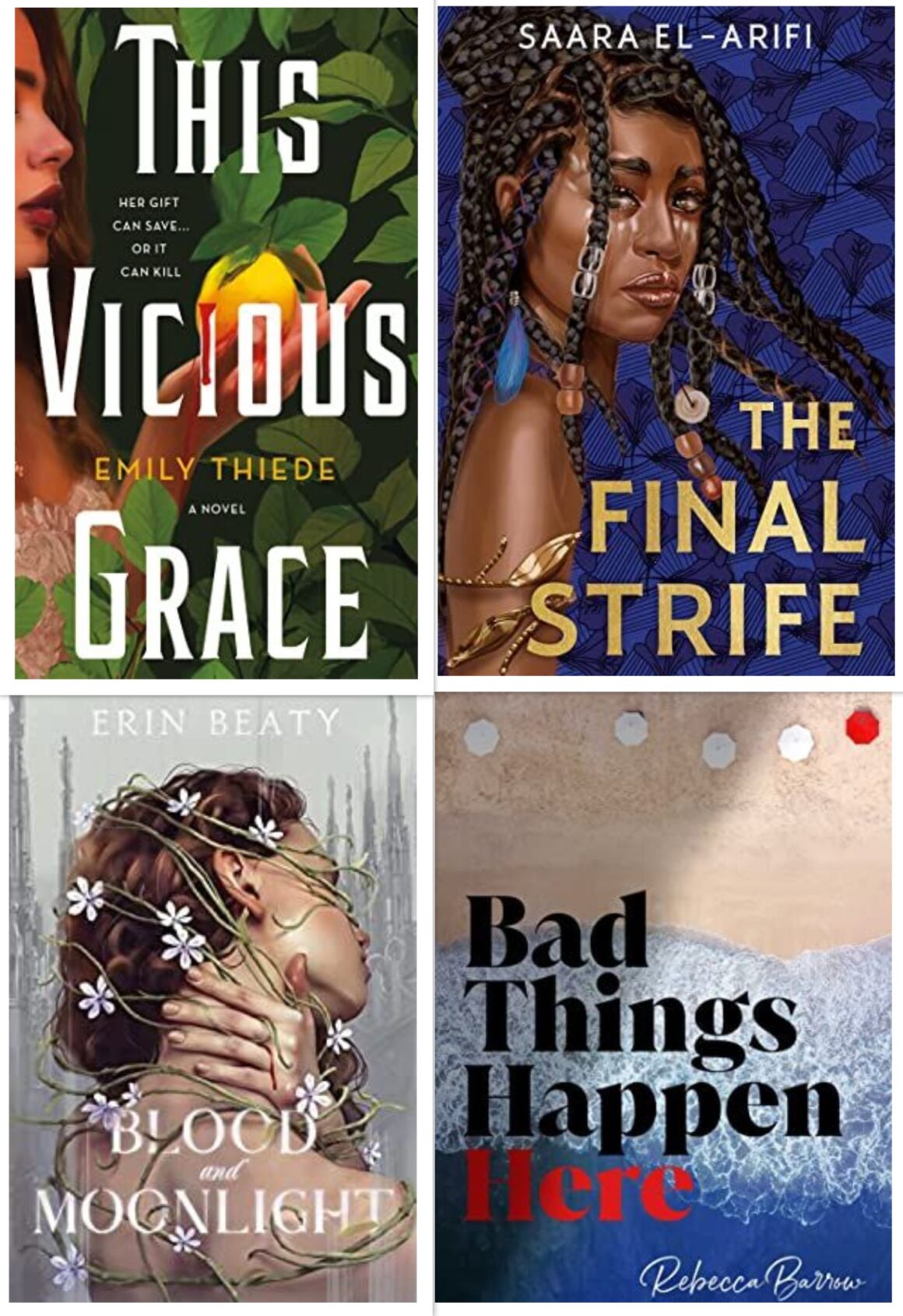 Despite having had near-identical upbringings, sisters Annalie and Margaret agree on only one thing: that they have nothing in common. Nineteen-year-old Margaret is driven, ambitious, and keenly aware of social justice issues. She couldn't wait to leave their oppressive small-town home and take a flight to New York. Meanwhile, sweet, popular, 17-year-old Annalie couldn't think of anything worse – she loves their town and feels safe coasting along in its confines. That is until she arrives home one day to find a gut-punching racial slur painted on their garage door. 
Outraged, Margaret flies home, expecting to find her family up in arms. Instead, she's amazed to hear they want to forget about it. Their mom is worried about what it might stir up. While Annalie just wants to have a 'normal' summer – which Margaret is determined to ruin, apparently. Back under each other's skins, things between Margaret and Annalie get steadily worse. Not even the distraction of first love (for Annalie), or lost love (for Margaret) can bring them together. Finally, a crushing secret threatens to tear them apart forever.
Kiara and her brother, Marcus, are scraping by in an East Oakland apartment complex optimistically called the Regal-Hi. Both have dropped out of high school, their family fractured by death and prison. But while Marcus clings to his dream of rap stardom, Kiara hunts for work to pay their rent–which has more than doubled–and to keep the nine-year-old boy next door, abandoned by his mother, safe and fed.
One night, what begins as a drunken misunderstanding with a stranger turns into the job Kiara never imagined wanting but now desperately needs: nightcrawling. Her world breaks open even further when her name surfaces in an investigation that exposes her as a key witness in a massive scandal within the Oakland Police Department.
The Kingdom of Sand by Andrew Holleran
The Kingdom of Sand is a poignant tale of desire and dread—Andrew Holleran's first new book in 16 years. The nameless narrator is a gay man who moved to Florida to look after his aging parents—during the height of the AIDS epidemic—and has found himself unable to leave after their deaths. With gallows humor, he chronicles the indignities of growing old in a small town.
At the heart of the novel is the story of his the narrator's friendship with Earl. Who he met cruising at the local boat ramp. For the last twenty years, he has been visiting Earl to watch classic films together and critique the neighbors. Earl is the only person in town with whom he can truly be himself. Then Earl's health begins to fail. The narrator must contend with the fact that once Earl dies, he will be completely alone. He distracts himself with sexual encounters at the video porn store and some visits to Walgreens. All the while, he shares reflections on illness and death that are at once funny and heartbreaking.
Part butch memoir, part ekphrastic travel diary, and part queer family tree. Raquel Gutiérrez's debut essay collection Brown Neon gleans insight from the sediment of land and relationships. For Gutierrez, terrain is essential to understanding that no story, no matter how personal, is separate from the space where it unfolds. Whether contemplating the value of adobe as both vernacular architecture and commodified art object, highlighting the feminist wounding and transphobic apparitions haunting the multi-generational lesbian social fabric, or recalling a failed romance, Gutiérrez traverses complex questions of gender, class, identity, and citizenship with curiosity and nuance.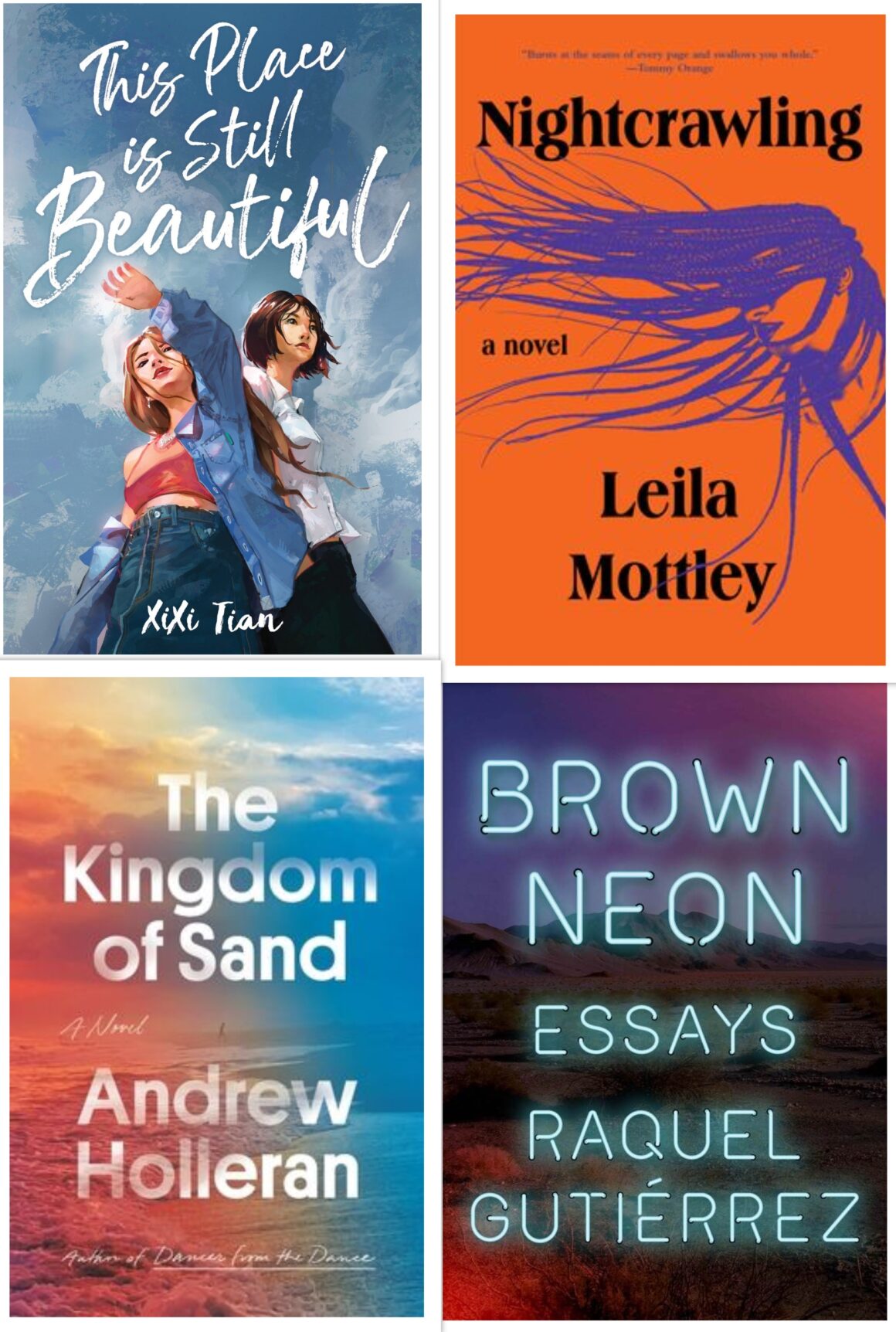 There are abundant new and diverse books being released in June. These 16 recommendations are only some of the great books you should read this summer. No matter what books you check out, you are bound to find something you like out in June.