It's that time of year again. Back to School! But for many 4- and 5-year-old little ones, 'back' to school may really be starting school for the first time. Even with older siblings in the family, that can be a scary prospect. Some children may be changing to new schools, which is an equally scary prospect. Fortunately, there is a wealth of books available to help these young scholars get off to the right start.
Some Classics
Let's start with the classics.
Few children's books are more familiar than The Berenstain Bears series. These light-hearted but reality-based picture books can help prepare young ones for many firsts: first doctor visit, first dentist appointment, new baby, new babysitter, moving day, etc. In The Berenstain Bears Go to School, Sister bear gets her first introduction to kindergarten. She goes to bed worrying that the end of summer and her familiar life at home is quickly ending.
Related: Literary Genres for Children – A Complicated Map
The next day she meets Miss Honeybear, her new teacher, who seems to have a scary voice. The room, however, is inviting with tables and chairs just the right size for Sister. Her new confidence is shaken a little the next day when she has to climb aboard the big, yellow bus filled with so many bear cubs Sister has never met. Sitting next to a little bear even more scared than her helps Sister to face that first day, which turns out to be fun after all.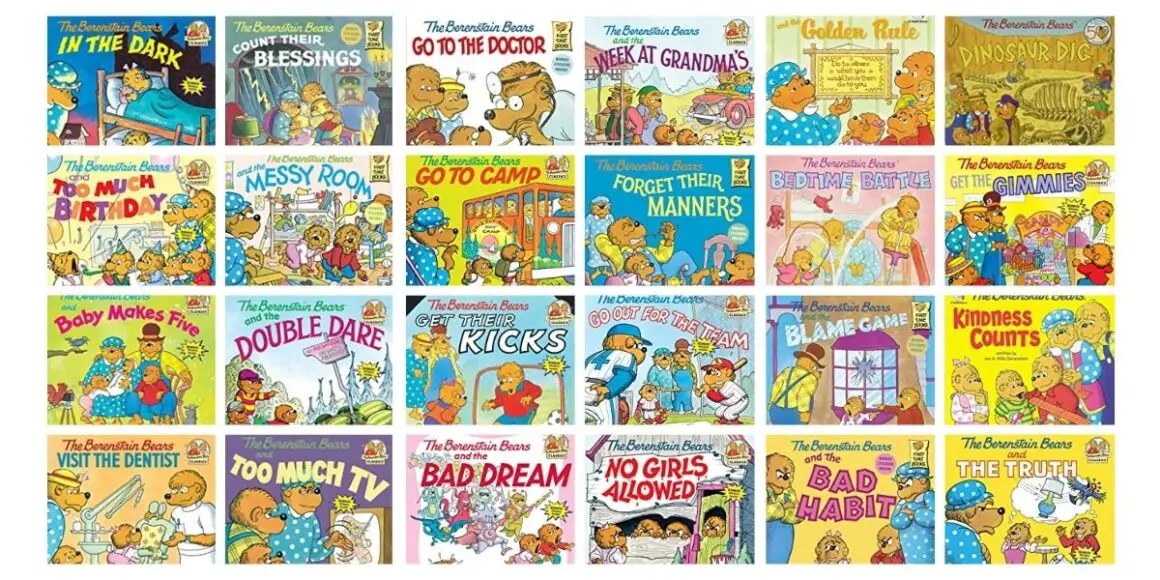 If You Take a Mouse to School by Laura Numeroff takes a more modern and light-hearted approach to the problem. The child in the story is paralleled by a spunky little mouse climbing into overalls as his hair is combed then following the child through his school day. The mouse gets his very own lunchbox, sandwich, and snack, joins the class for reading, and makes a colossal mess in science before occupying a giant house of blocks built just for him. The mouse is featured in many of the typical school activities, from writing to sports and the bus ride home. As in all the Numeroff mouse books, the story both comes full circle and sets the reader on a page-by-page search for the little mouse as the tale unfolds.
A Different Perspective
First Day Jitters by Julie Danneberg turns the problem of starting school on its head to the delight of young readers. Sarah may not be starting school for the very first time, but it is the first day at a new school for her. And Sarah is having no part of it. She buries her head under the blankets when Mr. Hartwell announces that it is time to wake up. She has no interest in starting over again. After all, she won't know anybody and she is already convinced that she will hate it. But everyone will wonder where she is, Mr. Hartwell pleads, accompanied by illustrations showing a classroom of kids searching for a missing person with police officers standing by to take a full report.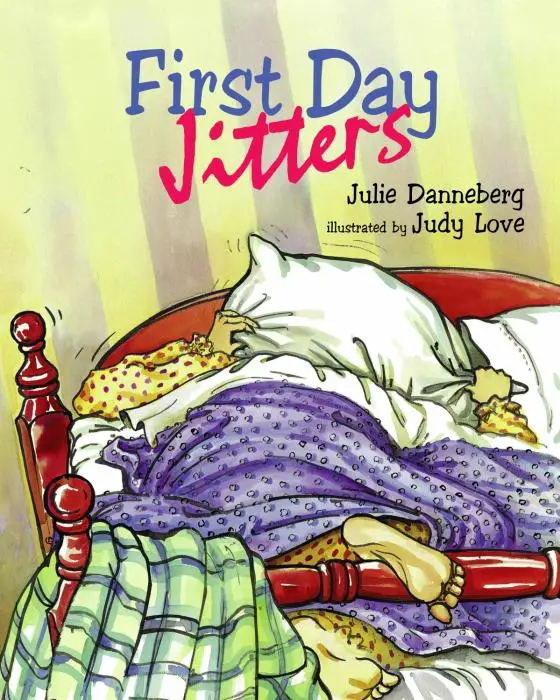 Mr. Hartwell insists. Sarah climbs out of bed just long enough to pull a blouse over her head. When she is handed toast and a lunch box, Sarah covers her face claiming a terrible headache. Finally, she climbs in the car but ducks her head as they pull up in front of the school hoping no one will see her. The effort fails. Her new principal welcomes her to the school as they push their way through the crowded hallways to Sarah's classroom.
The rest of the class is seated and waiting. On the final page, the reader sees Sarah's face for the first time as she is introduced to the class as…the new teacher! Any child dreading the first day of school or the first day in a new school will realize that the teachers are just as nervous as they are!
Miss Bindergarten Gets Ready for Kindergarten by Joseph Slate approaches the issue from a similar perspective. The jaunty, rhyming text introduces readers to first-time students in the forms of baby alligators, beavers, frogs, elephants, and any kind of young animal imaginable. They wake up, brush their teeth, round up clothes, blow on hot cocoa, and do all the other things that anyone needs to do to prepare for the day. Every other page, however, shows Miss Bindergarten, a beautiful collie, preparing the room for her new kindergarten class. She arranges furniture, unpacks books, brings out art supplies, and hangs up alphabet letters. At last, the room is ready with play areas, reading corners, and treats ready for the students just as the bus arrives. A final scene shows Miss Bindergarten and a roomful of happy and busy young animals ready to learn.
Guaranteed Laughs
Many of these books take a time-honored approach to giving young children a sense of reassurance before launching into a new school year. But for one final suggestion that will leave child and parent alike laughing with every page, try Jake Starts School by Michael Wright. This book also has rhyming text, with both the words and accompanying illustrations ripe with fun.
Related: Reading Your Child to Sleep – With Monsters!
Jake is awakened on his first day of school when his dog, Fred, licks him in the eye. Jake moves on to brush his teeth and comb his hair as Fred waits quietly holding the tube of toothpaste in his mouth and balancing Jake's comb on his head. All goes well for Jake as he takes his lunchbox with the two cookies for dessert and the long ride to school.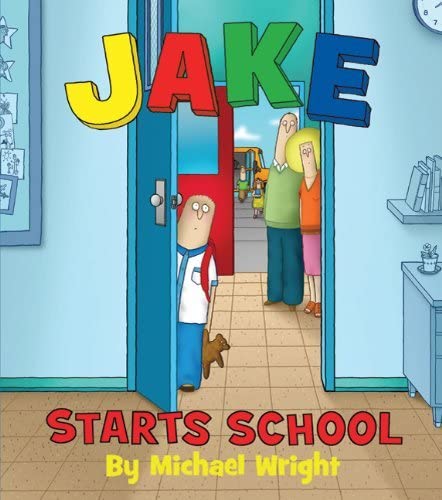 The problem comes when Jake finally confronts his new class, which looked so big and made him feel so small that "he passed a little gas." As you can imagine, this is the page that is always greeted by the 5-year-old set with peals of laughter. Jake is so intimidated that he refuses to let go of his parents who are then forced to squeeze together into one small chair, attempt to ride a seesaw as a giant clumping mass, and make their way through the day while in Jake's tight grip.
This stranglehold isn't broken until the teacher chooses a final story to read to the class about a dog named Fred, just like Jake's dog at home. The wonderfully funny illustrations end with a final page showing Jake happily charging into school the next day with only the slightest of waves to his parents.
Whether you choose a classic story to prepare your child for the new school year or one of the irreverently-funny more modern books, every child should have the benefit of a successful launch into learning – with the help of books!