Cheap Shelving
Cheap shelving for your bookshop can be one of the more difficult decisions for a new shop owner to make. The look and feel of his shop will obviously be affected quite a bit as will his budget. Our bookstore has been open for three and a half years now, long enough to see how our cheap shelving choice has stood up. For the reasons mention above we decided to skip custom bookstore shelving and go with Ikea. The look of their black-brown veneer shelving has been commented on by a majority of our visitors all in the positive.
We also need to consider the practicality of building or having somebody build your shelves. All the cutting, measuring (twice of course!) and especially staining and finishing is quite time consuming. If you are paying a contractor to do this it will get expensive fast.You will also most likely be forced to keep the shelves where they are. What I really like about the Ikea shelves is that not only were they a breeze to construct, taking about ten minutes per unit, but if you ever decide to modify the layout of the shop you can easily move the shelves around. We have actually done this three times already.
Calculating the cost of your bookstore shelving is simple enough, just calculate the wall space, or floor space that you need to cover, jump onto the Ikea web site to see the sizes they offer and do some simple math. You will quickly see what your costs will be, pretty cheap. Now find a contractor and ask for an estimate. Keep in mind the overruns in cost (often over 25%), add in the dust/noise/inconvenience/smell of varnish and time chewed up and you should have a fairly clear view of which choice to make.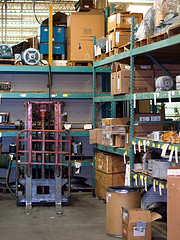 One other quick word about color choice if you decide to go with the Ikea shelves. We chose the black-brown option and are quite happy with it. You would think that a darker color may not be the best choice for hiding dust but it works fine. The shelves are easy to maintain and the dust that does accumulate does not really show.
Another bonus with this cheap shelving system is that all but the middle shelf are replaceable. If you have some shelves that become bowed over time it's very easy to buy a replacement shelf. This has not happened to us yet.
In addition to the beautiful Billy bookcases we added a few slatwall panels to display some of the nicer book covers.
..and here's a funny article on how bookshops shelve their books.
http://www.youtube.com/watch?v=0fqL6Cur2Xg