"Déjà vu: a feeling that one has seen or heard something before"

Merriam-Webster, 2022
When Lafayette, Louisiana, boasted the near 90-degree weather, I drove to pick up an iced coffee from CC's Coffee House. Predictably, not knowing my way around, I got lost on the way back. To get my bearings, I turned into a parking lot to safely look up directions, only to find that I had arrived at the Book Rack of Acadiana. Never one to pass up a good bookstore, I couldn't get out of my car fast enough to check it out.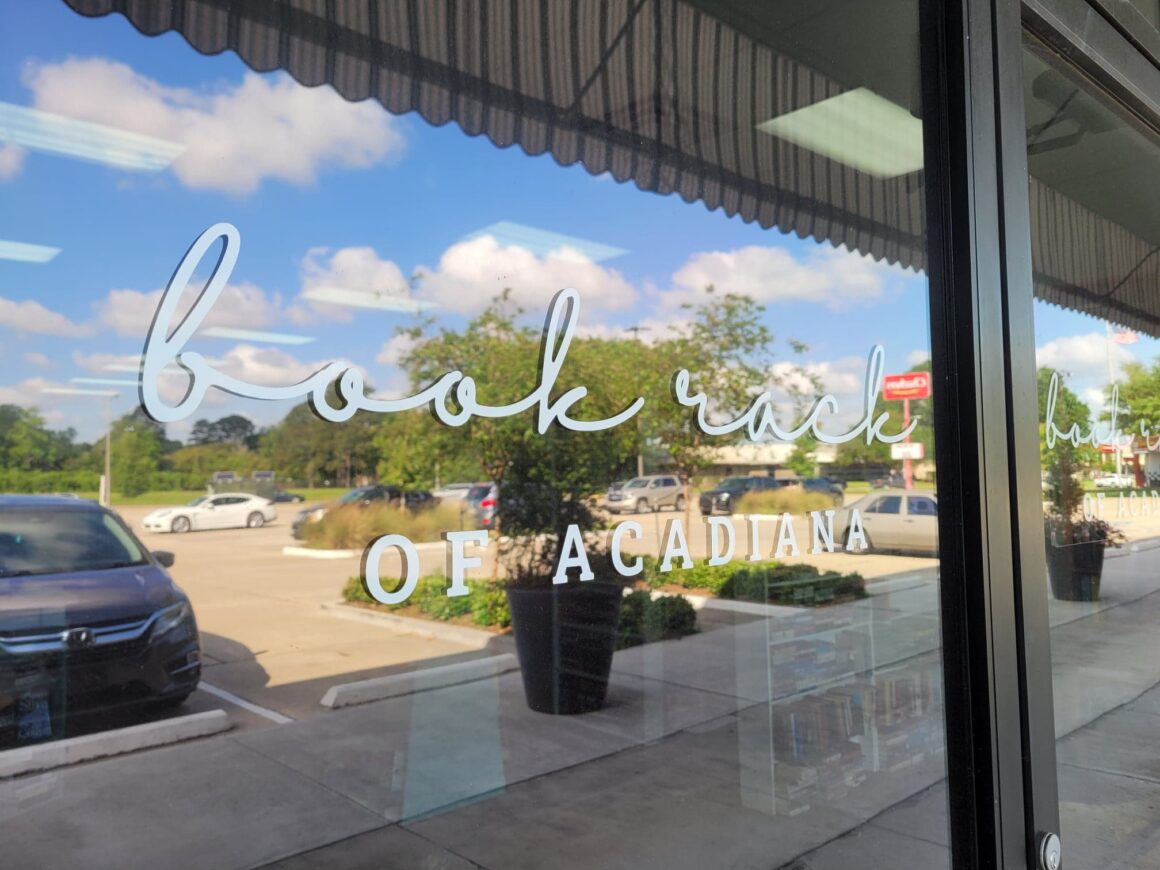 Once inside, I was blessed with cool air and slid my foggy sunglasses to rest on my head. A quick glance around and I stopped in my tracks. Although I knew that I had never been to this bookstore before, it felt like I had.
Déjà Vu? A Glitch in the Matrix? A Past-Life Experience?
Two women greeted me, one behind the register and a customer walking to the front. My feet were slow as they brought me closer to the smiling duo. For the first time ever, in a state I've only ever visited roughly twice a year during holidays, I recognized someone who was not family. Unsure where I knew them from, I responded back, "Hi! I feel like I know you…" 
Related: Best Bookshop Memories
Before they could introduce themselves, other customers came in with, "Hey, Miss Anne! Angelique!" 
The name Angelique was new to me, but Miss Anne struck a memory. I snapped my fingers and blurted out, "Scout's not dead."
Miss Anne, the retired manager, laughed and told me that was true, but he's not the bookstore cat anymore.
Quick Visit to a Flashback
Almost a year ago, I did a quick search of a bookstore that brought up great reviews and an unexpected photo of a handwritten sign that read 'Scout's Not Dead.' Intrigued, I went to the bookstore, which led to a lengthy chat with Miss Anne regarding Scout, the bookstore cat. She explained that because Scout slept soundly still, people were concerned that he had passed away. With amusement, the sign was written and placed next to his well-known sleeping spot.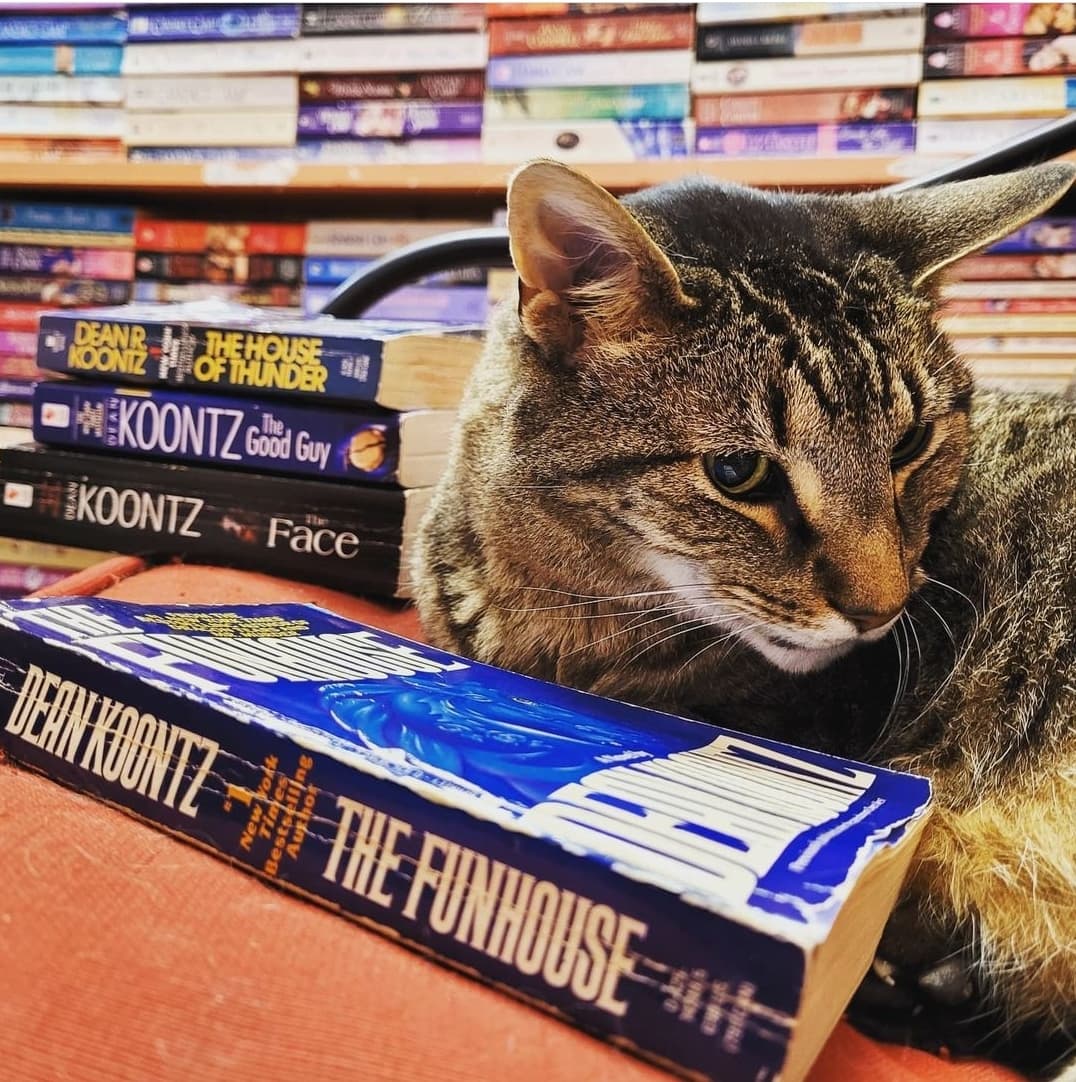 I had found the adorable snoozer in question, who propped his head up for some head scratches. I used my long fingernails to scruff behind his ears, and I snapped a quick picture of the purrfect kitty. Afterward, I went back up to the register to see that Miss Anne was waiting for me. My souvenirs from my visit were four Dean Koontz books and Christopher Moore's Island of the Sequined Love Nun. Admittedly, I judged the book by its glorious cover and declared that I needed it for my collection after reading the first line.
Explanation of My Inception Experience Turns Into an Interview
Fast-forward to the present me, scrolling through my phone to show my photo to the nice ladies because I didn't know how to explain my déjà vu. Thankfully, I found the photo relatively quickly and they understood right away. The current Book Rack of Acadiana owner, Angelique Guilbeau, explained that Scout was one of the bookstore cats at the prior location, where I took the picture. Still alive, Scout had retired from the bookstore life.
Without losing the vibe of the previous owner, the new decor and layout offered a breath of life to the labyrinth of books. Angelique's grandmother, JoAnn Mula, aka Mawmaw, was the original owner who opened the bookstore 40 years ago in 1981. Angelique spoke of how she had grown up in the bookstore, which fostered her love of books and community values.
With her husband in the military, the mother of three balanced relocations and a career in healthcare administration. When their life navigated back to Louisiana, they happily planted roots. She caught wind that the bookstore was going close, so she reached out with interest. The bookstore was a foundation piece in her life, and she wanted to keep it open. JoAnn Mula had the same desire. As a result of the conversation, Angelique was invited to meet up with her at the bookstore.
"It was like Baptism by fire!"

Angelique Guilbeau
Following the meeting, Angelique was given the keys that were used to unlock the doors. She knew that she was ready for the challenge of taking over something that she loved. Without reservation, her family was supportive of her, and her sister even became a silent partner. The freedom she found to run a business that she grew to know from the inside helped her forge a new sense of identity.
Southern Community Charm
Not being from the state, I felt simultaneously welcomed and out of the loop whenever the other customers came in. Those entering, exiting, and staying would all somehow know each other, either directly or through a family member or friend. There were inquiries on the health of people they knew, as well as praises for new additions to the family. I found myself drawn into conversations where I wanted to root for the schools their kids went to or be invited to the upcoming crawfish boil.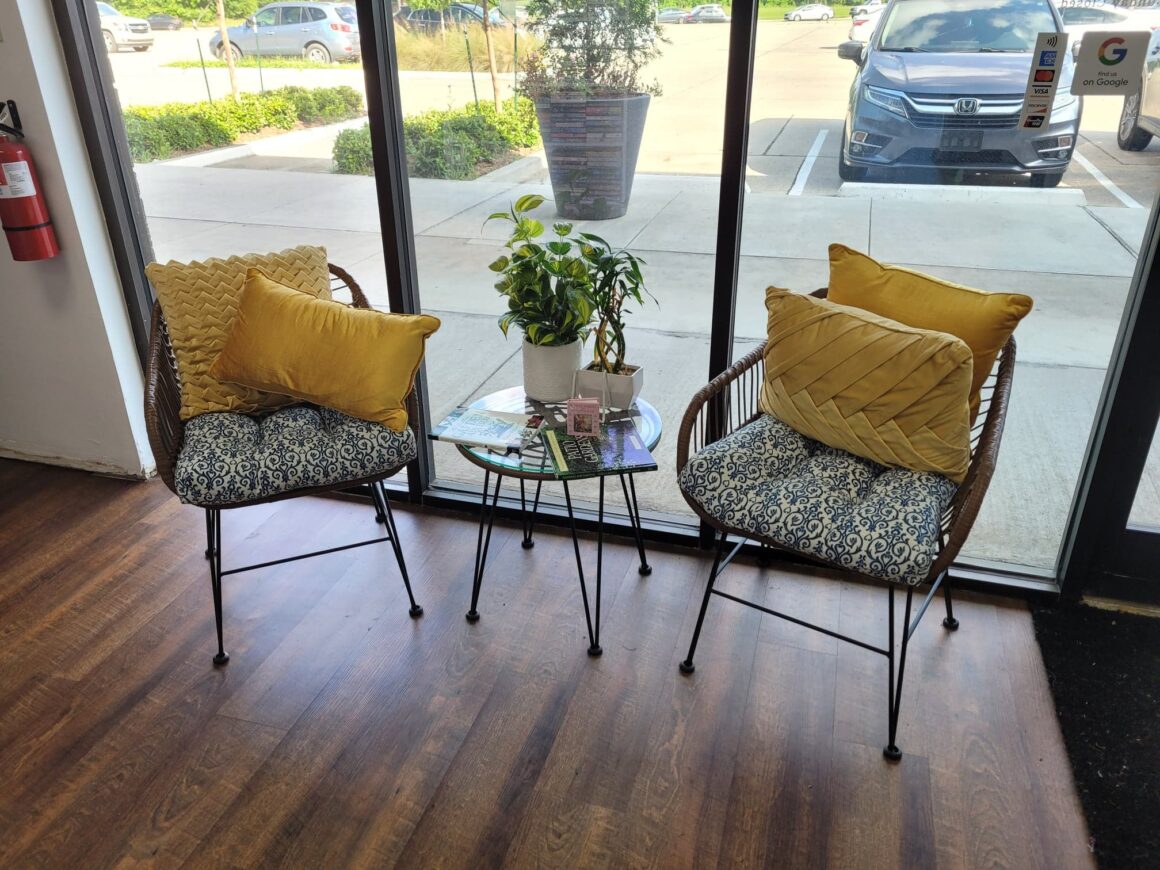 Indeed this bookstore offered wonderful deals on all the paperbacks that caught my eye, but it truly offered something much deeper than that. For a little over an hour, I was part of the family. Or rather, part of many families. I was able to see what Angelique was talking about. The community thrived on the invisible ties that strengthened and grew with every person.
The bookstore might've been just a bookstore in the beginning, but over the decades it became a solid foundation within the town. A foundation that represented wholesomeness and familiarity, discovery and support. With the changing of the guard from grandmother to granddaughters, this bookstore lived to be an heirloom, which is almost every book lover's dream. It is my opinion that this should be a Hallmark movie, and I would be first in line to go see it. I wish the bookstore, its family, and its community the absolute best.
*Book Rack of Acadiana is located at 2476 W Congress St, Lafayette, LA 70506 and can be found on Facebook