These days, the "Black" in Black Friday makes people think of  mini-riots, bleary-eyed shoppers, angry confrontations over the latest Sesame Street marketing variation, and shell-shocked minimum wage employees who wish all the customers in their store would go away, forever. The original intent of "Black Friday" was much different, as it's goal was to change the "red ink" of losing money throughout most of the year, and turn the first Friday after Thanksgiving into the beginning of the season of the "black ink" of profits needed to keep the store afloat.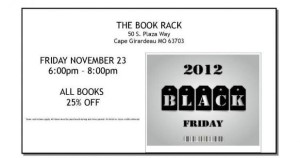 I've done a few Black Friday specials in recent years just to see what happened. 25% off all books! Wow! What a deal ! Customers gazed at my in-store signs and smiled as they put a couple of books back on the shelf. "I'll be back Friday!" they promised. Whoops. I think I've done a slight marketing miscalculation.
Here's the small bookstore truth about sales, Black Friday or not: it's unlikely they will make you any extra money, because you are basically selling books to the same customers who still have the same amount of money to spend. More books may fly out your door, but your bottom line will be lucky if it doesn't take a hit because you are making less on a Black Friday book that you could have just as easily sold on December 5 at your normal margins.
What to do? Black Friday does bring out a ton of shoppers, and a good number of them could be readers who don't know about your store or have gotten out of the habit of frequenting your place. Try these low cost ideas to have a successful day after Thanksgiving sale, unless of course you already have a six-figure advertising budget. (If you have such a budget, congratulations on your Lottery win and why the hell are you not living in a warm climate sipping Pina Coladas and watching the waves?)
The Piggyback
If you are in any kind of strip mall or location where other stores are having Black Friday sales, see if you can get in on a group advertising campaign with them. If there's no group ad, go online or to your local Fedex/Kinkos and spend $100 on a giant banner for your sale. Bogart some of their traffic…it's okay!
Bring a Friend Black Friday Pre-Party
You've been selling books for a bit, and like a friendly bartender, you've probably heard your share of tales of woe, friends, families, and a few discussions that most likely breached a bit of your comfort zone. You've established a bit of relationship with them, so don't be shy about marketing to them. "We are going to have a little pre-Black Friday sale. It's going to be invitation only. Here's the kicker: I know you love books and like to share your favorites with your friends. In fact, I'll bet you have a couple of friends that haven't even been in our store. Here's a couple of Red Tickets. You keep one for yourself, and bring in a couple of your friends who have never been in our place and they can get 25% their entire purchase in the store. When you and your friends check out that night, I'll give you a Golden Ticket that will give you $10 off your next purchase!"
Guerillas in the Mist
It's early on Black Friday morning. There's a chill in the air and some level of excitement and a hint of desperation. Suddenly, a clean-cut young man and his girl companion appear wearing "Bookstore" shirts and talking to people in line. "Hey, are you a reader? Have you been over to the Bookstore? Today they are having a 25% off sale from noon to 6. Here's a coupon for it. If you can't use it, pass it on to someone else. The Bookstore also does gift certificates too, man, what an easy stocking stuffer that is for those relatives that are hard to buy for."
Best of luck to all this holiday selling season. If you have any cool promotion ideas, or horrible ideas that went awry, feel free to share them.
Happy Holidays! (More thoughts on this phrase soon.)