I've had crap days turn into splendid days just by noticing the smiles of strangers. – BH
There was a forum topic on MySpace just asking to write one sentence. That was what I came up with.
On to bookselling…
What percentage of your sales comes from sidelines?
One of our goals this coming year will be to increase our sidelines. As was mentioned here in a recent post, it's much easier to sell more to existing customers than to find new ones. Many booksellers often find themselves at thrift shops and yard sales, a breeding ground for inexpensive trinkets/collectibles, so why not try a few items. We hadn't done sidelines at all but this past summer I experimented with buying a few lamps, candle holders, odd items and they've started selling. As with books I find hunting for these 'sellables' a lot of fun. Just today while popping into a thrift shop I came across a ceramic Pillsbury Dough Boy cookie jar for all of $3.00. I have it priced at $24.00 and I'm sure it will sell (I'll let you know). Here are some items I've picked up that sold fairly quickly.
Coca-Cola fridge circa 1955 bought $20.00 sold for $45.00
Lamps avg.price $5.00 at yard sales sold a few for $15.00 – $20.00
Art Deco spritzer bought for $27 sold for $45
Decorative tins bought for $1.00 sold a few at $6.00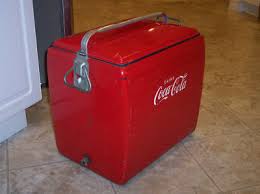 What sidelines work well for you and have you tried any that just collected dust?