August is the month of fresh starts and reinvention. The month brings a new school year for students, the continuation of summer, and new book releases, of course. Whether you're adjusting to a new school year or enjoying the last remnants of summer, there are new releases for you in August.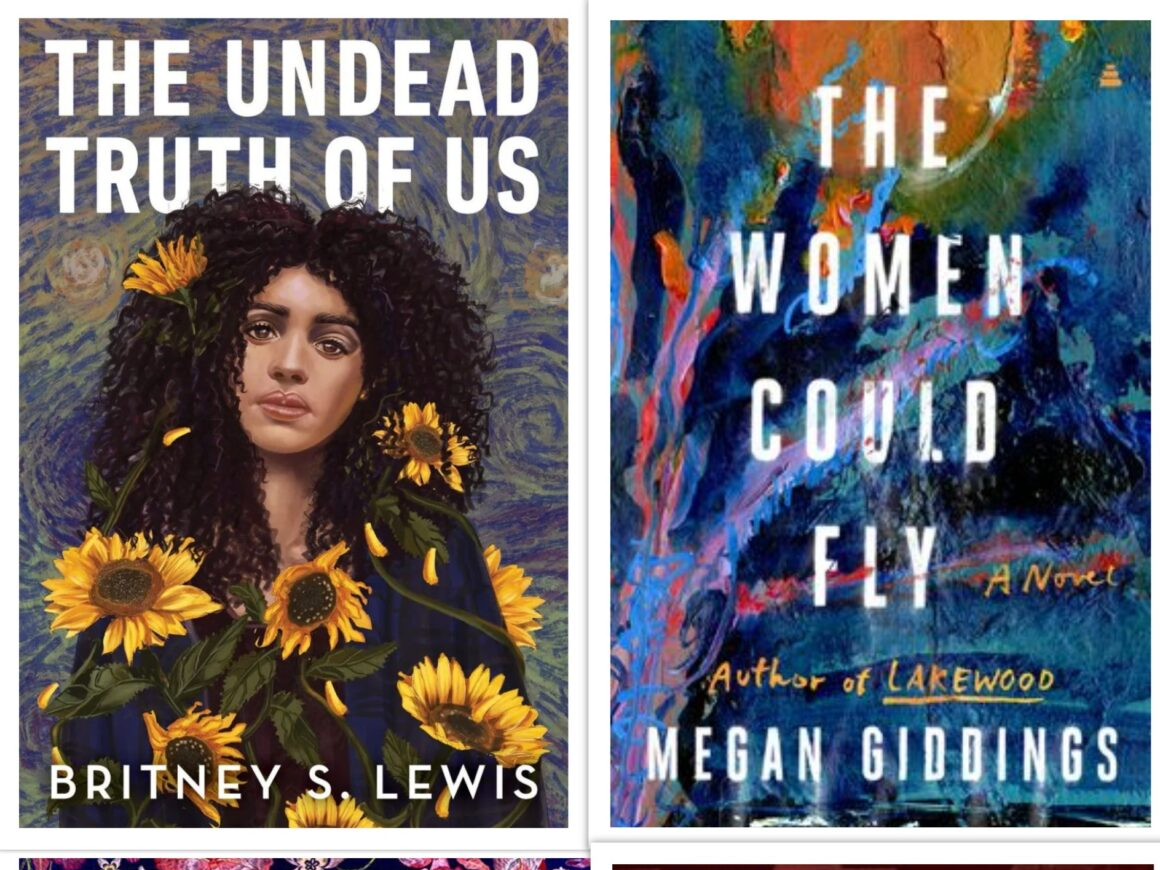 These are from authors you already love and ones bound to become new favorites. No matter how you spend your August, any of these releases should keep you entertained.
Just like Carrie Soto, Taylor Jenkins Reid is back with a new novel. If you read Reid's last release, Malibu Rising, then the character of Carrie Soto should be no stranger to you. She made a memorable appearance in that book, but in Carrie Soto Is Back, she takes center stage. When Carrie Soto retires from tennis, she is the best player the world has ever seen. She has shattered every record and claimed 20 Grand Slam titles. And if you ask Carrie, she is entitled to every one of them. She sacrificed nearly everything to become the best, with her father, Javier, as her coach.
Related: 16 Exciting Book Releases You Must Read in July 2022
But six years after her retirement, Carrie finds herself sitting in the stands of the 1994 US Open, watching her record be taken from her by a brutal, stunning player named Nicki Chan. At 37 years old, Carrie makes the monumental decision to come out of retirement and be coached by her father for one last year in an attempt to reclaim her record. If you have loved Reid's previous novels, you're bound to fall in love with Carrie Soto too.
Dauntless by Elisa A. Bonnin
Seri's world is defined by very clear rules: The beasts prowl the forest paths and hunt the People. The valiant explore the unknown world, kill the beasts, and gain strength from the armor they make from them. As an assistant to Eshai Unbroken, a young valor commander with a near-mythical reputation, Seri has seen firsthand the struggle to keep the beasts at bay and ensure the safety of the spreading trees where the People make their homes. That was how it always had been and how it always would be until the day Seri encounters Tsana.
Tsana is, impossibly, a stranger from the unknown world who can communicate with the beasts, a fact that makes Seri begin to doubt everything she's ever been taught. As Seri and Tsana grow closer, their worlds begin to collide, and with deadly consequences. Somehow, with the world on the brink of war, Seri will have to find a way to make peace.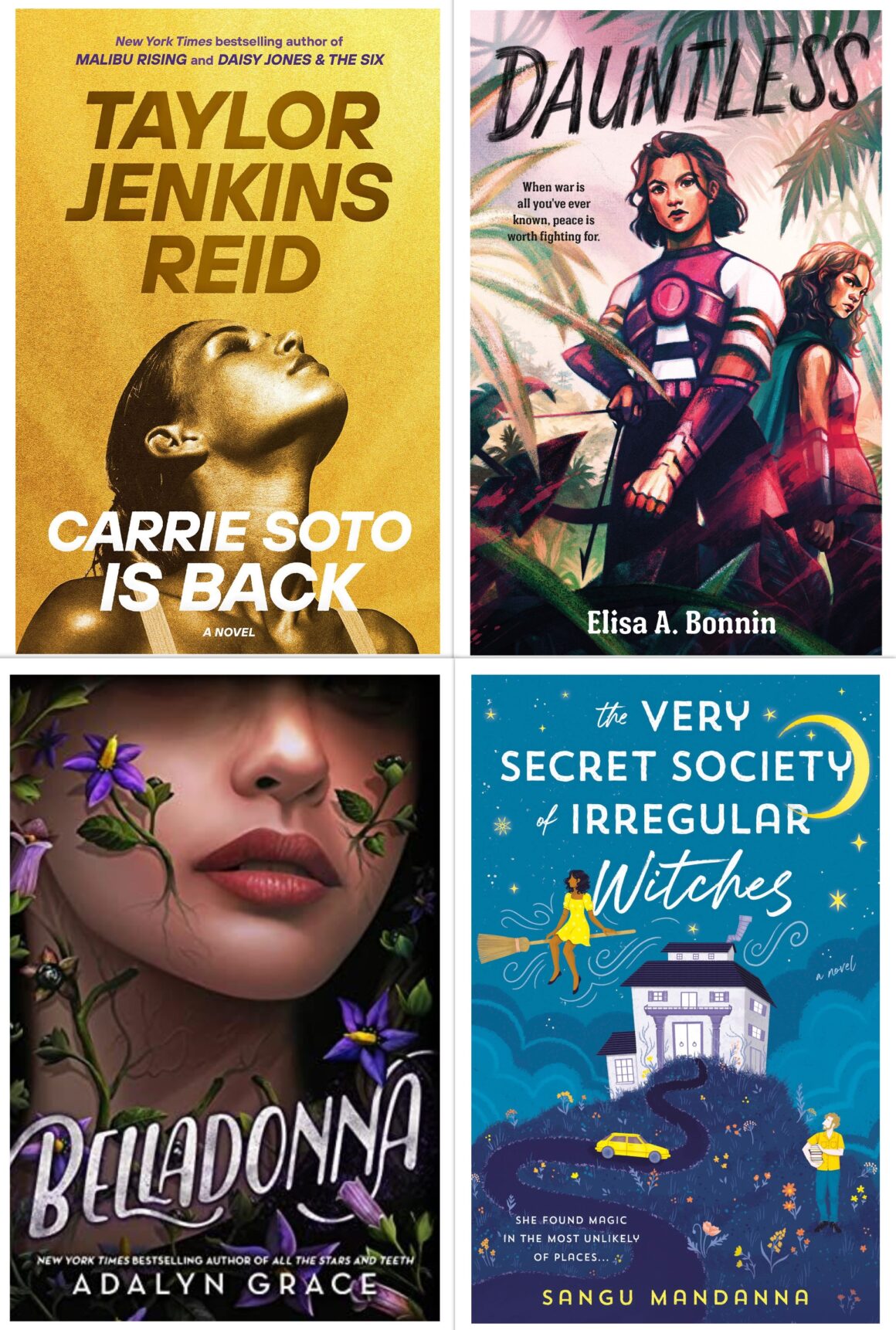 Orphaned as a baby, 19-year-old Signa has been raised by a string of guardians. Each one is more interested in her wealth than her well-being and each has met an untimely end. Her remaining relatives are the elusive Hawthornes, an eccentric family living at Thorn Grove, an estate both glittering and gloomy. Its patriarch mourns his late wife through wild parties. His son grapples for control of the family's waning reputation and his daughter suffers from a mysterious illness.
But when their mother's restless spirit appears claiming she was poisoned, Signa realizes that the family she depends on could be in grave danger. She enlists the help of a surly stable boy to hunt down the killer.
However, Signa's best chance of uncovering the murderer is an alliance with Death himself. Though he's made her life a living hell, Death shows Signa that their growing connection may be more powerful—and more irresistible—than she ever dared imagine.
Mika Moon knows she has to hide her magic and keep her head down. As an orphan who lost her parents young, she's used to being alone and following the rules; with one exception: an online account where she posts videos pretending to be a witch. She thinks no one will take it seriously. But someone does. A message arrives, begging her to travel to the remote and mysterious Nowhere House. They want Mika to teach three young witches how to control their magic.
It breaks all the rules, but Mika goes anyway. She immediately gets tangled up in the lives and secrets of not only her three charges, but also an absent archaeologist, a retired actor, the two caretakers, and…Jamie. The handsome and prickly librarian of Nowhere House would do anything to protect the children. Soon Mika begins to find her place at Nowhere House. But when a threat comes knocking at their door, Mika will need to decide whether to risk everything to protect a found family she didn't know she was looking for.
She has a million followers on social media. She uses her fashion-forward eye to pick the perfect angle and filter for every photo. She's Marie Antoinette. The year is 3070 and she's arrived in the Franc Kingdom to marry the prince. Versailles is not the perfect palace Marie's seen on The Apps. Her life is a maze of pointless rules, and the court watches her every move for mistakes. Her shy husband Louis is more interested in horses and computer hacking than producing heirs.
Related: 16 New Releases Out in June to Add to Your Summer Reading List
Versailles seems like a dream full of neon-lit statues, handsome android soldiers, and parties till dawn. Under the surface, it's a creepy den of secrets: surveillance in Marie's bedroom, censored news feeds, disappearing courtiers. When Marie and Louis become king and queen, any efforts to aid their suffering subjects are stamped out. Between riots in Paris and image-wrecking social media firestorms, Marie can't afford to lose her head. Using social media and Louis' hacking knowledge, they try to fix their reputations and change their kingdom for the better. But the royals may find it's already too late. They're ruling over the end of an era.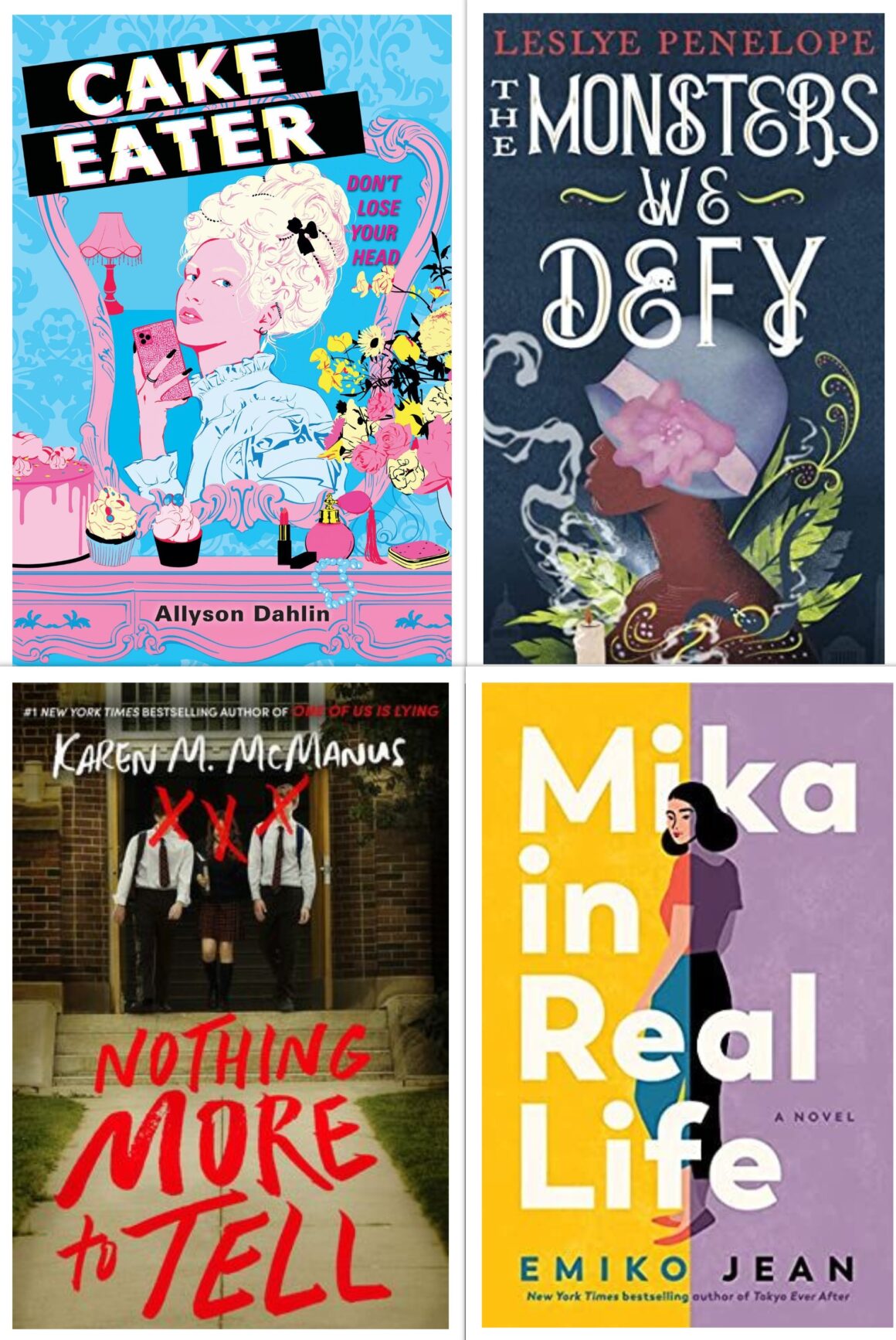 Clara Johnson talks to spirits, a gift that saved her during her darkest moments in a Washington D. C. jail. Now a curse that's left her indebted to the cunning spirit world. So, when the Empress, the powerful spirit who holds her debt, offers her an opportunity to gain her freedom, a desperate Clara seizes the chance. The task: steal a magical ring from the wealthiest woman in the District.

Clara can't pull off this daring heist alone. She'll need help from an unlikely team. From a jazz musician capable of hypnotizing with a melody to an aging vaudeville actor who can change his face, to pull off the impossible. But as they encounter increasingly difficult obstacles, a dangerous spirit interferes at every turn. Conflict in the spirit world is leaking into the human one and along D.C'.s legendary Black Broadway, a mystery unfolds. One that not only has repercussions for Clara but all of the city's residents.
Four years ago, Brynn left Saint Ambrose School following the shocking murder of her favorite teacher. A story that made headlines after the teacher's body was found by three Saint Ambrose students. The case was never solved. Now that Brynn is moving home and starting her dream internship at a true-crime show, she's determined to find out what really happened.

The kids who found Mr. Larkin are her way in, and her ex-best friend, Tripp Talbot, was one of them. Without his account of events, the other two kids might have gone down for Mr. Larkin's murder. They've never forgotten what Tripp did for them that day. Just like he hasn't forgotten that everything he told the police was a lie. As Brynn begins to investigate what happened, she begins to uncover secrets that might change everything—about Saint Ambrose, about Mr. Larkin, and about Tripp.
At 35, Mika Suzuki's life is a mess. Her last relationship ended in flames. Her roommate/best friend might be a hoarder. She's a perpetual disappointment to her traditional Japanese parents. And, most recently, she's been fired from her latest dead-end job. Mika is at her lowest point when she receives a phone call from Penny, the daughter she placed for adoption 16 years ago. Penny is determined to forge a relationship with her birth mother. In turn, Mika longs to be someone Penny is proud of. Faced with her own inadequacies, Mika embellishes a fact about her life. What starts as a tiny white lie slowly snowballs into a fully-fledged fake life.
Related: The Book That Made Me a Reader
One where Mika is mature, put-together, and successful in love and her career. The details of Mika's life might be an illusion. But everything she shares with curious, headstrong Penny is real: her hopes, dreams, flaws, and Japanese heritage. The harder-won heart belongs to Thomas Calvin, Penny's adoptive widower father. What starts as a rocky, contentious relationship slowly blossoms into a friendship and, over time, something more. But can Mika really have it all–love, her daughter, the life she's always wanted? Or will Mika's deceptions ultimately catch up to her?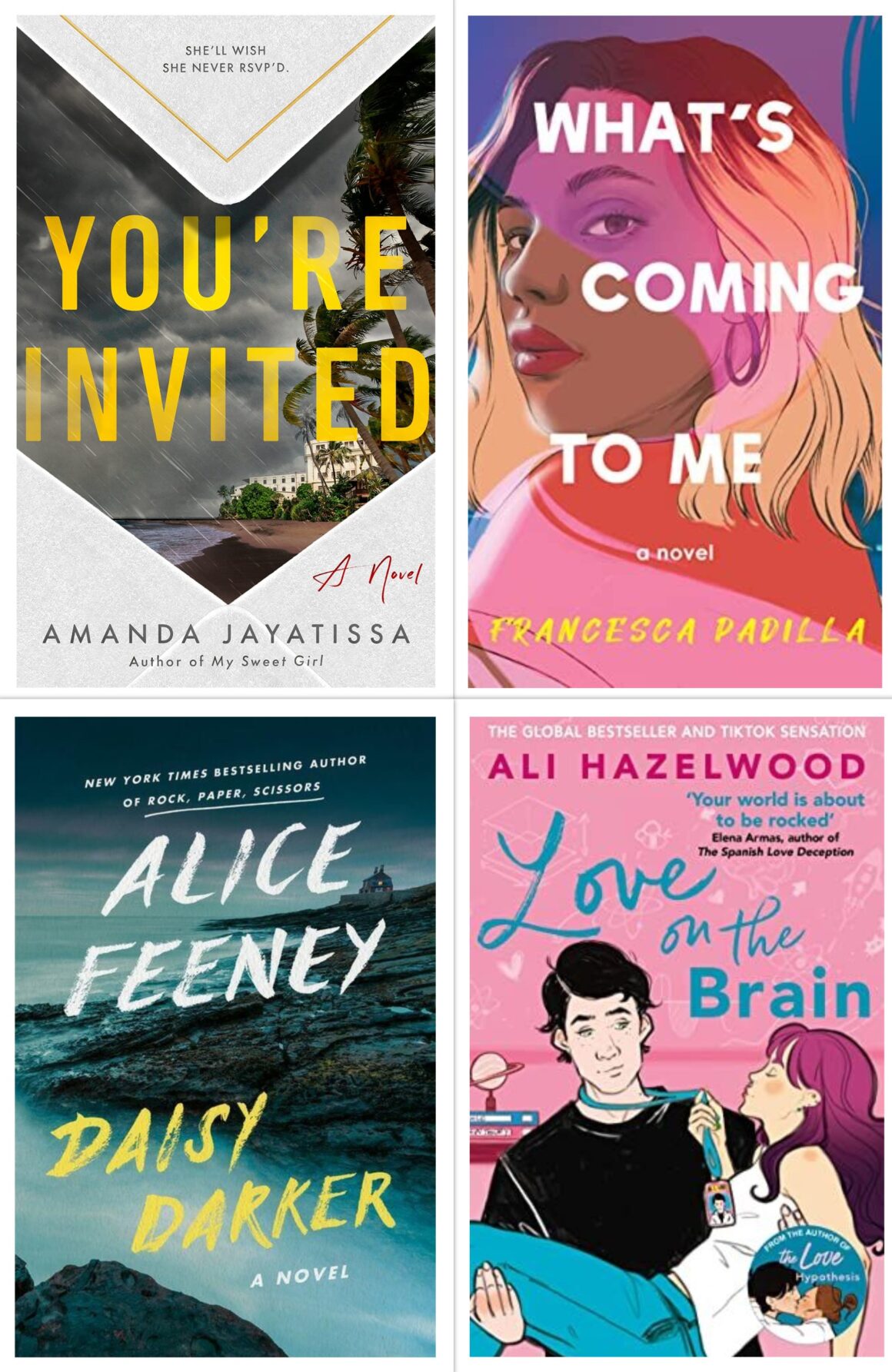 When Amaya is invited to Kaavi's over-the-top wedding in Sri Lanka, she is surprised and a little hurt to hear from her former best friend after so many years of radio silence. But when Amaya learns that the groom is her very own ex-boyfriend, she is consumed by a single thought: She must stop the wedding from happening, no matter the cost.

But as the weeklong wedding celebrations begin and rumors about Amaya's past begin to swirl, she can't help but feel like she also has a target on her back. When Kaavi goes missing and is presumed dead, all evidence points to Amaya. However, nothing is as it seems. Each wedding guest has their own dark secret and agenda. Amaya may not be the only one with a plan to keep the bride from getting her happily ever after…
In the seaside town of Nautilus, Minerva Gutiérrez absolutely hates her job at the local ice cream stand. It's where her sexist boss makes each day worse than the last. But she needs the money. Min dreams of escaping her dead-end hometown. When an armed robbery at the ice cream stand stirs up rumors about money hidden on the property, Min teams up with her neighbor CeCe to find it. The bonus? Getting revenge on her boss in the process.

If Minerva can do things right for once—without dirty cops, suspicious co-workers, and an ill-timed work crush getting in her way—she might have a way out . . . as long as the painful truths she's been running from don't catch up to her first.
After years of avoiding each other, Daisy Darker's family is assembling for Nana's 80th birthday party in Nana's crumbling gothic house on a tiny tidal island. When the tide comes in, they will be cut off from the rest of the world for eight hours. The family arrives, each of them harboring secrets.
Then at the stroke of midnight, as a storm rages, Nana is found dead. And an hour later, the next family member follows. Trapped on an island where someone is killing them one by one, the Darkers must reckon with their present mystery as well as their past secrets, before the tide comes in and all is revealed.
Bee Königswasser lives by a simple code: What would Marie Curie do? If NASA offered her the lead on a neuroengineering project – a literal dream come true – Marie would accept without hesitation. Duh. But the mother of modern physics never had to co-lead with Levi Ward.

Sure, Levi is attractive in a tall, dark, and piercing-eyes kind of way. But Levi made his feelings toward Bee very clear in grad school. Archenemies work best employed in their own galaxies far, far away. But when her equipment starts to go missing and the staff ignores her, Levi starts to become an ally. Until he becomes something more.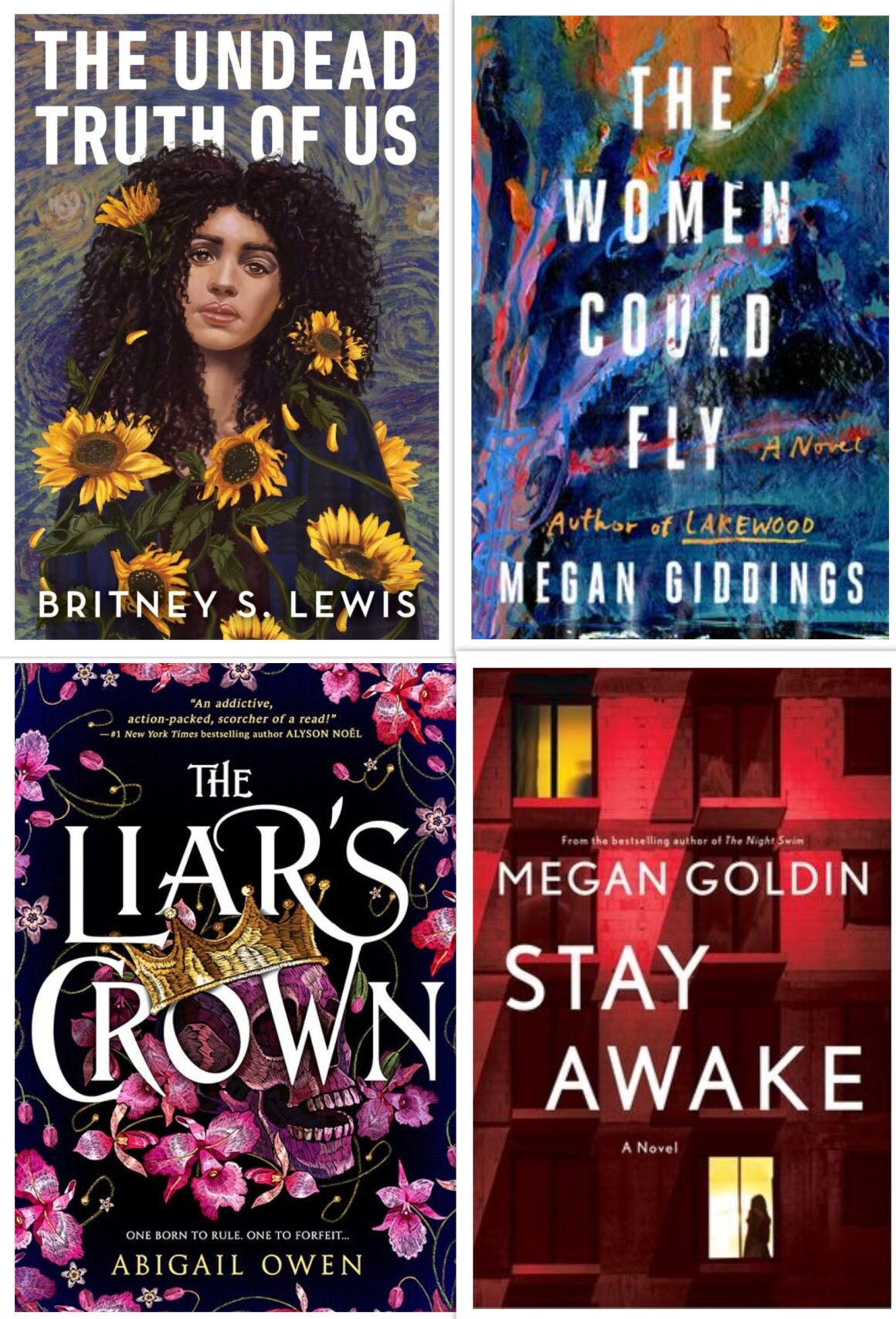 Sixteen-year-old Zharie Young is absolutely certain her mother morphed into a zombie before her untimely death. But she can't seem to figure out why. Why her mother died, why her aunt doesn't want her around, why do her dreams seem suddenly out of reach? And why, ever since that day, she's been seeing zombies everywhere.
Then Bo moves into her apartment building―tall, skateboard in hand, freckles like stars, and an undeniable charm. Z wants nothing to do with him, but when he transforms into a half-zombie right before her eyes, something feels different. He contradicts everything she thought she knew about monsters. And she can't help but wonder if getting to know him might unlock the answers to her mother's death.
Josephine Thomas has heard every conceivable theory about her mother's disappearance. That she was kidnapped. Murdered. That she took on a new identity to start a new family. That she was a witch. This is the most worrying charge because in a world where witches are real. Peculiar behavior raises suspicions and a woman–especially a Black woman–can find herself on trial for witchcraft.

But fourteen years have passed since her mother's disappearance, and now Jo is finally ready to let go of the past. Yet her future is in doubt. The State mandates that all women marry by the age of 30. Or enroll in a registry that allows them to be monitored, effectively forfeiting their autonomy. At 28, Jo is ambivalent about marriage. With her ability to control her life on the line, she feels as if she has never understood her mother more. When she's offered the opportunity to honor one last request from her mother's will, Jo leaves her regular life to feel connected to her one last time.
Everything about my life is a lie. As a hidden twin princess, born second, I have only one purpose—to sacrifice my life for my sister if death comes for her. I've been living under the guise of a poor, obscure girl of no standing, slipping into the palace and into the role of the true princess when danger is present. Now the queen is dead and the ageless King Eidolon has sent my sister a gift—an eerily familiar gift—and a proposal to wed.
I don't trust him. So I do what I was born to do and secretly take her place on the eve of the coronation. This is why, when a figure made of shadow kidnaps the new queen, he gets me by mistake. As I try to escape, all the lies start to unravel. And not just my lies. The Shadowraith who took me has secrets of his own. He struggles to contain the shadows he wields—other faces, identities that threaten my very life.
Liv Reese wakes up in the back of a taxi with no idea where she is or how she got there. When she's dropped off at the door of her brownstone, a stranger answers―a stranger who now lives in her apartment and forces her out in the cold. She reaches for her phone to call for help, only to discover it's missing, and in its place is a bloodstained knife. That's when she sees that her hands are covered in scribbled messages like graffiti on her skin: STAY AWAKE.

Two years ago, Liv was living with her best friend, dating a new man, and thriving as a successful writer. Now, she's lost and disoriented in a New York City that looks nothing like what she remembers. Catching a glimpse of the local news, she's horrified to see reports of a crime scene where the victim's blood has been used to scrawl a message across a window, the same message that's inked on her hands. What did she do last night? And why does she remember nothing from the past two years? Liv finds herself on the run for a crime she doesn't remember committing. She tries to piece together the fragments of her life, but there's someone who does know exactly what she did. And they'll do anything to make her forget―permanently.
What new releases are you looking forward to in August? Let us know by commenting down below.