One of the best activities you could do to escape from the summer heat is reading. There's no shortage of new releases for you to check out this July. These new books in the fantasy, romance, young adult, sci-fi, and thriller genres will keep you busy and provide you with the summer entertainment you've been looking for. 
S. Isabelle's debut young adult novel The Witchery follows four witches attending Mesmortes Coven Academy. Logan is the new girl, having transferred to the Academy for the new school year. Logan is taken under the wing of Red Three. The group includes Iris, a deathwitch who wants nothing more than to break the town's curse, Jailah, one of the most powerful witches at the academy but her thirst for power may lead her down a dark path, and Thalia, the talented greenwitch, who is on the run from her religious family and a past that still haunts her.
Related: 16 New Releases Out in June to Add to Your Summer Reading List
Fear and prejudice still fuel the uneasy truce between humans and witches who are forced to work together when the Haunting Season begins and Wolves rise from the swamp to feed. With this approaching, two Hammersmitt boys prepare to make their first sacrifices to the witches in exchange for protection. But as they become involved with the Mesmortes witches' plan to end the Wolves' reign of terror once and for all, old dangers lie in wait.
Violet Made of Thorns is perfect for fans of The Cruel Prince and Serpent & Dove. The novel balances elements of fairytales while providing meta-commentary on them. The book is about Violet, a prophet who influences the royal court with her cleverly phrased—and not always true—divinations. Prince Cyrus plans to strip Violet of her official role once he's crowned at the end of the summer unless Violet does something about it.
When the king asks Violet to falsely prophesy Cyrus's love story, Violet awakens a curse, one that will end in either damnation or salvation for the kingdom, all depending on the prince's choice of future bride. Violet faces her own choice: seize an opportunity to gain control of her own destiny no matter the cost or give in to the ill-fated attraction that's growing between her and Cyrus.
Upgrade by Blake Crouch 
Blake Crouch, the author of Dark Matter and Recursion, is back with a new twisty sci-fi thriller Upgrade. In Upgrade, government agent Logan Ramsay is exposed to a virus designed to manipulate his core genetic structure. With each passing day, Logan's brain is getting better, stronger, and faster—evolving in fast-forward toward a posthuman future. Worse, what's happening to him is just the first step in a much larger plan, one that will inflict the same changes on humanity at large—at a terrifying cost.
Because of his new abilities, Logan's the one person in the world capable of stopping what's been set in motion. But to have a chance at winning this war, he'll have to become something other than himself, maybe even something other than human. Even as he's fighting, Logan can't help wondering, what if humanity's only hope for a future really does lie in engineering our own evolution?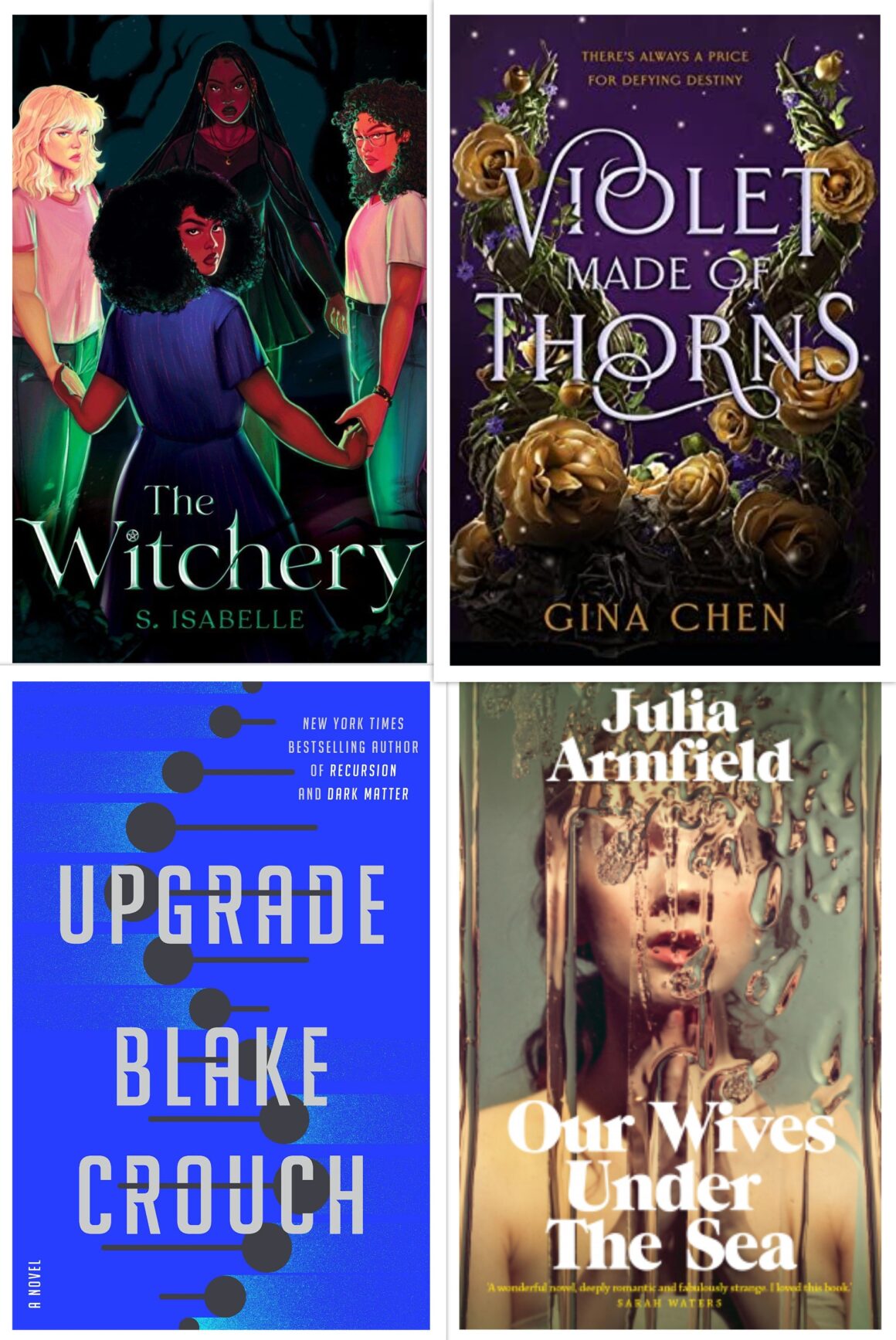 When marine biologist Leah's submarine sinks to the bottom of the ocean, her wife Miri doesn't expect to ever see her again. So when Leah returns, Miri is happy to have her wife back. But Miri soon recognizes that Leah is not the same. Whatever happened in that vessel, whatever it was they were supposed to be studying before they were stranded on the ocean floor, Leah has brought part of it back with her, onto dry land and into their home.
Moving through something that only resembles normal life, Miri comes to realize that the life that they had before might be gone. Though Leah is still there, Miri can feel the woman she loves slipping from her grasp. Miri must search for answers to her wife's research and hope they reveal what happened when Leah was submerged. 
Coming home is hard enough as it is, but it's even harder when your father is a serial killer. But when Vera's estranged mother calls and asks for her to come home, Vera obeys her request. To make the homecoming even harder, Vera and her mother aren't alone. A parasitic artist has moved into the guest house out back and is slowly stripping Vera's childhood for spare parts. 
When Vera finds notes around the house in her father's handwriting and the artist insists he's not the one leaving them, Vera will have to uncover the secrets yet undiscovered in the foundations of the notorious Crowder House. Vera must face them and find out for herself just how deep the rot goes.
In The Accidental Pinup, photographer Cassie Harris loves her job. Her company Buxom Boudoir makes people look beautiful and empowered with her modern twist on classic pinup photography. Cassie's best friend, Dana, is about to launch her own dangerously dreamy lingerie line and wants Cassie to shoot and direct the career-changing national campaign. 
But company politics and Dana's complicated pregnancy interfere, forcing Cassie—a proud plus-size Black woman—in front of the camera. Though she's never modeled herself, Cassie's pretty sure she can handle the sheer underwear and caution tape bralettes. She's not sure she can work so intimately with the chosen photographer, her long-time competitor in the Chicago photography scene, Reid Montgomery. Their chemistry is undeniable on set, however, and feelings can develop faster than film.
Ruth Ware, the author of The Turn of the Key and The Woman in Cabin 10, is set to release her new thriller, The It Girl in July. The novel centers around April, the "it girl" at Oxford. April's vivacious personality pulls Hannah into her orbit. Together, they developed a group of devoted and inseparable friends—Will, Hugh, Ryan, and Emily—during their first term. By the end of the second, April is dead.
Decades later, Hannah and Will are expecting their first child, and the man convicted of killing April, former Oxford porter John Neville, has died in prison. With April's killer dead, Hannah is ready to move on from the whole ordeal. However, someone comes knocking on her door with new evidence that points to a different killer. As Hannah reconnects with old friends and delves deeper into the mystery of April's death, she realizes that the friends she thought she knew all have something to hide…including a murder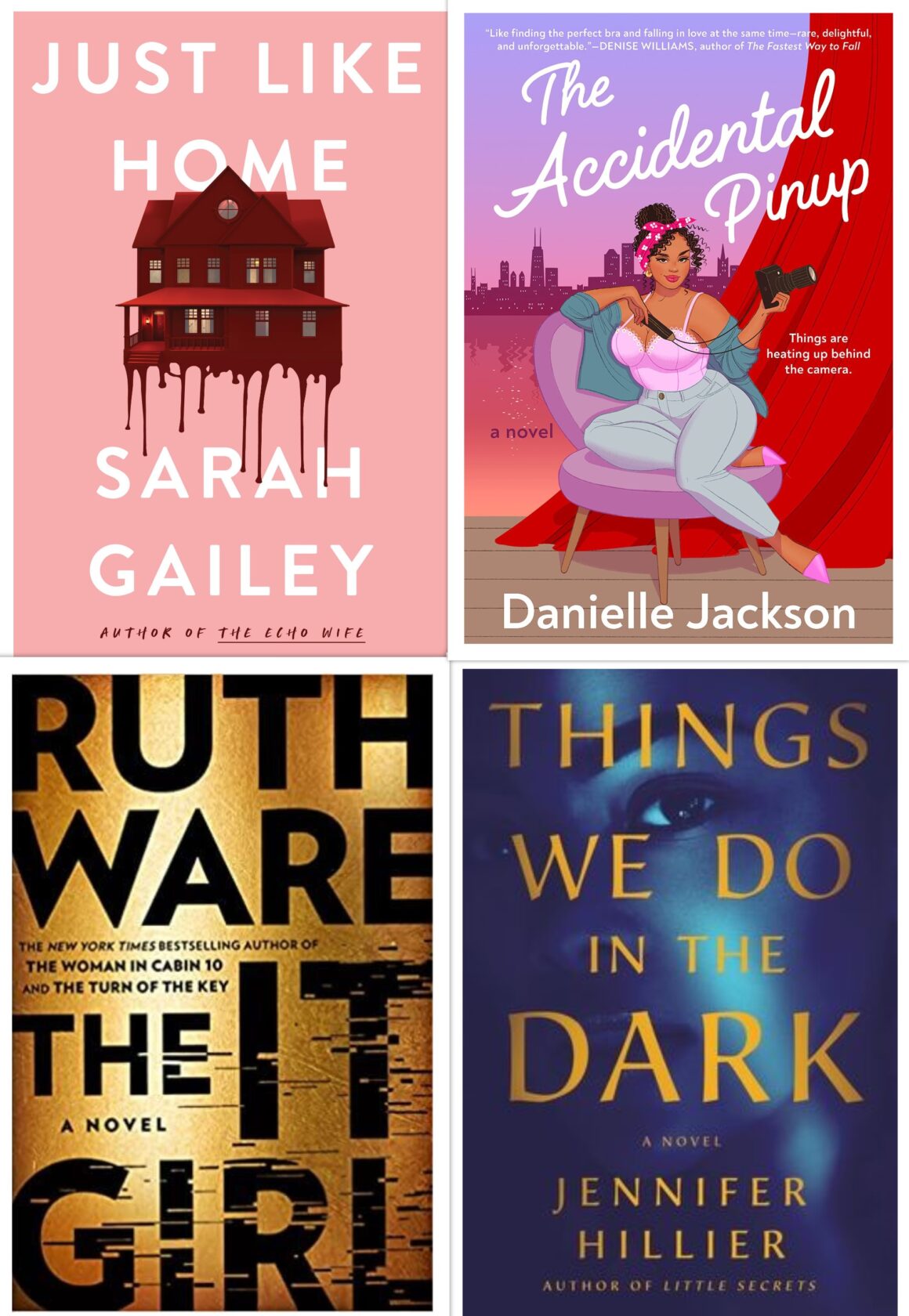 When Paris Peralta is arrested in her own bathroom—covered in blood, holding a straight razor, her celebrity husband dead in the bathtub behind her—she knows she'll be charged with murder. But as bad as this looks, it's not what worries her the most. With the unwanted media attention now surrounding her, it's only a matter of time before someone from her long-hidden past recognizes her and destroys the new life she's worked so hard to build, along with any chance of a future.
Twenty-five years earlier, Ruby Reyes, known as the Ice Queen, was convicted of a similar murder in a trial that riveted Canada in the early '90s. Reyes knows who Paris really is, and when she's unexpectedly released from prison, she threatens to expose all of Paris's secrets. Left with no other choice, Paris must finally confront the dark past she escaped, once and for all. Because the only thing worse than a murder charge are two murder charges.
A reimagining of H.G. Wells' classic, The Island of Doctor Moreau, The Daughter of Doctor Moreau is about Carlota Moreau. Carlota lives on a remote estate in Mexico with her scientist father who everyone thinks is crazy. Her father and his assistant Montgomery work on a group of part human part animals who obey their every order. That is until Eduardo, a dashing young man, arrives and disrupts everything. 
Velasin vin Aaro never planned to marry at all, let alone a girl from neighboring Tithena. When an ugly confrontation reveals his preference for men, Vel fears he's ruined the diplomatic union before it can even begin. While his family is ready to disown him, the Tithenai envoy has a different solution: for Vel to marry his former intended's brother instead.
Caethari Aeduria always knew he might end up in a political marriage. But his sudden betrothal to a man from Ralia, where such relationships are forbidden, comes as a shock. With an unknown faction willing to kill to end their new alliance, Vel and Cae have no choice but to trust each other. Survival is one thing, but love—as both will learn—is quite another. 
July must be the month of violet, as we have another book with a character named Violet. In Acts of Violet, magician Violet Volk disappears during a performance. Ten years go by with her still missing. Unlike her famous sister, Sasha avoids the public eye. She instead looks after her mother's salon while taking care of her daughter. When a podcaster obsessed with Violet aggressively pursues Sasha for an interview, Sasha is forced to confront her past.
Bet on It by Jodie Slaughter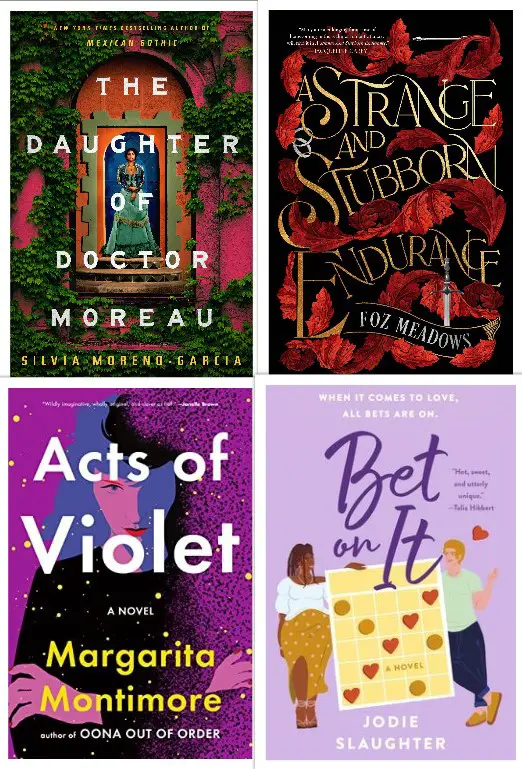 The first time Aja Owens encounters the man of her dreams, she's having a panic attack in the frozen foods section of the Piggly Wiggly. The second time, he's being introduced to her as her favorite bingo buddy's semi-estranged grandson. From there, all it takes is one game for her to realize that he's definitely going to be a problem. And if there's anything she already has a surplus of, it's problems.
In Walker Abbott's mind, there are only two worthwhile things in Greenbelt, South Carolina. The peach cobbler at his old favorite diner and his ailing grandmother. Dragging himself back after more than a decade away, he's counting down the days until Gram heals and he can return to his real life. Far away from the trauma inside of those city limits. Just when he thinks his plan is solid, Aja enters and shakes everything up.
As a politician, Emma has sacrificed a great deal for her career, including her marriage and her relationship with her daughter, Flora. Emily finds the glare of the spotlight unnerving, particularly when it leads to countless insults, threats, and trolling as she tries to work in the public eye. As a woman, she knows her reputation is worth its weight in gold. But as a politician, she discovers it only takes one slip-up to obliterate it.
Fourteen-year-old Flora is learning the same hard lessons at school as she encounters heartless bullying. When another teenager takes her own life, Emma lobbies for a law to protect women and girls from online abuse. Now, Emma and Flora find their personal lives uncomfortably intersected. But then the unthinkable happens: a man is found dead in Emma's home. A man she had every reason to be afraid of and to want gone. Emily must fight to protect her reputation and her family, all while her life is torn apart.
Groupies by Sarah Priscus 
For fans of Daisy Jones & The Six comes Groupies by Sarah Priscus. The novel follows Faun Novak, who after her mother's death grabs her Polaroid and hops a Greyhound to Los Angeles. There she reconnects with her charismatic childhood friend Josie, now an up-and-coming model and muse. Josie is also dating Cal Holiday, the frontman of the superstar rock band Holiday Sun, and Faun is positively mesmerized. Except it's not just the band she can't get enough of. It's also the proud groupies who support them in myriad ways. 
Among the groupies are a doting high school girl at war with her mother, a drug-dealing wife and new mom who longs to be a star herself, and a cynical mover-and-shaker with a soft spot for Holiday Sun's bassist. Faun obsessively photographs every aspect of this dazzling new world, struggling to balance her artistic ambitions with the band's expectations. As her confidence grows for the first time in her life, her priorities shift. She becomes reckless with friendship, romance, her ethics, and her bank account.  As the summer heats up and everything spirals out of control, Faun realizes just how blind she has been to the darkest corners of this glamorous musical dreamland. 
Hannah Brooks looks more like a teacher than somebody who could kill you with a wine bottle opener. But the truth is, she's a bodyguard. And she just got hired to protect superstar actor Jack Stapleton from his middle-aged, corgi-breeding stalker. Jack Stapleton's a household name. However, in the wake of a family tragedy, he dropped from the public eye and went off the grid.
When Jack's mom gets sick, he comes home to the family's Texas ranch to help out. Only one catch: He doesn't want his family to know about his stalker. Or the bodyguard thing. And so Hannah—against her will and her better judgment—finds herself pretending to be Jack's girlfriend as a cover. Though they're pretending, the more time Hannah spends with Jack, the more real it all starts to seem.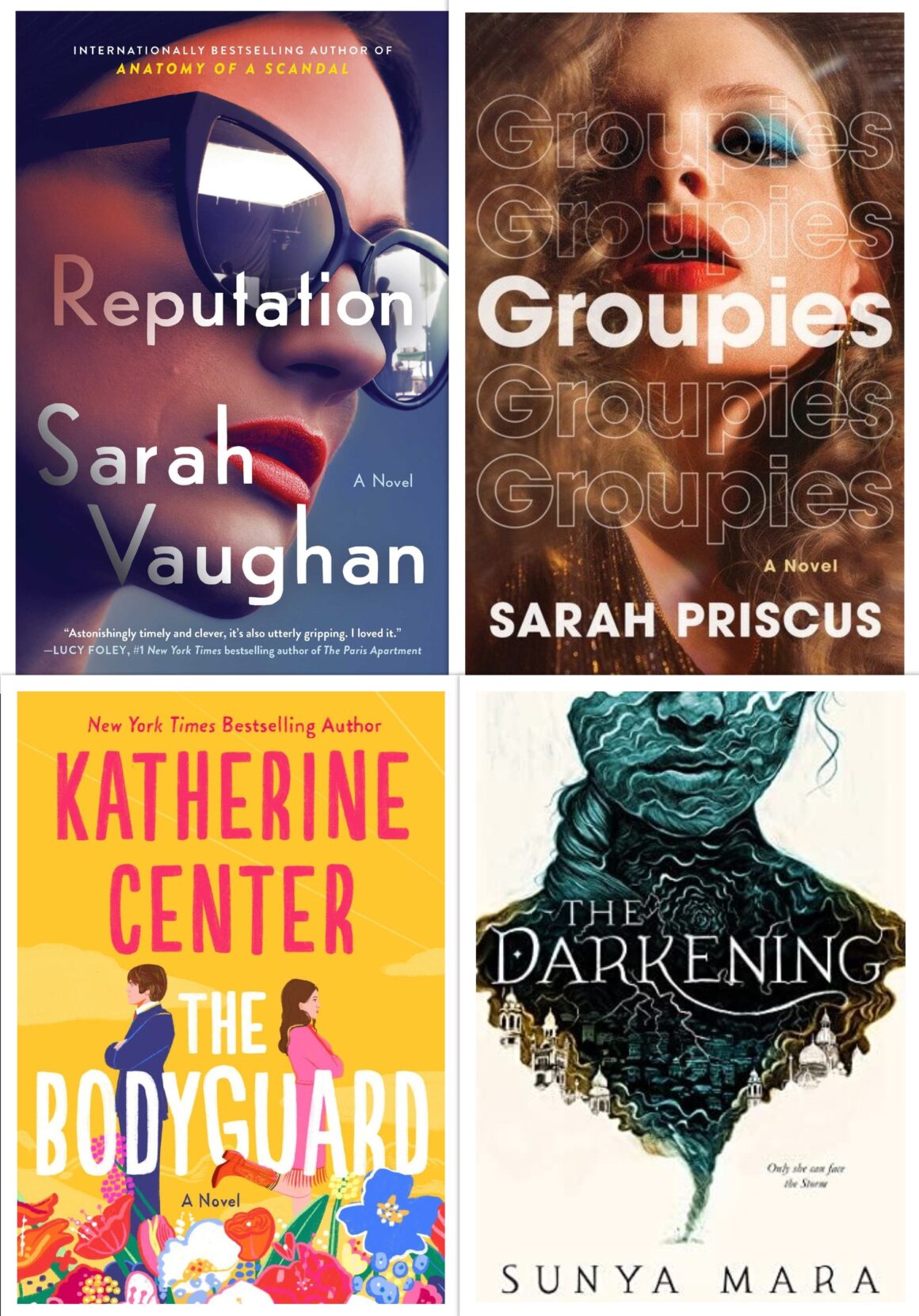 Vesper Vale is the daughter of revolutionaries. Failed revolutionaries. When her mother was caught by the queen's soldiers, they gave her a choice: death by the hangman's axe or death by the Storm that surrounds the city and curses anyone it touches. She chose the Storm. And when the queen's soldiers—led by a paranoid prince—catch up to Vesper's father after twelve years on the run, Vesper will do whatever it takes to save him from sharing that fate.
This includes arming herself with her father's book of dangerous experimental magic, infiltrating the prince's elite squad of soldier-sorcerers, and cheating her way into his cold heart. But when Vesper learns that there's more to the story of her mother's death, she'll have to make a choice if she wants to save her city: trust the devious prince with her family's secrets or follow her mother's footsteps into the Storm.
I hope some of these books pique your interest and find their way onto your summer reading lists. Because we can never have enough books to want to check out. Happy reading!