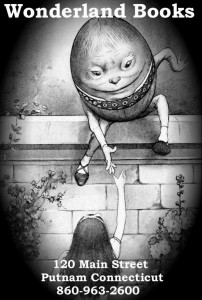 On a visit to Logee's greenhouses in Connecticut, we happened across a bookstore called Wonderland. It was night, we were looking for a place to eat, so only glanced at the window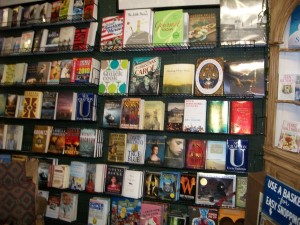 and its shadows within, deciding we would make a trip back into town the next morning to check it out. We did. It was closed. Not because they weren't open on Mondays or we were too early–they were out of business. There was stock within, but little, with fixtures laying around, rugs rolled up, giftware boxed. I was acutely disappointed. A bookstore with an Alice theme was so perfect for me, that to have it appear and then disappear was really sad. (And very Cheshire Cat-like)
The window curtains were checkered, and I noticed the ceiling had alternate black and white tiles. I was hoping someone would pop up to let me  look around for remnants of Alice themed things, but later when people did show, and let me in, I found little to be enthusiastic about. The owner was away, so I couldn't quiz her on why the business folded. What I gathered from worker bees who were loading stuff onto a truck—the store had been in existence for 18 years.
18 years! I assumed it was a fairly recent venture that went bust with the economy. Instead it probably went bust after all these years because of the economy. Same ending.
The store was in a teeny downtown area that supports at least 6 eateries, including an extremely clever place called the courthouse with menu items listed with punny crime related headings. A ubiquitous antique co-op is on one corner, a real live theatre and another collectibles shop with a Hollywood 'museum' rounded out the most interesting parts  of downtown. (other than an extremely odd tiny museum in the form of a train car–in honor of Gertrude Chandler Warner, who wrote the Boxcar Children books of which I admit to unfamiliarity.) From where I stood, this small town desperately needed this general bookshop.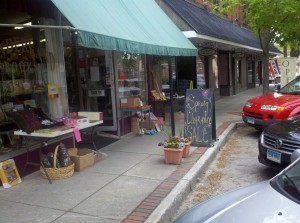 What happens to wipe out a viable business of 18 years? Was it amazon, B&N, e-readers? Or was the owner bone tired of just scraping by month after month; of sending book returns; watching people browse and write down titles to then buy online at a cheaper price?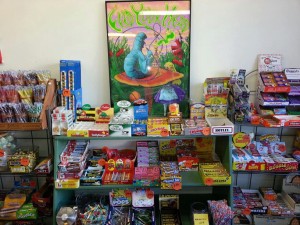 Well, today I googled, and although their website didn't come up, their facebook page did, and I found a little more about the bookshop's history. The owner, her brother, and father all tend towards the written word. Her father worked for Doubleday at one point, her brother runs the comic book shop around the corner, almost buried in a sloping street basement floor. Reading an article on Ms. Pattie Roden and her family gave me a bigger pang of sadness for its loss. It's obvious Ms. Roden worked incredibly hard to bring a fantastic general indie to the public, and even up until the month before closing, had authors in for signings. She announced the closing on April 6th, and held a farewell party on the the 30th. This was the invite on the facebook page:
I"n appreciation of all of our loyal customers of the years we will be having a farewell party here at Wonderland Books on April 30th from 7pm-10 pm. This party will be BYOB, but we will be providing music. Local band Original Jelly Roll Soul will be swinging us on home…. our metaphorical violin players as our Titanic sinks. An optional $5.00 donation would be greatly appreciated. We look forward to seeing you all. Thank you for your patronage. We will miss you more than you know."
I feel cheated. The powers that be that defeated this business has my metaphoric fist in its face. Whatever reason the owner had for closing down, the town of Putnam, CT lost their little piece of wonderland.