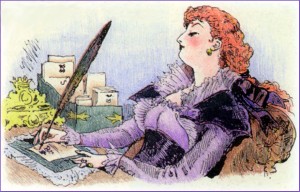 A friend of mine gave me a recent article revealing that women are still using male pen names, or initials to disguise the very fact they are women. The statistics show that men will invariably ignore anything that hints at a feminine hand, whereas women will read either sex. The publishing industry does nothing to encourage women to fight the trend, either. They ask or even demand that a science fiction or hard boiled suspense author write under initials or a male pseudonym. They claim they want to gain every reader, and if a man picks up a book in a typically masculine genre with a woman's name on the cover, they are likely to put it right back down again, and who wants to lose a sale this way? Female authors wanting desperately to be published will give in to the pressure and the cycle continues. We all know the historical pen names–The Bronte sisters; George Sand–I couldn't remember her real name if I tried;  Isak Dinesen–author of Out of Africa; E. Hinton is really Susan Eloise Hinton-surprise, she authored The Outsiders, a classic about teen boys that her publisher felt would never be accepted if her sex was known; and a more recent fraud, J. K. Rowling–if she used her real first name, her publishers contended, would a 12 year old boy have picked up the book? We'll never know.
I'm used to be startled by unexpected classic crime writers I thought were male turning up female. John Stephen Strange has an equally lengthy real name. Do I know it? Something like Dorothy Tilbury or Tillson with a middle name too. She wrote in the 1930s in what I suppose was considered masculine territory. Less cosy, more what? I'm not sure, because most male Golden Age Detective writers wrote soft boiled tales, with locked rooms, convoluted plots, fantastical weapons that any woman could  pen. Why men would choose one over the other in this genre, I don't know, unless there is a deep seated prejudice and skepticism about a woman having the skill, knowledge, and guts to write 'like a man'. I put that in quotes because I can only assume that these contemporary authors forced to take masculine names are doing so because the industry believes inherently that women could never prove to men they can write as grisly, violently, suspenseful as do the Lee Childs, etc., whose work is riddled with uncounted acts of viciousness. And write it well.
I find the continued concept that men can't and won't pick up a book by a woman in a 'man's  world' insulting, backward, and a self fulfilling prophecy. If the industry continues to perpetuate this claim, and women keep hiding their true sex, how will this practice ever die? There are too many so called exceptions to the male literary universe for this excuse to continue. Patricia Cornwell comes to mind–quite a few violent, sickening scenes throughout her series. Well written is debatable, but she is a bonified best seller, as is her Canadian counterpart, the inspiration for the long running autopsy show, Bones. There are spectacularly talented women who publish and sell quite respectably in the crime fiction field. I can't speak for science fiction, I don't read it–not because it's male dominated, but because I simply don't like it. Jan Burke is an author whose work has won acclaim within the mystery world, and rightly so. Her protagonist can take on the best of them, and does it with strength and intelligence. Burke has written about serial killers, just like the boys, and probably a hell of a lot better than most male authors. Laura Lippman has been penning a female detective for over a decade and has won practically every award there is. Her stand alones are suspenseful intelligent novels, that any male of the species would find entertaining and a satisfying read. One of her books, Every Secret Thing is being made into a film. It's taken longer for that to happen, than with contemporaries like Michael Connelly, Dennis Lehane, etc, it couldn't be because she's female, right? Of course not. Let's see, let me count on my fingers how many hard boiled female authors have had their work on celluloid lately? Janet Evanovich; Sara Paretsky back in the 90s?; hmm, I think there must be more I'm not recalling, but who? Men in the same timeline–James Patterson, Lehane, Connelly, Lee Child, Thomas Harris, James Ellroy, Elmore Leonard, James Lee Burke, Jeffrey Deaver, Walter Mosley, I know there are more. Female authors seem to fare better on the little screen–with the aforementioned Bones, and Rizzoli & Isles.  Of course the British televise many women writer's works although they do seem to fall into the more traditional or somewhat cozy category–even if they are well written with detailed characters and violence included, they have accents, so for some reason they aren't hard boiled. Many are what are categorized as police procedurals, which in some people's minds negates suspense. All of these ladies: Ruth Rendell, P. D James(ha), Elizabeth George, Minette Walters, Anne Perry, and Val McDermid, have had their books turn into TV movies and series.  I'm hoping they are successful because the British male isn't threatened by a feminine hand behind the story, as opposed to the crass, unenlightened nitwits the American publishers think men here are. Still, there is that Harry Potter factoid. Maybe men need to grow up the world over and realize that if they pick up a book with initials instead of a full name, and they like it, it's not because they believed a man wrote it, but because the woman behind it can damn well write!