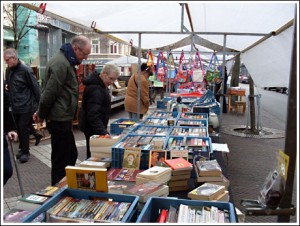 With the weather turning a little cooler it is a nice time to take the time to go out to flea markets. I go to outdoor flea markets nearly every week during the summer, winter and spring. In the dead of winter I sometimes get cabin fever and brave the cold to get my flea market fix. Lately I go mostly looking for books as I have gone for years and have a collection of many other things that I just "had to have" Flea markets can often be great places to visit when looking for books to sell and to look for interesting books to collect.
Larger flea markets are often inhabited by sellers who make it a full time occupation and who spend the rest of the week going to estate auctions and yard sales looking for things to sell, like the  iPhone 5, at the flea market. You will come across the occasional book dealer but mostly you will come across people who will buy anything that they can sell and make a profit.
If they have been doing it for a while they will develop a certain familiarity with what they are selling and price their items according to their experience, but often you will find people who are just looking to make a modest profit.
I have made some great finds at flea markets! A few years ago I went to the flea market and saw a set of books "International Critical Tables of Numerical Data, Physics, Chemistry and Technology Prepared Under the Auspices of the International Research Council and the National Academy of Sciences" – 7 volume set published in 1926 by McGraw- Hill. The set was in very good condition. A sign on the set listed the price as $15.00. I told the gentleman who had the set for sale that the set was likely worth much more than his asking price. He replied that he had looked the set up on Ebay before coming to the flea market and saw a set listed there for $300.00. I asked him why he didn't list his set for sale on Ebay. He replied that he didn't have time for stuff like that and that he simply wanted to sell the set. With a clear conscience I purchased the set for $15.00. I listed this book set for sale on ABE, Biblio, Alibris and Amazon for $375.00.
I listed it in September of 2007 and the set sold in December of that year on Amazon.
It was purchased by a Professor from Brazil. I had the set listed with only domestic shipping due to the weight of the set, but the Professor emailed me and asked if I could ship the set to Brazil. I increased the Amazon price by $100.00 to cover the shipping cost, packed the set and shipped it. Thank you flea market!
Years ago I used to go to the flea market and return home with boxes and boxes of books.
I have become more discriminating in my buying! Lately if I return with a few books or a box or two, I am happy. I don't usually take my book scanner to flea market, but I always have my Samsung Galaxy Note, or previously had my iPhone both of which allowed quick and easy access to ABE to check book prices. I have also found a program called "Red Laser" which is available for IOS and Android which can be used to scan bar codes and which will provide prices for books. I use "Red Laser" at the flea market on a regular basis, but most of the books that I buy at the flea market are older non-ISBN books and I look them up on ABE.
You just never know who you will meet selling what at the flea market.
Today I went to the flea market and returned with a hand full of comics , a very nice Currier and Ives Civil War print, a few other prints and one book. I paid $2.00 for a fine condition copy of " Dauntless – A History of the 99th Infantry Division". I didn't take the time to look up the ISBN before I bought the book. When I got to my van after my stay at the flea market I checked the book price on ABE. I found only one copy listed with a price of $ 85.88. I also found used copies listed on Amazon ranging from about $50.00 for a used "acceptable" copy up to a high of $235 for one in "good condition".
Once again I have to say – "Thank you flea market". I had a great time walking around looking at curiosities and have a book to take home that will pay for my gas and provide me with a nice book to collect or to sell at a profit. I like that!
John Pollard
Jpollardbookseller
Brick and Mortar and on the net
Jpollardbookseller @ gmail.com