I walked into the shop one afternoon a few weeks after we settled into our new bookstore and Robert hurriedly handed me a letter. "You have to read this and tell me what you think." I couldn't tell by the look on his face if this was good news or bad. I looked at the envelope and immediately noticed the return address – a state prison in Pennsylvania. Did they want to order books? I unfolded the stack of hand-written pages and began to read.
An inmate had been sent a local newspaper that included an article on Robert and I taking over The Book Garden. Randy – I'm sure he won't mind me using his first name –was trying to figure out how to write his own story and had grown up in Frenchtown. He took the article as a sign and hoped we might be open to helping him with his project. Interestingly, he didn't know Robert and I were also writers.
We've been corresponding with him for more than a year. He sends us some of his writing to read and critique and in return we send him our thoughts on his work, general advice on publishing (a hard enough road without the impediment of prison!) and books to help him along. The last one I sent was a well-worn copy of The Elements of Style by Strunk and White.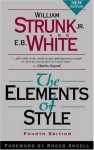 Robert and I agreed we'd love to do more for Randy but weren't sure exactly what we could do beyond sending the occasional letter and reading material. One day I picked up the phone and Randy's mother was on the other end of the line. She lives in town but is elderly and has difficulty getting around so she wanted to call and tell us how grateful she was we were corresponding with Randy. How grateful he was for the letters. She shared how worried she is for her son and how she hopes he would be able to get out soon. When we hung up I had tears in my eyes – every time I think about his mother I want to cry. Maybe that is why I haven't had the courage to go to her home and meet her.
I just finished reading Orange is the New Black: My Year in a Women's Prison, Piper Kerman's memoir that inspired the Netflix series of the same name.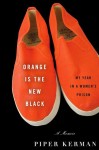 I didn't immediately think about Randy as I watched the show or while reading the book – this was about women being incarcerated, many unfairly in my opinion. I have no idea why Randy is in prison. And then I came to the end of Piper's story and her very thoughtful observations of the prison system and of those who are trying to reform the system. One organization in particular, Books Through Bars, caught my eye. That is when I thought of Randy. I thought of how grateful Piper was to receive books from the outside world. And for the first time in a long time I made a few New Year's promises to myself. I vowed to send more books to Randy, and to get involved with Books Through Bars. And to meet Randy's mother. And to meet Piper Kerman — if you happen to  know her, please pass my request along.
Call it serendipity, call it karma but I am constantly amazed by the immediate connection I often have with customers – and even with someone I have never met – and how profoundly they can impact me. Maybe these connections are influenced by the silent encouragement from the very personal stories that sit on the book shelves around me.  It certainly helps that Robert and I enthusiastically encourage conversation. Still, I am always surprised at how even the briefest interactions impact my outlook and can inspire me in so many ways.