"What pop-up books do you have?" a customer asked a few months into my new gig as a bookseller. "Pop-up books? You mean for kids?" I asked back. He didn't have any kids with him; just a woman who I assumed was his wife. "For kids, for adults, just pop-ups. You should have pop-ups."
He was right. We should have had pop-ups. We should have had a little bit of everything really. That's what you do when you are a small, independent book shop. Either that or specialize. A few months in we were still figuring this all out but we did have one pop-up book, Big Frog Can't Fit In.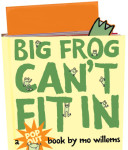 Our customer didn't have that one so he bought it. He and his wife have become two favorite costumers who visit every few months when they are in town. He presented me with my very first bookseller challenge – finding pop-up books he doesn't already own. I have risen to his challenge – not easy since he has thousands of pop-up books!
He may have been my first customer in search of pop-ups but he wasn't the only one and we now keep a small collection of this genre in stock and add to it frequently. But other than keeping an eye out for books for my pop-up guy I didn't really think much about these specialty books or their history until recently.
I didn't know pop-ups, also known as movable books, date from the early 13th century or that they were originally designed for adults. I couldn't tell you what a "paper engineer" did or that there even was such an occupation. Wikipedia  can be a good resource when curiosity strikes. The site, Children's Literature, also has some great articles on the genre. The history of these beautiful books is fascinating and much more complex than one would imagine. And pop-ups can command quite a high price. A quick eBay search unveiled a 1950s copy of Disney's Cinderella pop-up selling for $475. Or you can find a first-edition of Dean's New Scenic Books. No. 3. Cinderella, published in 1855 for $8,500 on AbeBooks. I bet I'd surprise my pop-up collector friend with this one.
Pop-up book collecting isn't child's play for sure!  As someone who has only recently come to really appreciate Pop-up Books, one of my favorites is The Little Prince.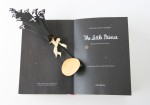 Do you have a favorite or two I could recommend to my collector friend?