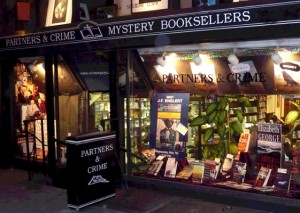 Another independent bookstore is ending its run. Partners & Crime follows many other mystery indies that have closed over the last 20 or so years in New York City. Starting with the two Foul Play bookstores, one in the Village, the other on the Upper East Side in 1994, and over a decade later by the first mystery bookstore established in the US, Murder Ink (it had expanded to two stores before the expansion closed in the late 90s.) Black Orchid, closed a few years ago, and now Partners & Crime. The only specialized mystery bookstore left in the city will be Mysterious Bookshop, which moved downtown after the brownstone it was located in was sold. Partners & Crime was in business for 18 years, not a bad run at all. The reason it was able to stay open as long as it did–the original partners all had day jobs as well as part ownership. The digital world has been taking over, and in some ways this doesn't seem like a bad thing, to one of the owners. The idea that books will now be on the same playing field as music and movies pleases her. Nonetheless, it is sad for those of us who love wandering through the aisles, perusing titles and authors, making selections from what we physically handle rather than reading inane reviews online and choosing that way. Having a live intelligent person who can point out what they have recently read and liked beats amazon's ridiculous reviews any day.
Partners & Crime was a one floor spacious space that presented old time radio dramas as well as a great selection of new hardcover and paperback crime fiction. It had a vibrant clientele, with constant author signings and events. I became friends with a couple of the owners and loved when we would cross each other's paths–at a dinner for an author, or at the Edgar Awards, or just in at each other's store. Maggie Griffin, one of the partners, was responsible for hand selling some authors who became very successful in part due to her efforts. I clearly remember her singing the praises of an original paperback author, whose book cover was just awful, a terrible bleeding football. There was no way I would have picked that book up, let alone read it, had it not been for her. Turns out the book was fantastic, the series went on to be quite wonderful, and the author's transition to suspense thrillers made him his fortune. Harlan Coben owes a bit to Maggie's persistence, even to the point of convincing rival or fellow booksellers, like me.
I'm not surprised the store is closing, not that I thought it would, particularly, but as more and more people are buying electronic devices, even those who love real books, and stores such as these, are becoming extinct. Why take a subway, walk all the way to a store to choose a few books for 28 bucks a pop, when you can stay by the fireside sipping wine while downloading the newest title from your favorite author, or a new author's first book? It does sound alluring, doesn't it? Except for the part where you have to read your book via a screen and flick your fingers constantly to the next page and there is no paper fragrance or romance that a great book with paper and boards has. But, in truth, electronic books have become great tools for those with vision problems. A friend had terrible degenerative eye disease, but was still able to read her favorite mysteries via an e-book device.
I checked their top 100 list and found that I only agree with them approximately 10 per cent, lol. I believe their list has changed over the years. I could have sworn some of the titles I chose originated with my having seen their picks years ago, and read them. Check them out while their website is still up–here.
The store is having a thank you party on September 20th, and I may have to trek up there for the occasion. It will be a sad goodbye for me, but knowing how many readers were entertained and delighted over the years by the partners, will lessen the feeling that the closing of the store is a crime.