Every Saturday morning at 10:00 am magic happens in The Book Garden. We join harrowing hunting expeditions on the African Plains, discover and rediscover the miracle of child birth, face death and then turn and walk in the other direction, share demons and desires. We return to favorite childhood moments and wrap ourselves in others' sorrows as if they were our own. And all of this occurs in the read-in kitchen over a cup of coffee and blueberry muffins. Traffic goes by, shoppers stroll along the sidewalks; families eat breakfast at the café down the street all unaware of the magic brewing in our kitchen.
When we bought the bookshop Robert and I agreed we wanted to offer writing and other creative workshops to the community. The Memoir Writing Workshop I describe above is now in its second year. The teacher, Frenchtown's own Dodge poet, Skye Van Saun, is inspiring as much as she is informative and encouraging.  She is also honest and doesn't give false hope to these aspiring authors. She tells them that getting their worked published won't be easy, even if they choose to do it themselves. But publishing isn't the point really. The point is to tell their story because we all have a story worth telling.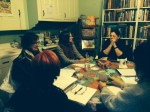 I smile as I go about re-staging books or working on a promotional flier for an upcoming event while I listen to Skye and the others share their stories. I am not eavesdropping – well maybe a little. I can't help it. I am captivated by the worlds bumping into each other here in our little kitchen, in this unassuming bookshop, in our little river town.
When I find myself on a very slow and cold winter day questioning if buying a bookstore was in fact a good idea I think about the magic that happens in the kitchen – not just the budding memoirists but the unpolished poets, the young playwrights, the just-published local authors who celebrate their accomplishment with us.
I remind myself of a good friend who I hardly knew when she shuffled into the kitchen for last year's memoir workshop. She came to support a friend and she left a woman on a mission to writer her own story. And she has. And it is funny and furious and poignant. And she wrote the first few lines in our kitchen.