When visitors step through the imposing 12-foot-high front doors of this1860s Painted Lady Victorian, they often comment on the lovely house, the intricate woodwork, the faux-marble mantels. As they wander through the shop they remark on our "Blind Date with a Book" display, the staircase-turned-stack of favorite books and the "read-in kitchen" that is home to most of our previously loved and vintage collections.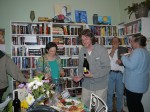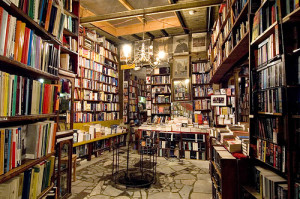 Every independent bookshop has a distinctive style and history – be it centuries long or just a decade short. I still smile when I think of my first visit to Shakespeare and Company in London and remember with equal fondness my monthly treasure hunts in a quirky little used book shop in Montclair, New Jersey. That used bookshop (its shelves I remember well but its name escapes me) may no longer be in business but it holds a special place in my memory.While The Book Garden is not among the iconic bookshops of the world (yet) we strive to leave a lasting impression.
Like any home, ours needs constant love and attention and January is when we prioritize our to-do list of shop improvements for the year. Working within the limits of a budget and not owning our space, we rely on our own creativity, and a little help fro our friends!
This year our plans include:
Giving the children's reading room a facelift starting with a fresh coat of paint
Adding to our front garden to give it more curb appeal
Adding new lighting around the store.
Part of the fun, and the appeal, of being a retail bookshop is creating a unique, comfortable space that customers want to revisit, and remember to mention to their friends. And we're always looking for inspiration so feel free to share!