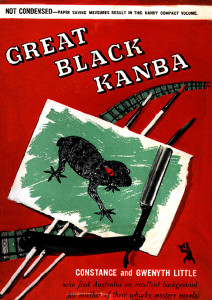 Great Black Kanba—Constance and Gwynth Little–1944–IP
The sisters were consistently hilarious. "Carolyn Hart (Grand Dame of cosy mystery writing) calls this tale of mistaken identity, barking lizards, multiple beaus and murder on a trans-Australia railroad trip one of her five favorite mysteries "
Great Black Kanba turns out to be my favorite of the bunch, but only slightly. Their bizarre plots, quirky characters, and rather uncosy murder methods consistently measure up to each preceding volume. They didn't write a series, with the same characters, but they may as well have, as most books have world wise women who stumble over bodies, or are thrust into situations where bodies pop up. In the case of Great Black Kanba, murder rides the rails–in Australia–on two separate train lines, because back then, there wasn't a central line to carry passengers across and up and vice versa.
A typical Little heroine boards a train and promptly is bopped on the head with a falling piece of luggage. She temporarily loses her memory, waking to find strangers surrounding her claiming to be relatives. Two men vow they are her betrothed. She can't ascertain what's what but struggles along with sarcastic wit and savvy intelligence. A murder on board just adds to her bizarre experience. The great fun within this book is the better than usual snappy dialog, the insane plot line, and fact the entire story takes place while traveling.
Each Little female lead are strong self sufficient ladies, able to hold their own among murderers, other catty females, and suave cads pretending to be heros. I read some review that made a point that the Little books were not feminist in nature. I strongly disagree. No, the females aren't career women supporting themselves working as secretaries or teachers, but they are certainly to be respected in their strong personalities, common sense, smarts, and self confident attitudes. They could just as easily do without a male encumbrance as with one. They are seemingly indifferent to the charms of men around them, and if not indifferent, they find them insufferable. The verbal play between female protagonist and male characters are some of the best in their books, with put down after put down volleyed back and forth between the sexes.
I've likened the Little books to 'celluloid screwball comedy" in that they read like The More The Merrier runs on film–quick, sharp staccato humor and physical hijinks–on paper. The fact no enterprising hollywood bigwig saw  their works' potential, while filming such others as the Stuart Palmer Miss Withers exploits, will remain a deep disappointment to myself and the rest of the Little sisters' fans.