I was talking to one of the owners of a local coffee shop. He's a fifty-ish kind of fellow, similar to myself, like a bit of bluegrass music and has been in the food service business for a couple of years. I had worked up a wine-tasting cross-promotion between our store featuring some local Missouri wines that he carried. I'd provide the space in our latest bookstore renovation for the tasting, and they would provide the vendor and the samples.
"We'll push it heavy on our Facebook page," I told him. "It has a nice target audience that I'm sure would enjoy a wine tasting. If you could do the same on your page, that would be great."
"I don't do Facebook," he answered. "I just don't get the appeal."
"Ah," I nodded. That explained the lack of buzz for his latest promotion, "Bill Monroe Mondays featuring a guy singing from 8am-9pm."
I'm serious.
In the end, we pushed the event on our page and generated an extra day worth the sales in two hours. The coffee shop benefited by selling 15 bottles of wine in the same time frame, which equated to about a week's worth of sales in-house there. Total number of coffee shop customers that attended our event: zero.
I'm lining up a more energetic and hip partner for the next wine tasting.
What's the bottom dollar value of having a Facebook page for your bookstore? Like most advertising, there's no true metric to calculate its impact. There's a lot of fancy insights in the admin panel of your page, but what do they really mean?
It doesn't really matter, because Facebook is free. One extra sale, and baby, you're money ahead.
Back when I sold radio ads, we were taught to tell customers that "top of the mind awareness" was the important part of advertising. When a customer is ready to purchase, you want to be the first place he thinks of when he starts making his decision. We use Facebook in the same way.
Almost every morning, I'll find an interesting book quote image and upload it from my phone to our page, tagging a few of our employees, sometimes a few of my friends, and some select customers. For us, over a days time, that image will be viewed by around 500-1000 people. I'll add and image or two during the day on occasion as well.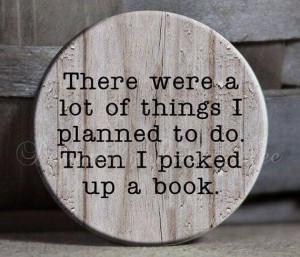 I remind my employees to check-in on Facebook when they arrive. Only takes a second and it appears throughout their feeds, plus it adds to your check-ins total.
I like to post product pictures as well. Although you may not get direct sales from it, it shows how vibrant and active your store is. Here's a few I love to show:
Interesting Box Sets: Nothing says great bookstore than a full set of Laura Ingalls Wilder's Little House on the Prairie.
Spanking New Hardcovers: Got the latest Grisham? Evanovich? Snap a picture of it and post it up. If you have an employee handy, have them hold the book for you and tag them. Customers love the personal touch.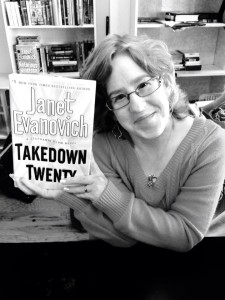 Inside store shots: When we have a new display or want to showcase a certain genre of books, this is an excellent way to do it.
Customers: If they are willing, I love to get an occasional picture of a good customer shopping. Again, it's the personal touch that you want for your store.
A few moments a day can really give you a good social network buzz on Facebook. Post consistently so Facebookers have you in that top of mind space. Keep it fun, keep it light, and just do it.
Even if you don't get it.
Now excuse me, I have some customers to amuse on Facebook.