I don't write reviews on amazon. OK, I wrote maybe three–but I had to be highly motivated and passionate about what I was reviewing to dip into that cesspool of bizarreness. And I was. Elaine Viets, mystery writer, had begun a new series at the time, and I was wildly in love with it. Here is part of what I wrote:
"Helen Hawthorne, once quite successful, is forced to lay low, changing cities and jobs as quickly as she used to change her designer shoes. Her new profession, salesclerk in a chi chi Florida boutique whose green door keeps out lowlife Sears Robuck rejects, forces her to do more than cater to collagen frozen faces. Underneaththe fashionable facade, a nefarious manager has embezzled bucks, and when a murder occurs, Helen must find the perpetrator before her past catches up with her. A six toed cat, a real character of a landlady, and very cheap wine bought by the case, comfort Helen as she works to solve the crime."
The review was written about the Dead End Job series starring Helen Hawthorne, a woman on the run and forced to take jobs that pay under the table. Elaine would work in the various positions she writes about to make Helen's experiences as realistic and truthful as possible. And they are. She has written a slew (11) of Dead End Job books since the debut–
Shop Until you Drop
, including one on my  
Best 100 Mysteries of All Time
list–
Murder Between The Covers
.  Apparently one exceptional series is not enough work for Elaine, she created another with a secret shopper, Josie Marcus, her latest,
Murder Is a Piece of Cake
, just released. (That's number 8.) I'm clearly biased–I've known, admired, and called Ms. Viets a friend for over a decade. But even if I'd never met her, I'd still love her rich characters, witty dialog, and satisfying plots. Here's the 10 questions and answers.
1.
First, I must know–do you still work all those awful jobs to write about them, or now that Helen Hawthorne is a PI do you skip that difficult real life experience?
A: Helen still works those awful jobs as a private eye. When the economy crashed,  even dead-end jobs became hard to find. I could not in good conscience take a job for six months or so when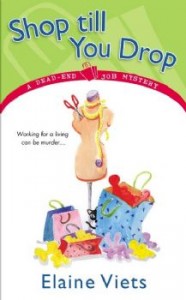 someone really needed it to live. I now rely on intensive research. For my May hardcover, "Board Stiff," I took stand-up paddleboarding lessons. I did actually learn to paddleboard, though I spent a lot of time falling into the Intracoastal Waterway. I'm grateful there are no photos
2.
I see you are taking classes and studying private investigating. What is the most surprising thing you've learned so far? What has disappointed you about the real detective experience, as opposed to the fictional one? Are you issued a magnifying glass, flashlight, and pumps, like Nancy Drew upon graduation?
A: In Florida, private eyes are regulated by the Department of Agriculture and Consumer Services, which oversees a host of things, including fish
farms, fair rides, fire arms and dance studios.
I use the flashlight for hurricane season and prefer black Chuck Taylor low-tops to pumps.
3
. All of your work is marvelously witty and downright guffaw funny. I've also seen you on discussion panels and you are as quick and hilarious as a professional comedian. Did you ever entertain a dream of becoming the next Phyllis Diller? (For those who have no idea who that was, think Joan Rivers–and if she's still too ancient, think Kristin Wieg.) How do you maintain humor in each series, especially when things in real life could be better? Humor is extremely hard to work well.
A: There's nothing funny about standup comedy. That profession is far more brutal than novel writing. I've tried to write serious novels, but they make people laugh, too — and I didn't mean for them to be funny. I guess I'm naturally twisted.
4.
You went through a horrific personal illness a couple years ago. How has that experience impacted your writing, and the characters under your control? Through a super human effort, you somehow managed to stay on schedule delivering your manuscripts. What inspired you to keep on going, as they say? Your hospital stay was less than stellar. Have you been able to use any of that unpleasant experience in your work, and will you be murdering any of the people you had contact with there
A: I did have some health problems more than five years ago. I've fully recovered, but I didn't get well by myself. I had the help of a good surgeon, a good husband and many friends in the mystery world who held a "tour by proxy" for me and sold my books when I couldn't tour. I never get tired of saying thank you for my recovery.
Some day, I'll use my hospital experience in a novel and maybe kill a few medical types, but I need more distance before I can write about it in a way that's entertaining.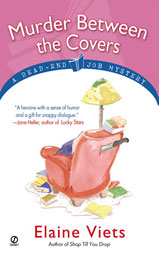 5. I and many others enjoyed your first mystery series set in St. Louis with reporter, Francesca Vierling. Is there a chance she may make a reappearance? I understand that usually the author has little control over whether or not a series can be continued, due to contractual and other factors. But if the series were in the clear, would you even be interested in revisiting her at this point in your writing career?
A: I'm glad you liked Francesca. I'm a former reporter and syndicated newspapr columnist. Unfortunately, the business as I knew it is dead and I can't go back there. I see Francesca still working at the old City Gazette, and enjoying the things she loves most: living with Lyle, tormenting her boss Charlie, and on the trail of a hot new story.
6.
Is your Josie Marcus series about a secret shopper inspired by your mother, as I once read? If so, what exactly did your mother do within that job? There is a film I love that is played each Christmas about a secret shopper who buys things and then returns them–I never understood exactly what her job was, only that her son thought the train set was for him, and it had to be returned, thus breaking his little tender heart. I admit I am criminally behind on reading your work, and therefore haven't had the pleasure of meeting Josie yet. Would the former questions be answered by cracking open one of the books thus saving you from a lengthy answer? If yes, save yourself from a lengthy answer.
A: Why are you wasting time asking questions when you could be reading Josie?
Seriously, Josie's job is based on my mother's experience as a mystery shopper in the late 1960s with her best friend. It was the only job she was allowed to have. My father didn't want his wife working and Mom abided by the customs of the time. She could be a mystery shopper because it wasn't real work in my father's eyes, it was "only shopping." Never mind that she had to drive maybe a hundred miles a day, slog through miles of stores and then get home by 3 o'clock when we got off school and fix dinner.
Times have definitely changed, but the mystery shopping questionnaires are basically the same as they were 40 years ago. Josie's eighth adventure, "Murder Is a Piece of Cake" was published in November. Check out the first chapters of all my novels at
http://elaineviets.com/new/novels/default.asp
7.
You now host a radio program. Tell us a little bit about this gig and how it came about.
A: I'm the host of the Dead-End Jobs Show, named for my mystery series. on Radio Ear Network. The weekly show will be a year old this January.
I was interviewed on Radio Ear Network a few times at a conference in Sarasota, Florida. Producer and talk show host Joe Dobzynski turned out to be the CEO of Radio Ear Network. REN is in some 148 countries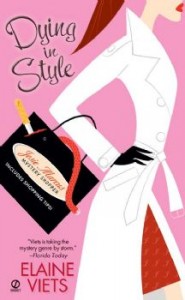 worldwide. Joe said the network was expanding into the Fort Lauderdale area and would I like to host a show. I love radio and did some several years ago.
Radio Ear Network
www.radioearnetwork.com
is Internet radio, which is far more flexible than conventional radio: You can listen to it online, on your computer or tablet, download it for you iPod and if you had an updated car radio, even listen to it in your car.
For the Dead-End Jobs Show, I interview people with interesting and offbeat jobs. That includes everyone from Charlaine "Sookie Stackhouse" Harris, to Charles Berry Junior, to yacht chef Victoria Allman. I talked with six-time Grammy winner Gary Burton and got to pet the Grammies on his music room shelf.  As show host, I learn a lot about different professions, from pizza delivery to servers.
8.
You attend as many of the mystery conferences as possible. Is that on your dime? Or does your publisher pick up some of the tab? I've wondered about this for many years, considering how many authors attend these things, it must be quite expensive personally if one travels without financial support.
A: My publisher usually takes the writers out for a lavish meal at the best restaurant in town. The dinners are always fun. I get to kick back and talk with other writers, editors and publicists. I may also have lunch or breakfast with an editor or publicist. But most authors, including me, attend conferences at our expense. They're a light-hearted way to meet readers and booksellers. I look forward to them, especially Malice Domestic, Bouchercon, and the Festival of Mystery, which is a one-day bookselling event in Oakmont,
Pa.
Kristy Montee/PJ Parrish and I are chairing SleuthFest on Saturday, a one-day writing conference in Sarasota, Florida, February 16, sponsored by the Florida Chapter of the Mystery Writers of America. Details are here
: 
http://www.mwaflorida.org/sleuthfest.htm
9.
I know you've named some of your characters after real people you know. Not to whine or complain, but the closest I've gotten to immortality within a crime fiction book, is have a town be named after me. How does one attain that privilege? I know auctions can play a part in this process. Would you explain how that works?
A: Many of my characters are people who made generous donations to charity at various conference auctions. That's how the real Margery Flax, who lives in New York,  became 
Margery Flax the landlady in my Dead-End Job series. Mystery writer John Lescroart bought a character name for a bookseller friend in my new Josie mystery, "Murder Is a Piece of Cake."
10.
Both of your female protagonists have married. Why? Are you at all nervous that once they are hitched the romance is over? And why have an independent strong woman character marry? I know you have fab contests on your website–such as voting for the best and worst bridesmaid dress. Do you find attractions such as these help draw more people to your books? How do you handle BSP (Blatant Self Promotion) so as not to bore people to tears, or annoy them so much they avoid your work like the plague? (As so many of your colleagues seem to do) I've never found your promotions to be obnoxious, and others should learn your techniques so they will stop driving the rest of us nuts!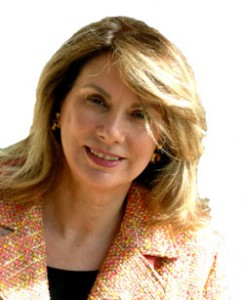 A:It's possible for a strong independent woman to be happily married. After all, I've been married 41 years to Don Crinklaw.
A bad marriage is true hell, as Helen Hawthorne found out when she was married to her first husband, Rob. But a strong woman picks herself up after a failure and goes on. Helen divorced Rob and met Phil, the love of her life in "Dying to Call You." In "Half-Price Homicide" they married and started Coronado Investigations, a private eye agency in South Florida. They are partners in love and in life and each one brings special skills  to their work and their marriage.
Mystery shopper Josie Marcus never expected to marry. She's a single mother with a tween daughter who met Dr. Ted Scottsmeyer when her cat needed vet care.
Is the romance gone when characters marry? Heavens no. A University of Chicago study about monogamy found married couples get far more love than single ones.
Writing dialogue for a married couple is a challenge, but I think it will keep both series fresh.
Glad you aren't bored by my promotions. I try to maintain some balance. If I post on Facebook or tweet something that's self-promoting, I try to counter it with a fun post about another writer or something that makes people laugh. Take a look at the winners of the bridesmaids dress contest. Bet some of the women reading this wore similar dresses
. 
http://elaineviets.com/new/Contests/Contest_Bride.asp
To purchase Elaine's books: