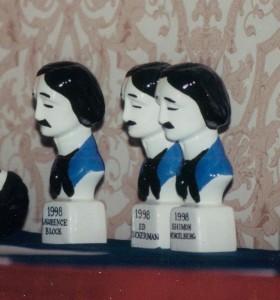 I've not attended an Mystery Writers Of American Edgar A. Poe awards dinner in over a decade. So this article will be strictly about those years when I did attend–from 1994 to 2001. As I've written before, the Edgars are the highest honor given to a crime fiction author, like the Oscars, but with far less fanfare and categories. The evening begins with cocktails where everyone smoozes, checking out each other's attire, and literary agents, guzzling concoctions from the open bar and afterward eating the nouveau cuisine as quickly as the microscopic fare  is spooned  in front of them. Attendees are assigned tables. The more important the nominee, or publisher, the closer to the awards area. If you are a fledgling author paying your own way, you use binoculars from the kitchen. My experience in table placement varied. As being part of one of the oldest mystery bookstores in the country, which was owned by a once major publisher whose influence in the business is incalculable, I sat fairly close, if on the side. Although another time I attended with the first crime fiction bookstore in existence, this table was not as forward, for the simple reason it was the first time in years, maybe ever, that store attended. It did, partially because I campaigned for it. The very last time I attended, I was at a table front and center–apparently TV networks outrank bookstores altogether. A&E Mysteries was nominated and I was the moderator for their online blog and discussion board, therefore invited to attend.
So many marvelous things have happened to me on each Edgar night, I wrote the before about my first experience, this time I'll concentrate on my last awards dinner. I was still doing work for A&E. but had been told that they were closing down the message board and interview site I was host to. For some reason I still don't understand, I was asked to be a panelist on the topic of writing for television, or producing, something to to with mystery on TV. There was myself, a man who wrote TV movies, someone else I can't remember, and a fantastic writer, both in print and teleplays, Matt Whitten. He'd written tons of Law and Orders and long after this Edgar day, he was head writer for the show House. He had a series of soft boiled cozies, in contrast with the sometimes graphic nature of the Law and Order episodes. Each of us explained what we did in the industry, me being the one who wasn't remotely associated, but the audience seemed fascinated with my explanation about the bonus A&E supplied to each main author I chose to discuss. A 30 second commercial advertising the chosen author's book ran several times a day, all month long. After my explaining I'd no idea why I'd been asked to be on the panel, and what I actually did, questions came fast and furious as to how to become the selected author. Matt, who is a particularly lovely, nice person, asked me if I worried about the gig ever ending, or something along those lines. I laughed and explained I was told it will be ending shortly. He was very surprised that I admitted I was about to be unemployed. I thought it was odd, until I realized, in that business, you never admit you were 'let go' because that wouldn't look good for your reputation, even if it had nothing to do with your work. The entertainment industry must be hell.
After my stint on the panel, I was leaving the room, when I bumped into  a man who was on the next panel. For some reason, we really hit it off, laughing and joking and commiserating as to why we agreed to do these things. It turned out he was part of A&E, and would be attending the dinner. Later, we met up, and hung out during the cocktail phase, goofing around, and then sat for the ceremony. I had no idea who he was in terms of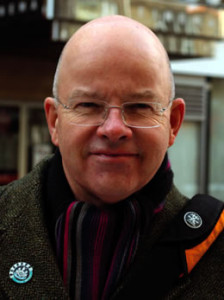 A&E, until it was pointed out he was nominated for an Edgar, and it was revealed he wrote for the BBC and the Reginald Hill Dalziel and Pascoe books dramatization. In particular, this night the teleplay On Beulah Height was his achievement. At that time, I'd not read a single Daziel and Pascoe book, although I'd read other Hill titles. So, I knew nothing about the theme or content of the book or teleplay. I looked upon him as a cool guy I was hanging out with at the Edgars. So, when his name was called and he won, I was excited and happy for him, but not in awe. After the awards were ended, I slapped down my Edgar program for him to sign, saying, "Here, sign this.:" It was done in jest, as if, now your'e a big name, so put down your John Doe . Well, the powers that be sitting at the A&E table gave out a collected horrified gasp at my lack of manners, and I was suddenly aware of having made a big faux pas. But I shouldered through, hoping that Mr. Michael Chaplin understood I was only doing it in play. I intended to keep in touch with him, and did try to send a friend's book, but had lost his info somehow.
In retrospect, I wouldn't have been as jocular as I was at the time. Especially since I've read Hill, and On Beulah Height has become one of my Best 100. If armed with this knowledge at the time, I would have been too awed and shy to even talk to Mr. Chaplin, let along goof off. Nonetheless, it was a really lovely evening, and I knew it was my last. I figured, why return, if not with a particular group? Even though I'll always be a fan, I'm not in the crime fiction industry any more, and assumed I wouldn't be in the future, which turned out to be true. I left on what I consider a high point. I sat with, joked with, and applauded an Edgar winner. Can't get much better than that.
FOOTNOTE: I'll update later with the list of winners for this years awards ceremony.
THIS JUST IN: Here's the list of Edgar winners for this year–thanks To Janet Randolph