Thanks for the tips I've received so far, but I still need more eyes.
Please send your tips/links here (change "(at)" to @). Match the format below if possible. I'll give credit and/or a link for any tips I use (please include your desired credit info with the tip).
Radio: NPR – WNYC "Talk of the Nation" 1/18/08
Interview with Doris Daou on her new Braille astronomy text, Touch the Invisible Sky (co-authored by Noreen Grice and partnered with NASA). Grice authored three previous books of Braille astronomy–Touch the Stars, Touch the Universe and Touch the Sun. [Universe and Sun fetch between $35-70 on ABE, Stars appears to be unavailable but may have been updated and retitled as Touch the Universe]
Radio: NPR – WNYC "Morning Edition" 1/15/08
Interview with Otto Penzler, editor of the Black Lizard Big Book of Pulps and owner of the Mysterious Bookshop. Penzler cites Carroll John Daly as the creator of the first hard-boiled PI (and simultaneously the first recurring/series PI), Race Williams. [Daly firsts and early editions fetch $90-500 and more for higher grades]. Tip via the Bookthink NewsBlog.
Magazine Article: "The Roving Eye: Lee Miller, artist and Muse" by Judith Thurman, New Yorker, 1/21/08
Biographical overview on model, photographer, and surrealist paramour, Lee Miller. Numerous works cited including: Lee Miller: A Life by Carolyn Burke; The Lives of Lee Miller by Anthony Penrose; Vogue Magazine March 1927 (with a Georges Lepape cover image of Miller) and June 1945 (containing Miller's Dachau concentration camp image) [issues will likely fetch between $100-300 depending on condition and description]; Man Ray's autobiography Self-Portrait.
Magazine Article: "Mystery on Pearl Street" by Burkhard Bilger, New Yorker, 1/7/08
Interesting article on the attempted historical preservation of 211 Pearl Street in Manhattan, an architectural mishmash of NYC eras and the possible inspiration for Herman Melville's story "Bartleby the Scrivener". Mentions a history of the scrap industry, Cash for Your Trash by Carl A. Zimring [Rutgers 2005, $25+ on Amazon] (mis-cited as "Cash for Trash" in the article) and The Kingdom of Matthias: a Story of Sex and Salvation in 19th-Century America by Paul E. Johnson and Sean Wilentz, on a partner-swapping cult founded in Ossining, NY (book title not specified in the article).
Magazine Article: "Prophet Motive" by Joan Acocella, New Yorker, 1/7/08

Revealing (and not terribly flattering) article on poet and mystic Kahlil Gibran. Mentions photographer and publisher Fred Holland Day who took childhood portraits of Gibran and founded Copeland & Day; publishers of some key limited editions in the Decadent and Art Nouveau schools.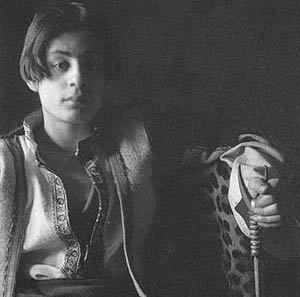 The Bookseller's Gazette is edited by William Smith of Hang Fire Books. Read his blog and visit his store here.
Issue #1 of The Bookseller's Gazette | Issue #3 of The Bookseller's Gazette