I hope the readers of the Bookshop Blog can help me out here. What is a bookseller's job description, especially when the bookstore has a staff of one?
Because I have young children, I try to limit my work days to Wednesday-Friday, which are the days my elder daughter is at day camp. By the time I get home from drop-off, it's about 9:00am. Then I have to leave at 2:30pm for pickup. It's less than six hours of work day. I know what you're thinking – less than 20 hours of work a week is a ridiculous amount of time to get everything done. My Fridays are even more truncated because those are my market days.
So what is it that I must get done on a daily, weekly, monthly, quarterly, even yearly basis?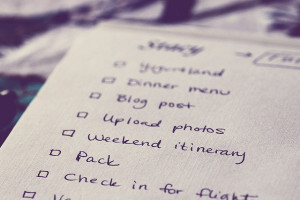 DAILY
Maintain social media accounts. Because we are still waiting for our IndieCommerce site, I have our domain pointing to our Facebook page, so it is crucial that it's updated frequently.
Work on projects. My professional experience is in project management, so it is helpful for me to break down my work into compartmentalized projects, even though you could say it's all really sales activities, without clear start and end dates. Just a few of the projects i'm working on right now: I'm researching suppliers for foreign language books (there are large populations of Vietnamese and Cape Verdeans in Dorchester), developing relationships with multiple departments at UMass Boston, getting ready to move into the cafe next month, crafting a strategy for getting into schools.
WEEKLY
Selling at the farmers market. I try to cycle out my inventory, but I don't have enough to have a completely new selection week to week. No matter what I do, market days are hectic.
Wholesale orders – I don't always place an order, but I review inventory once a week.
Update social media calendar. Planning my posts saves time. I am trying this calendar by Hallam. I then try to schedule posts in HootSuite so they are ready to go. I definitely adjust as I go, and there is a lot more I can do, especially in Twitter, but I think this is a good start. A social media expert also recommended Buffer, which I also use on occasion. I have yet to determine if I should stick with one over the other, or continue to use both, because I can't decide if they're basically the same or one has features the other does not. Another time for my to-do list!
MONTHLY
Do the books. I started off using Wave Accounting, a free cloud-based software. I  think it could have been a very useful service if it worked perfectly, but it didn't for me. First, it had the wrong URL for my bank's login, so I had to go to my bank's website, download my statement or transactions into a QuickBooks file, and upload to Wave. When I alerted them to that fact, they told me I needed to fill out a form. Um, no thanks. Second, it was reading my credits as debits and vice versa, not only for my checking account but also my credit card account, which was linked to the credit card's website to download transactions automatically. Their help desk emailed me instructions for troubleshooting but I do not have time to troubleshoot. I have since switched to good old Google spreadsheets. KISS* for the win!
QUARTERLY
YEARLY
We've only been in business for about eight weeks, but I think an inventory audit would be in order at least once a year
What do you more seasoned booksellers do that I'm not doing? I don't think there's much I can eliminate from this list, or I won't have much of a business. Do you have any tips for running an efficient bookstore?
*Keep It Simple, Sweetie