All of the necessary details for cereal are contained on the packaging, but what about the rewards that children are looking for inside the box? There is a reason why we are aware that certain cereals are potentially harmful to our bodies, but many of us still consume them. It's not always because of the nutritional value, calorie count, and servings that make us choose cereal as breakfast. Wheaties can be picked up by magnets and cereal brands (like Cap'n Crunch, Tony the Tiger,  Count Chocula, and Oreo O's) are loaded with sugar but are highly demanded by children.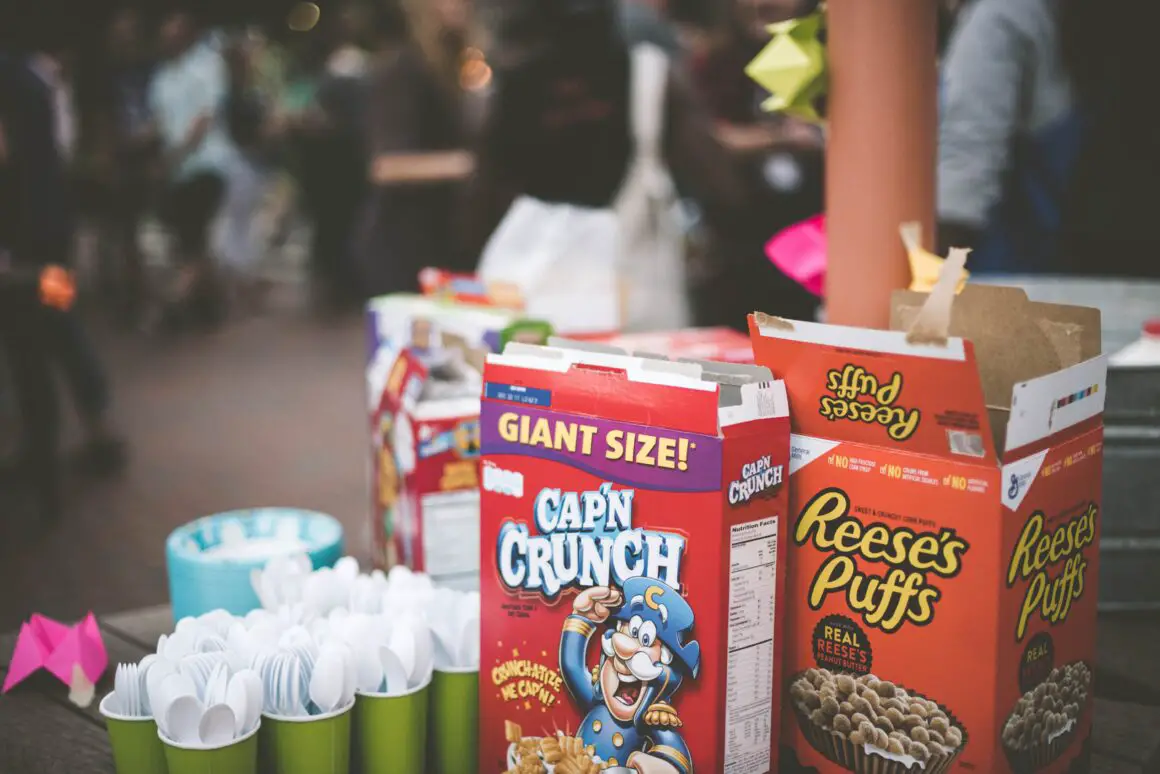 Searching for toys in cereal boxes is treated like Happy Meals from McDonald's, now, having an adult-oriented Happy Meal in its restaurants. I'd expect gifts like Chia Pets to be in an adult Happy Meal, but that possibility seems highly unlikely. Since adults also buy cereal brands, there can be free toys, video games, and even books hidden inside. 
Keep your expectations high and you may have the nostalgic memory of disappointment with a Hunny B's seasons poster. You may not win the sweepstakes that nearly every child dreams about or Kellogg's '90s Pokemon-themed cereal that had a small, plastic Pokemon toy in each box, but you probably remember cereal prizes with toys that could be converted into a basketball backboard, pinball games, mini-microscopes, glow-in-the-dark pens, glow-in-the-dark stegosauruses, etc. General Mills would give away cars and rockets and binoculars and decoder rings. The first cereal box toy came in a box of Cornflakes (if customers purchased two boxes of Kellogg's Cornflakes) in 1909 and the prize was a copy of Funny Jungleland Moving-Pictures, which is a booklet illustrated with dancing tigers, storks, horses, hippos, and more.
In 2007, Cheerios added 5 million books to cereal boxes as part of National Children's Book Week. The book offerings are published by Simon & Schuster and include The New Girl and Me by Jacqui Robbins (printed in English and Spanish), Everybody Needs a Rock by Byrd Baylor, Things That Are Most in the World by Judi Barrett, Do YOU Have a Hat? by Eileen Spinelli, and Jakers! Piggley's Treasure Hunt adapted by Catherine Lucas. After you read about the type of books that should be in cereal boxes, feel free to tell The Bookshop Blog about your opinion via Twitter.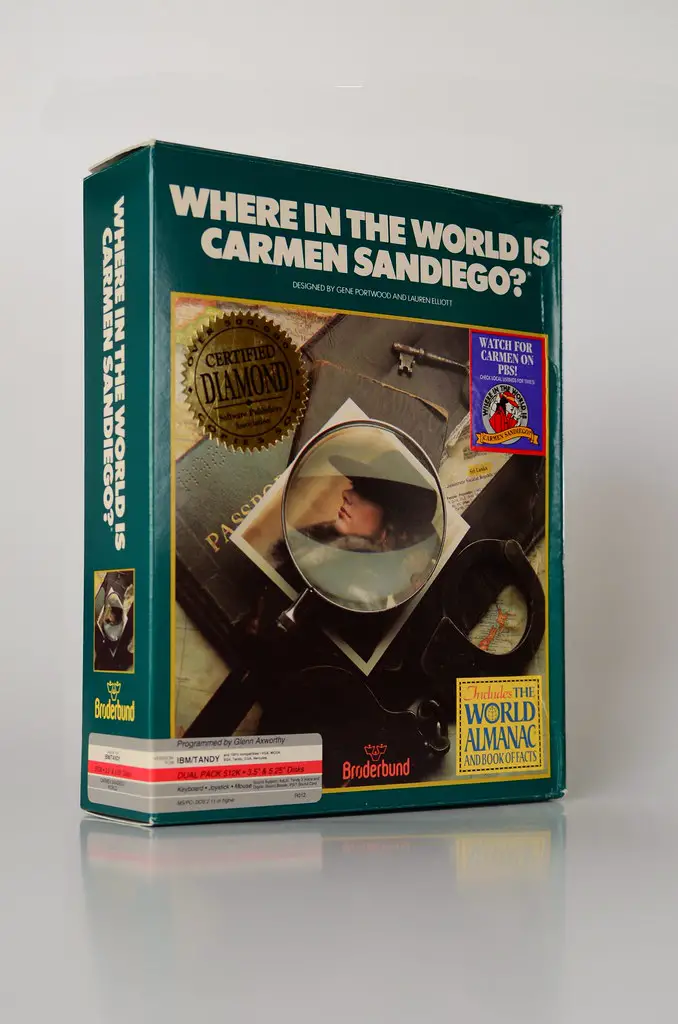 Where in the World Is Carmen Sandiego? By Rebecca Tinker
Carmen Sandiego is traveling by air and sea and over land and foot. Where in the World Is Carmen Sandiego? is a search-and-find book for 8 to 12-year-olds and is based on the Netflix series. The novel contains full-color illustrations and photography. Who would get excited about finding a Hooked on Phonics when they can explore the geography and unique cultures across the globe from Rio to New York and Morocco to Milan? 
I'm not surprised if your children cannot get enough of the Carmen Sandiego computer games and animated series. They can read the book series and develop a deeper knowledge of their favorite globetrotting hero.
Winnie-the-Pooh by A. A. Milne 
Who wouldn't love to find a Winnie-the-Pooh book inside of a cereal box? Perhaps the pessimistic Eeyore may find a reason to not want to find a Winnie-the-Pooh book. While Hunny B's are not as popular as Honeycombs, with the new series of Winnie-the-Pooh books, we'd want to feel like a child again. Would you love to read about the friendly Winnie-the-Pooh, exuberant Tigger, timid Piglet, and depressed Eeyore? 

The Hundred and One Dalmatians by Dodie Smith
Most Dalmatians are white with black spots, so it would make perfect sense to have the 1956 children's novel, The Hundred and One Dalmatians hidden in a box of Oreo O's. If there could be a special version of Oreo O's where there's milk chocolate mixed with white chocolate, (being Dalmatian print on the wafers), it could be more meaningful and delicious. 
Whether or not you love or hate Cruella de Vil from the 1961 animated movie, the 1996 live-action version, or Cruella (2021), the novel is funnier. There is a third adult Dalmatian in The Hundred and One Dalmatians and two dalmatians named Pongo and Missis are determined to rescue their puppies from a fur farm. Here's a fun fact: Hell Hall is where the puppies are kept after being kidnapped and has always been the property of the De Vil family, which was originally owned by (the grandpa) a possible serial killer. 
Guess How Much I Love You by Sam McBratney
Guess How Much I Love You is read in countries all over the world (from France to Japan) and is translated into 57 languages. 47 million copies of Guess How Much I Love You are sold worldwide and is a book (with gorgeous watercolors) that parents can read with their children daily.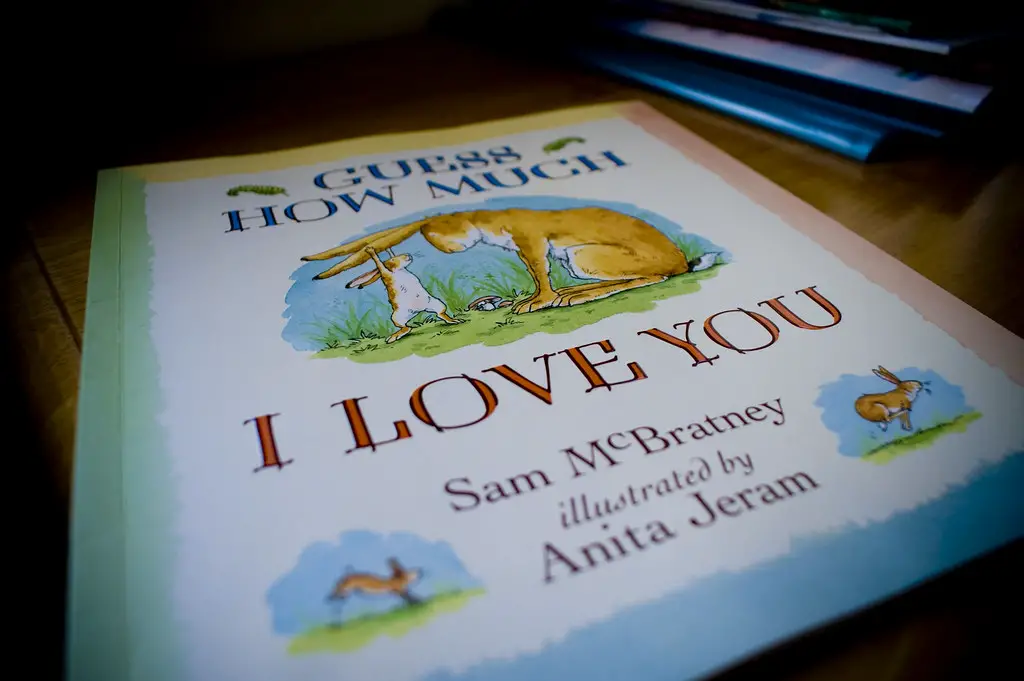 When Big Nutbrown Hare says, "I love you right up to the moon – and back," it became another way to say, "I love you' all over the world." This book has inspired a range of licensed products, including baby and infant clothing, nursery bedding, toys, confectionery, and jewelry.
Love You Forever by Robert Munsch
Try not to tear up while reading the 1986 children's picture book, Love You Forever. Love You Forever is one of the biggest tearjerker books you'll ever read and is a book you should never want to throw away if it was found in a cereal box. The book is about a mother who sings a lullaby to her son at each stage of his life, even after he's married, moved out, and has a child of his own. Then the mother grows too old and sick to sing him the lullaby. At that moment, the son rocks her in his arms and sings the lullaby. He then sings the lullaby to his newborn daughter, but I'm not sure if you'd prefer crying while eating cereal. 
When you find out the story behind Love You Forever, it's even sadder. Munsch's website shares the true meaning behind the book. Robert said, "I made that [song] up after my wife and I had two babies born dead. The song was my song to my dead babies. For a long time, I had it in my head and I couldn't even sing it because every time I tried to sing it I cried…" Love You Forever is a one-of-a-kind book that would be the perfect gift to give children and adults, even if it's found in a cereal box.