The Spider Orchid—Celia Fremlin–1977 –Used.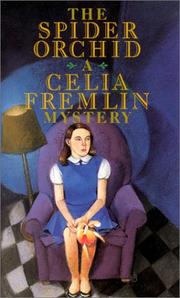 I admit I originally had this on my Best 100 Mysteries of All Time list. I remember loving Ms. Fremlin, and thought this title was the best of what I read. But upon rereading this and another, I found I favored the other much more, so have switched this from a definite, to an alternate. Thus this title will be the first to succumb to my new policy of a live list–meaning if I find something more dazzling than what I already have written as the best, I will change the list to reflect that. I don't think that will often happen, but in this case it did.
Ms. Fremlin has the ability to take common ordinary situations and smother them in malice. Her characters are plain everyday humans, with faults, faults that in a certain light can be seen as dangerous.  Adrian and Rita had been having an affair for years, regular trysts at least once a week, twice depending on schedules. And Adrian liked it that way. But now Rita suddenly declared herself free, her husband has finally consented to give her a divorce and she's ready to move in with settled  Adrian. Adrian finds himself dreading the prospect, resenting her presence, and is most adamant that she not infrin upon his private time with estranged daughter, Amelia,  each Sunday. Amelia is a quiet 13 year old whose time with her father has smoothed itself into simple quiet pleasures. He works, she reads. Rita, decides to change this pattern by forcing them on outings, something both Adrian and Amelia abhor.
You see the action from the 3rd person. However, Adrian's thoughts are drawn clearly, as are some of Amelia's. The reader is never in the head of Rita, or Rita's cuckolded husband. The enigmas of their personalities keeps the reader guessing as to motivation. Is Rita really a nasty bitch, as Adrian is beginning to believe? Or is his own selfishness presenting her in that manner? Why does Rita's husband allow her to go off and live with another man, yet not divorce her?  He's known to be a reticent scientist whose passion is his rare garden, as Rita complained loud and often to Adrian during those seductive early days of their romance.
Things start to unravel when Amelia's crush on a teacher takes on a bit of literary license in her private diary, and Rita upon reading it threatens to go straight to the headmaster of the school to complain about improper behavior on part of the teacher. Rita's threats are a vindictive reaction to what she perceives as Adrian's lack of attention towards her. In fact, Adrian wants her out, but when Rita is found at the bottom of the school's stairs, having been pushed by person unknown, he has no choice but to allow her to recuperate in his home.
Perfectly sinister is what the tenor of this book could be labeled. Throughout the series of events there is that undercurrent of anticipation of bad things to come, of some disaster waiting to happen. From whose hands is any ones guess, each character is strung as tight as one can be without breaking, but break someone will.
If you've not read Ms. Fremlin, this is a good one to begin with, with even greater more suspenseful novels to follow.