The Maltese Falcon—Dashiell Hammett–1930–in print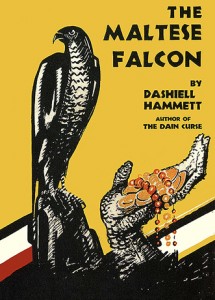 This book is such a given, I thought I'd already wrote my little piece on it–but no! Anyone who hasn't heard of the book must be living in a sad place. If you've not read it, only heard of it, you are living in a grey place. If you've only seen the film, and not read the book, your world is overcast. Only if you've read the book can you claim to be of the living, IMHO. Ok, naturally that's going a bit far. The Maltese Falcon is so pleasurable a read, and yet so influential in style, character, genre, that it's taken for granted. I've reread it a couple of times, something unheard of for me, and each time is as satisfying as the last. Sam Spade's partner is killed. Sam, a PI, must find his killer, not because his partner was of such wonderful character, after all Spade was sleeping with the man's wife, while he was off chasing the ladies. No, he has to find the killer because that's what is done, that's a sort of code, so Sam starts by looking at the murder scene and learns just how Miles Archer  got it. Enter a distressed attractive woman who claimed to have hired Archer to find her runaway sister, and the action rolls from there. Characters from the book have become part of the collective unconscious. Gutman, Joel Cairo and especially Spade are ingrained in the fiber of literature. All hard boiled detectives have a bit of Spade in them, whether the writer understands that or not, our entire concept of the PI is found in Hammett's Spade. The famous adaptation of the movies made from the book solidifies these icons, but did not create them. The Maltese Falcon itself is a symbol, of greed, false promises, a longing that can't be fulfilled. Spade is smart, and has just enough integrity to understand this, and although he may have feelings for the culprit, his internal code will not let that person off the hook because of those feelings. He's tough, but not to the point of becoming a brute, intelligent enough to figure out the angles, but not a genius that is able to predict each suspects' actions. He uses psychology, manipulates, to get what he wants. His ethics are not pure. If he could have gotten his hands on heaps of money and at the same time send his partner's killer to be hanged, he would have. If a choice had to be made, his own personal creed kicks in, and the killer being caught takes presidence.
I'm not breaking any new ground here, about a book so part of Americana. If you are one of those living in the dark, do yourself a favor, see the light and read The Maltese Falcon.
Don't forget to check the progress of reviewing all 100 titles.