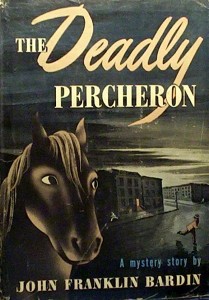 The Deadly Percheron—John Franklin Bardin–1946–IP
I no longer am a bookseller, but that didn't stop me from selling The Deadly Percheron when it was rereleased some years back. I was in my friend's store, The Black Orchid, and when customers came in without a definite direction in genre or author, I naturally tried to sway them to a favorite title. When another bookseller first tipped me to this title, I wasn't convinced to read it. It sounded, well, bizarre, to put it mildly. After finally giving in, and after finishing it in record time, I started looking for a first edition to acquire–the benchmark of quality for me.
Jacob Blunt visits a psychiatrist, George Matthews, with a tale of woes about 'leprechauns' who are paying him to do odd things, such as, whistle at Carnegie Hall and give money away. The stories alone can't convince Dr. Matthews his patient is certifiably insane but the hibiscus flower Blunt wears in his hair just might. That and the fact that since he met Blunt, Matthews has been experiencing his own brand of questionable events. When Blunt is suspected of murder, the psychiatrist steps in to help the man he has come to, if not believe, then at least suspect is being used by others for unknown purposes.
An example of the out of body logic Matthew experiences when with Blunt: Matthews is trying to get Blunt into a taxi, but before this happens, Blunt has given away a quarter each away to; an elevator operator, a shoeshine guy, and a lady in mink. Blunt insists he must give his quarters away by a certain time or 'Eustace' the leprechaun would tell 'Joe' and then Joe wouldn't hire him to give away quarters any more. . .
Written in the 1946, this novel has a psychedelic quality more in tune with the swinging sixties than postwar America. Bardin didn't write many novels, but if he had only written this one, he would still be known as a premier author in the mystery field. I won't spoil the astonishing surprises, (for once) that occur to Matthews and the reader but I must drop a hint that the climax takes place in one of the best spots a crime novel could, an amusement park funhouse. There couldn't be a more appropriate spot for a book that reads like a ride on the Cyclone on Coney Island.  Just writing those words gives me the urge to re-read it.
Footnote: Bardin wrote his most acclaimed work, three novels, Percheron, The Devil Take The Blue-Tail Fly, and The End of Philip Banter all within a very short period of time. Only 2 were published when completed. The third didn't see print until the 1960s. He wrote several more novels later but under pen names, and critics dismiss them as pedestrian. He worked at various writing associated jobs on magazines, and taught at the New School. I've also read Devil, supposedly inspired by his mother, a novel about a woman's mental disintegration. It was a harrowing, suspenseful read, and another excellent recommendation.
By the way–percheron is a type of horse. Yep, I had to look it up the first time I started to read the book. Sad, but true.
Don't forget to check out the progress of the Best 100 Mysteries of All Time list of reviews.