Walking into Odyssey Bookstore, even for the first time, feels like coming home after a long day. This is probably because it was originally built as a house a couple of hundred years ago, and it has retained most of its original structure ever since. Even the fireplace remains. It overflows with books now, which hide the swing arm that use to hold cooking pots over the fire. 
Related: The Sensory, The Cluttery, The Bookery
Certain pieces of art on the curved brick walls have historic local origins, with one painting being from the very same wall of the house that once was. It is a painting of a ship, which is also the symbol of the bookstore. An adoring reference to Homer's epic Greek poem, I'm sure, especially since the shop has such a well-stocked Greek Mythology section. Wooden and engraved rocking chairs and plush rugs welcome you, soft comforts seeming to implore you to take your time here, not only browsing for a book but also relaxing and interacting with the space.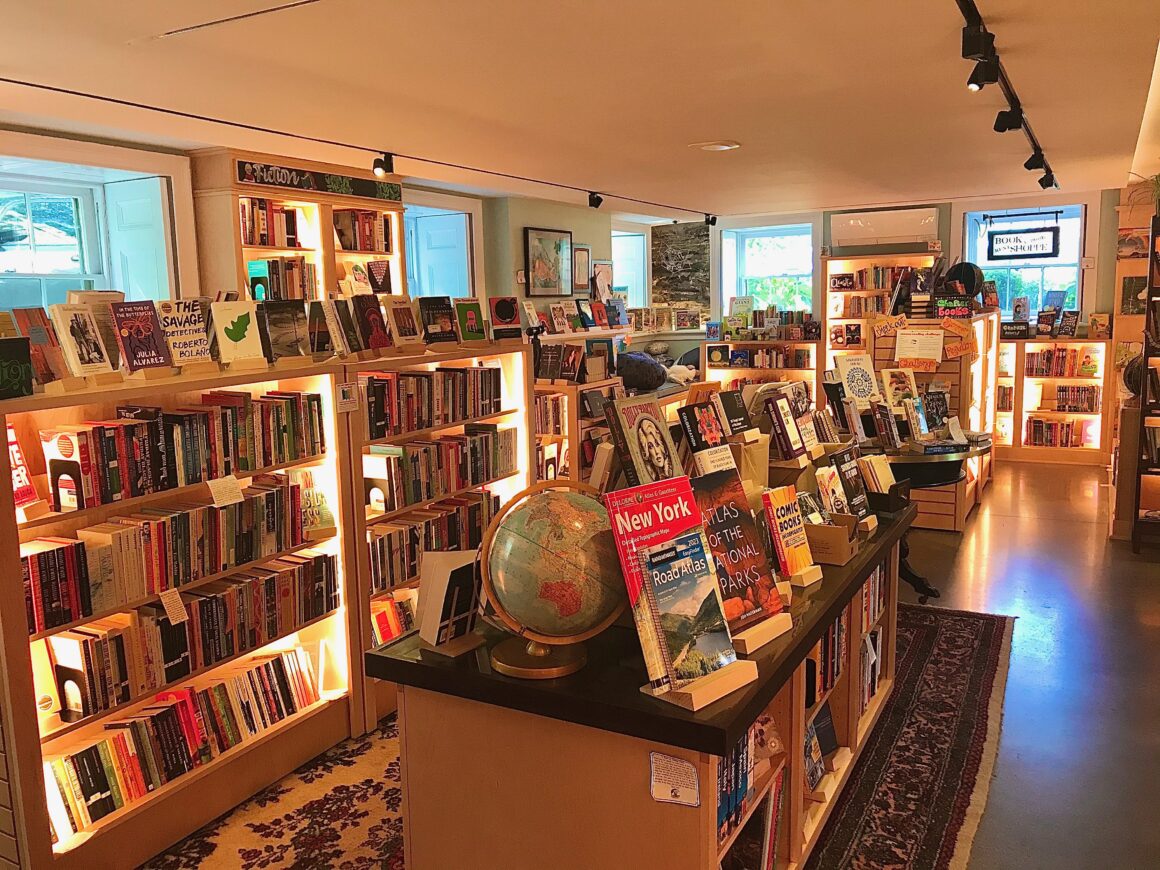 Nostalgic whimsy runs through these isles, where handmade bunting falls from the walls and stuffed animals either nap on a pillow-stuffed bench or stand guard. After all, hidden amongst the tall golden bookshelves there are so many hidden gems scattered around that you could miss!
Little Surprises
This unique shop is full of hidden surprises. In fact, there are plenty of things you could miss if you don't stop to read the small delicate notes on the wall. Notes that hold the key to facts about the history of the shop. Most are about its original structures and artwork, though some even give details on how this space was reincarnated from a house to a bookshop. I followed the notes as if they were clues that would lead me to treasure.
Among these surprises, I found:
Blind Date with a Book
A dark brick fireplace with a handwritten sign above it reads "Blind date with a book." In place of a blazing fire are large baskets full of anonymous books wrapped in brown paper bags. The concept makes me realize I never fully absorbed that kindergarten platitude "never judge a book by its cover." Although I was still tempted to get one of these books just to unwrap it like a Christmas gift. 
A Poem as Your Fortune
You certainly won't leave this shop empty-handed, even if you don't buy anything (though you'll surely want to). In a basket by the door lies a jumble of fortune-cookie-sized paper slips, each with a different handwritten poem. Like a fish, I was attracted to the brightest colored paper in the pile. My poem is written by Elizabeth Willis:
In Hollywood, the sky is made of tin. 
A witch makes her world of air, then fire, then the planets. 
Of cardboard, then ink, then a compass. 
These unique touches show the bookshop's love for literature, helping every person who passes through it to leave with a piece of it in some form or another.
Read Indies!
Every few months, a new independent press takes over the indy bookshelf. Fiction, biographies, poetry, essays, graphic novels, and even zines can be found here. Books from an independent press offer unique experiences and the amplification of marginalized voices that oftentimes struggle to find representation in the publishing world.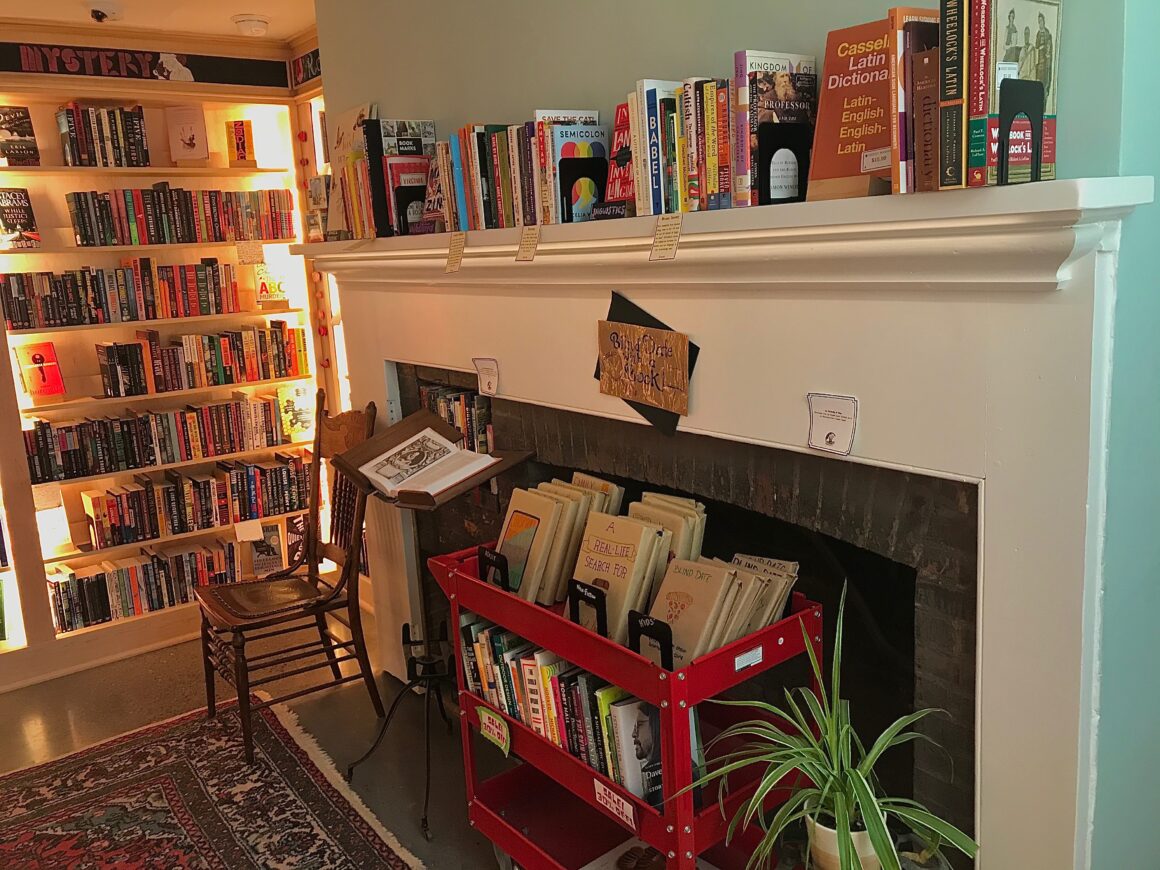 A type-written note rests among vividly colored books that speaks to why independent presses are so essential: 
These books add texture and excitement to the literary ecosystem; they carve a space- on our shelves, in the literary marketplace, and in readers' hearts- for breathtakingly unique and brilliant books. 
The current independent press is given its own note and description as well, serving both readers looking for books and authors looking for a possible publishing opportunity.
Cozy Corner
A bench covered in soft pillows and a pile of stuffed animals is tucked away in a quiet corner surrounded by beautifully illustrated children's books of all sizes. Boxes of puzzles are stacked along a shelf beneath the very welcoming bench. While this little bench may be for children, no one kicked me off as I flicked through a poetry book I have never seen before with a stuffed pig in my lap. A stuffed bear stands guard between the kids' and poetry sections. I felt very safe.  
Community Love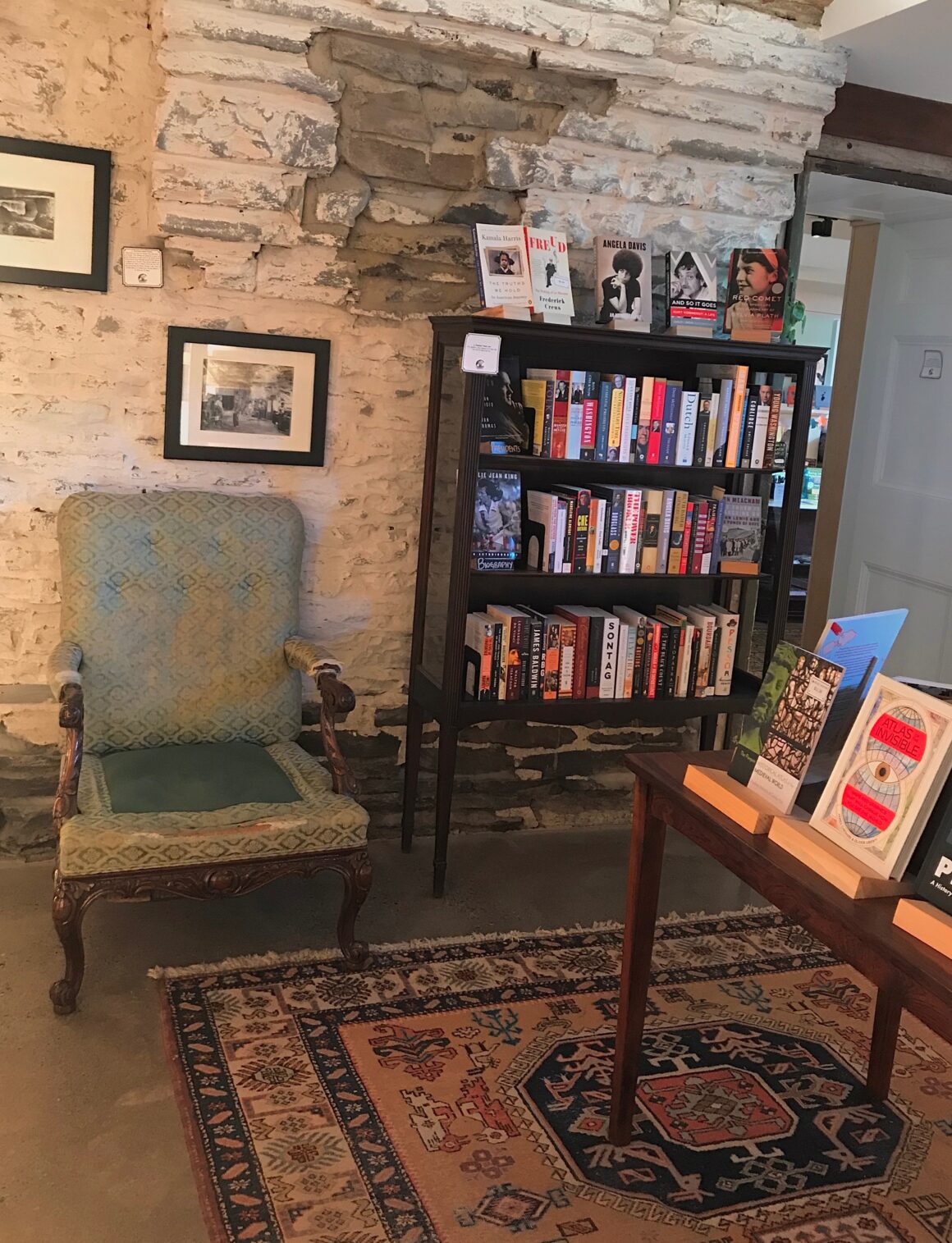 Like all shops rooted in this beautiful (one might even call it gorges) micro-city in New York, Odyssey is very proud to be Ithacan. Upon first entry, books on waterfalls, haunts, wildlife, and Ithaca folklore greet you. The entire structure seems to be a community effort, with one vintage "Book Shoppe" sign even noting that three members of the community had texted the owner when they saw it at a local thrift store because they knew it would fit the space perfectly (and it does).
At the heart of the shop, a shelf is curated by prominent and most loved members of the Ithaca arts community. Theater directors and art space owners all proudly display their favorite book recommendations. Odyssey even supports other local bookstores by handing out beautifully designed maps that lead to every other independent seller in the area!
From House to Home
My Odyssey through the bookshelves and beneath the old bricks made for a charmingly warm and unique adventure. In addition to my book of choice, I also left with a bag full of free stickers, an embossed bookmark, a local independent bookstore map, a free book (from a cart full of books looking for a loving home at no cost), and a lot of new knowledge and adorations of the local arts community. Although, I'm somewhat proud to say that the stuffed pig is still in the children's section and I made no attempt to sneak it out with me in my purse. 
Related: The Most Famous Bookstore in the World
While so many independent bookstores struggle to keep their doors open, Odyssey proudly creates a dynamic space that transcends what we expect from a store. This bookshop, which was once a house, still feels like a home. 
*Odyssey Bookstore is located at 115 West Green Street Lower, Ithaca, NY 14850 and can be found on Facebook and Instagram