– current selling price £550+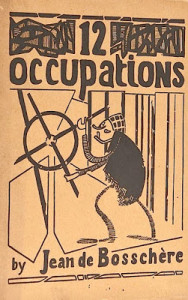 Collectors of early modernist literature are well aware of the rarest of Ezra Pound's first experimental ' imagist ' poetry (
Lustra,
A Quinzaine For this Yule
 etc ). But this little pamphlet, a translation of an early work by the Belgium poet and artist Jean de Bosschere  is so scarce that it doesn't even get a mention in 
The Young Genius, 1885
– 1920
(2007),David Moody's monumental first volume,. Nor does it feature in other collections of letters from Pound. However, in the recently published letters to his parents, De Bosschere's name does crop up several times, though I cannot find a mention of 
12 Occupations
. Did the translator see it as mere hackwork done to pay the rent of his bedsitter in Kensington ? It seems possible. He must have done a good deal of this sort of thing at the time.
Pound was a famous talent-spotter and De Bosschere was just the sort of multi-talented. artist/writer that he would have nurtured. Having, in 1900 graduated from art college in Antwerp, De Bosschere  paid several visits between 1901 and 1905 to Paris, where he met writers interested in the occult. From 1905 he seems to have supported himself as an art critic until the outbreak of the First World War, and during this period became an admirer of symbolism and of the mystic Catholic writer Paul Claudel. In 1915 he fled the Great War for London where he met, not only Pound, but also fellow Imagist poets like Richard Aldington and John Gould Fletcher, as well as  D.H. Lawrence and Aldous Huxley. His own first collection of poetry ( Beale- Gryne ) had appeared  in 1909 and he continued to write poetry and novels throughout his life, although possibly because most of the latter were seriously weird,  they remained unpublished at his death.