The weather in North Carolina has turned a corner toward fall, which means that occasionally I can open the doors to my store and let some air in. I've been spending most of my days behind my new counter, organizing sorting, cleaning, pricing and studying. Even though there is a "Closed" sign visible, with the doors open, people poke their heads in, wondering what's inside and when we open. I've been giving tours to anyone interested, and several people have arrived carrying books to sell.
I am starting to feel buried by books. I think I can squeeze 15,000 books onto my shelves, still leaving room for records and cds. But I think I have collected over 25,000 books since mid July. When I started, I wondered if I would be able to accumulate enough books to open in just two months; now I don't know what to do with all my books. They are rising around my ears like an advancing flood. I rented my third storage unit this week, mostly to make enough room in the store to construct shelving. It may turn out that storage becomes a permanent expense.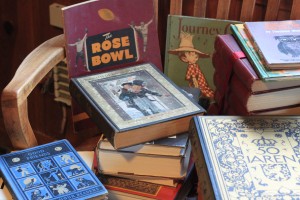 The books I added this week are an astounding assortment. As I mentioned last time, there are 150 circus books. There are also many old railroading books, a collection of old tool catalogues, 50 books about mountains, a whole shelf from the 1950s about atomic energy, 20 volumes of My Book House – I could go on, but the fact is I don't have the shelf space for such esoterica. Perhaps I will rotate special sections in and out of the store for a week at a time, keeping the rest in storage. It's too early to say for sure; first I have to get shelves in place and then see what fits. Curiously, I am finding very few of the books I most like to read: Orwell, Waugh, Maugham, Greene – the mid-century Brits. Over time, maybe I'll pass my odd tastes on to customers.
I've started making house calls, as word spreads that there is an insane man in the community buying old books. What should I pay for a nearly new boxed-set of Far Side cartoons that was originally $135, which is what the seller said she paid for it? Price it at $40 and pay $10?  One group of books nearly precipitated a divorce this week. I thought I had bought some interesting volumes, until my wife detected upon them the unpardonable essence of cigarette smoke. My wife has a keen sense of smell, and by keen I mean supernatural. If someone sneaks a smoke in the bathroom of a passing jet plane, 36,000 feet above us, she starts to gag. She can detect the faintest trace left from tobacco smoked by lost Indian tribes. So when she got into the car with my new books in the back and began to retch, I made the mistake of defending my books as "not that bad."  Thus began a forced, week-long investigation into the best methods for eliminating smoke odor from books. We first tried a sealed detox cell infused with aromatic dryer sheets. Then we tried baking soda. Next we'll try charcoal and kitty litter. No doubt, before we came along, rigorous scientific research was conducted on this subject. Any additional information and ideas from the gallery would be appreciated.
I've been assembling an assortment of lamps. One of the six rooms in my store has no windows, but all the rooms have lighting dead spots, especially with tall bookshelves blocking the available light. I am trying to avoid buying new lighting fixtures, and have found several used wall lamps. Because my vision is deteriorating with age, I am sensitive to how unpleasant a poorly lit space can be for reading. I expect to need 20 or so wall lamps.
Next week will bring a crash course in cash register technology. I am comfortable with the cigar box, but nobody else seems to think that's the best way to go. Maybe I'll have more to say about that next time.