What is more Gatsby than drinking in a room full of books? While many bookshops are home to a cafe, some offer beer, cider, and wine to sip while browsing through bookshelves. This mixture makes the perfect cocktail for your "third space." A third space is a place that is not your home or workplace and it is essential to our psychological health. 
While that third space can be anything, what is better than a space that offers community conversation, books, baked goods, and even wine? While bookstores are typically seen as a safe haven for introverts, the emergence of bookstores like these proves that book shopping can also be a fun social activity. Keep reading for recommendations on where to spend a fun and bookish evening. 
Kramers – Washington, D.C. 
Opening in 1967, Kramers is Washington D.C.'s oldest bookstore/cafe. Now, they serve food, books, and wine. Blue neon light floods the bookshelves packed with kinds of books for all kinds of people. Book-related events are commonplace, so check their calendar to see what's coming next.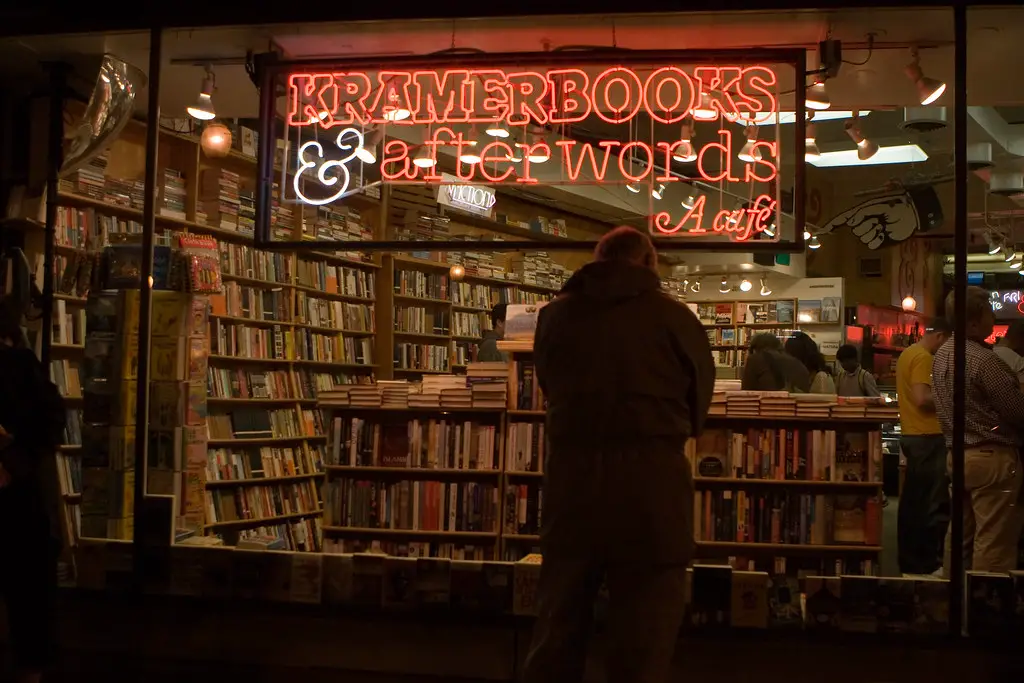 To attend their next event, go to 1517 Connecticut Avenue, NW, Washington, D.C. 20036
You're officially back in the 1920s. This speakeasy bar is hidden behind a bookshelf. Their bar offers a selection of 60 classic cocktails, some being 200 years old. Their books are slightly newer, making a great and timeless combination. 
Travel back in time at 3160 Tejon St. Denver, CO 80211
Open until midnight, this boozy bookshop is truly there for you whenever you need it. The independent bookshop is nestled into New York City's East Village, an area known for its culture and definitely for its bars. You can also "draw and drink" at a usually sold-out event held at the space. 
Get your creative juices flowing at 197 E 3rd St. New York, NY 10009
Paradis Books & Bread – Miami, FL
Books and bread? That does sound like paradise. Add some wine, and you have Paradis Books & Bread. Their bookshelves offer books both new and used on the subjects of Black Study, Critical Theory, International Struggle, and Solidarity Movements. 
Consume wonderful wine and ideas at 12831 W Dixie Highway North Miami, FL 33161
The Book Cellar – Chicago, IL
A cozy cafe full of comfortable couches offers wine, coffee, and books to the people of Lincoln Square. The Book Cellar proudly sells books written by local authors as well as other fiction and non-fiction reads.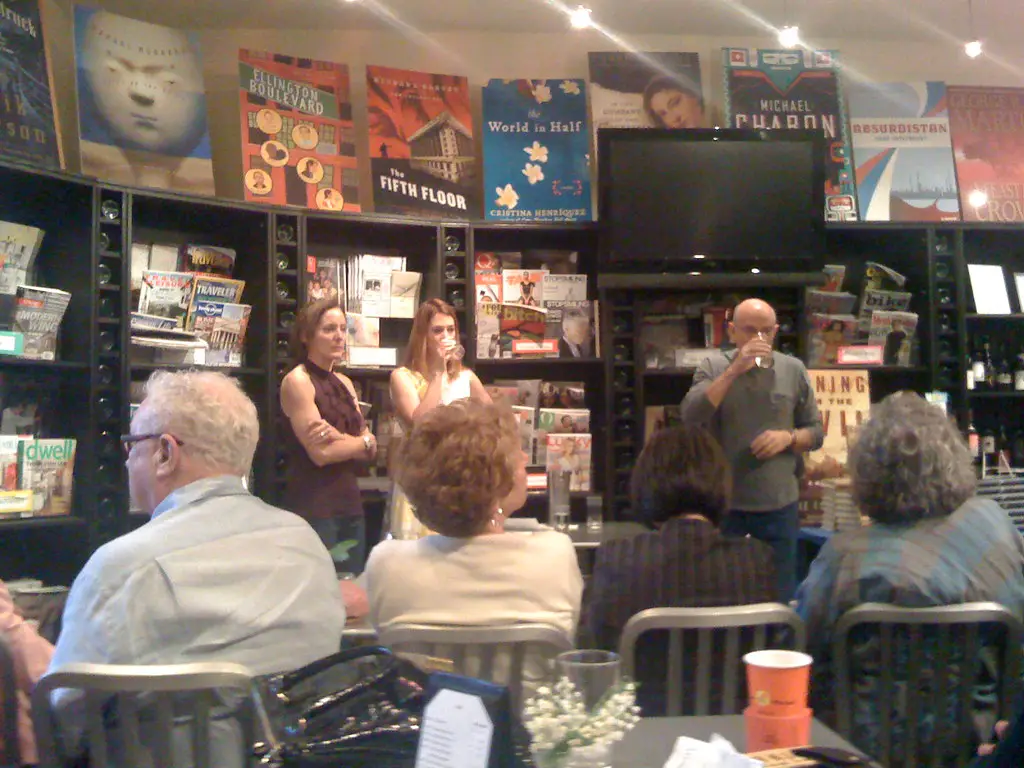 For some Chicago culture, visit 4736 N Lincoln Ave. Chicago, IL 60625
This bookstore and bar is also a live music venue. Selling their own craft beers that are named after literary characters, the passion for literature in this space is clear immediately. The shop owners are on a mission to disconnect people from technology and reconnect them to tangible pleasures, such as books and brews. 
Drink brews while browsing at 9402 Uptown Dr. Suite 1400, Indianapolis, IN 46256 or 1551 N Green St. Suite I Brownsburg, IN 46112
BookBar – Denver, CO
Wine lovers and book lovers both gather here at this woman-owned Denver bookshop. BookBar even has its own small press, which has launched two books so far. If you like book clubs and bingo, you can also find them here. 
For wine and a good time, go to 4280 Tennyson St. Denver, CO 80212
Housing Works Bookstore – New York, NY
Truly a bookshop on a mission, Housing Works Bookstore tackles two of New York City's huge problems – homelessness and AIDS. They do this by putting all their profits towards initiatives that address these issues and offering community healthcare that focuses on harm reduction. Their collection of donated books takes hours to browse through, but you'll enjoy that time in this beautiful venue that occasionally offers itself to weddings. While you're browsing, enjoy one of their signature cocktails or a glass of wine from the cafe bar.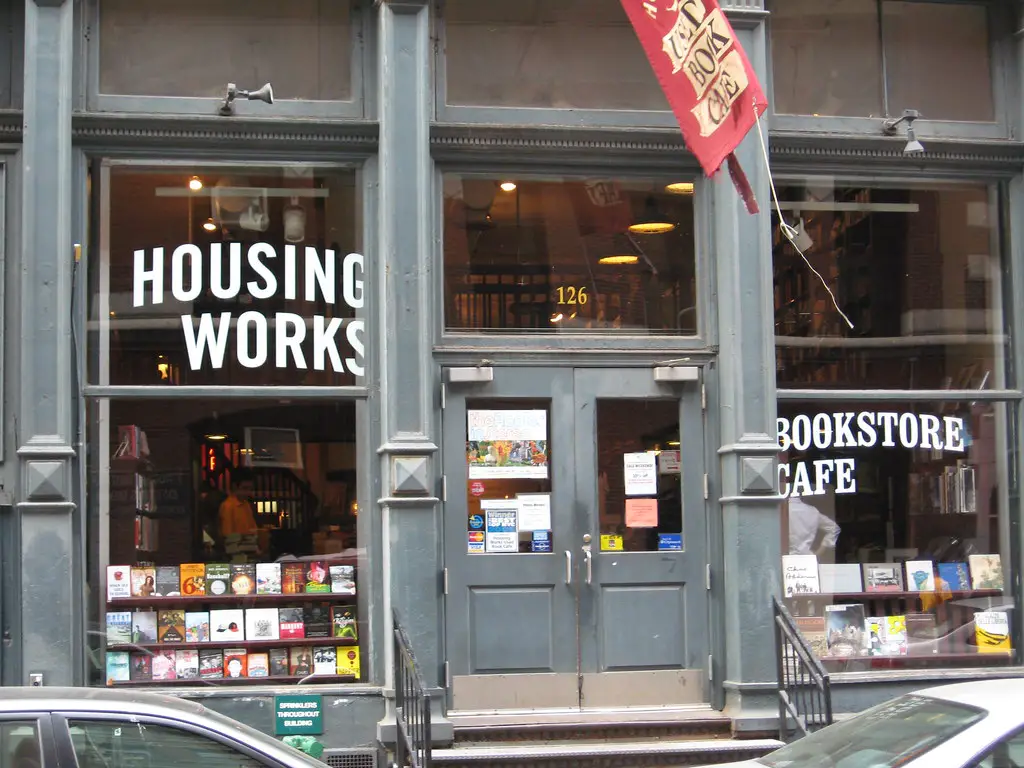 Sip and support at 126 Crosby St. New York, NY 10012
This independent bookshop feels like a home. That's most likely because it's been a family establishment for 40 years, being passed down from one generation to the next. The big yellow-tilled building offers everything from children's areas full of fun rugs and books to a cellar full of cocktails and wine. The perfect recipe for a family day out! 
Drink, read, and be merry at 32 S Section St. Fairhope, AL 36532
Made of wood, brick, and floor-to-ceiling windows, there is something very uniquely antique about this bookshop, which is appropriately located in New York's historic four corners. They serve cider, wine, beer, and locally baked pastries to indulge in while you browse their book selection. With a new book in one hand and a cider or pie (or both) in the other, find a seat at one of their long wooden farm-style tables to relax in the sunlight.  
For a sip and a story, go to 82 John St. Kingston, NY 12401 
Trident Booksellers & Cafe – Boston, MA
Being a family-owned bookshop run with Buddhist ideation, Trident Booksellers aims to cause as little harm as possible while surviving in our capitalist society. Along with offering great books and New England craft beer, they also offer a safe space to Boston's LGBTQ community. Local poets take the stage each week for open mic night to fill the space with passion, rage, happiness, and everything in between.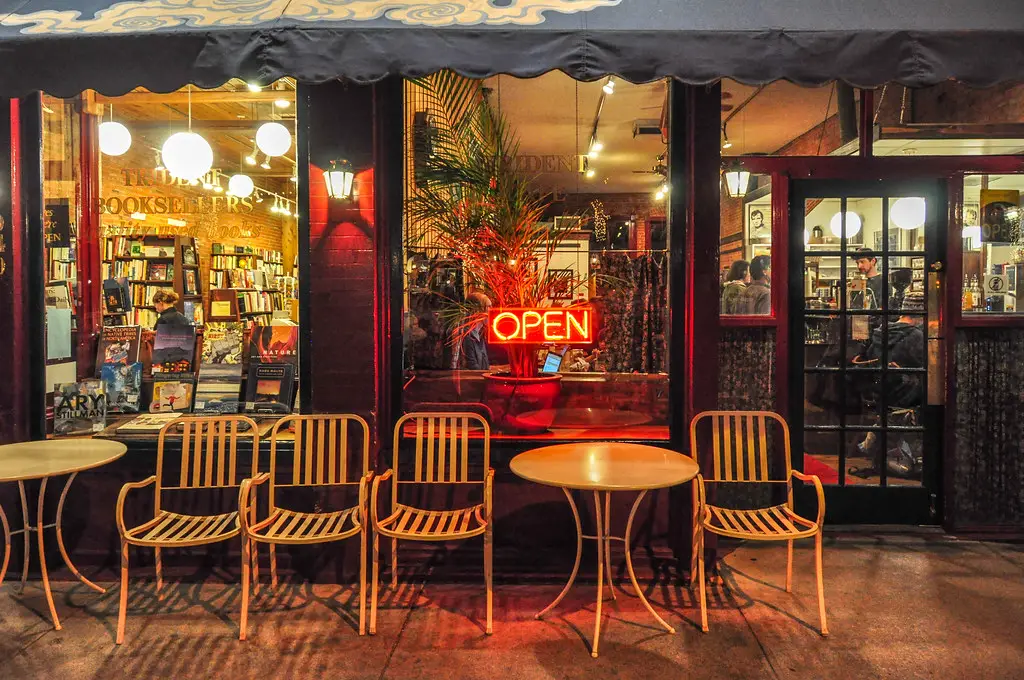 To be a part of the community, visit 338 Newbury St. Boston, MA 02115
Every bookshop on this list offers a great selection of drinks and books, yet each is unique. Some are family-operated, something that is always obvious to visitors. Some support their community with political reforms. Some print their own books. They all share a commonality, that they are there for us, the readers who seek a third space full of comfort, culture, and sometimes a glass of cider. 
Have you been to any of these bookshop bars? Which one would you recommend?