Warm weather and sun in North Carolina brought the completion of the Circle City Books wall mural last week. Onlookers and photographers were a constant presence as the final strokes were applied by artists Bailey Friedman (Number One Daughter) and her friend Emily Kerscher. Then, off into the sunset rode Bailey, jet-bound to New Zealand, for an indefinite adventure of indeterminate duration. But what she and Emily left behind was a sensation that scarcely goes an hour without being remarked upon by another newcomer who is just astonished to see such a sight in Pittsboro.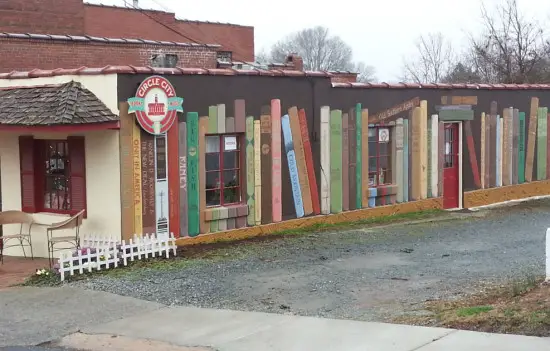 Though the mural is finished, I've conceived of a plan to extend the process (some might say drag it out) for several more months. With an eye toward the good opinion of the community, and because I think I can still squeeze a couple more books onto the wall, I have determined to hold a contest to elect an additional two or three titles to be added this summer. They will be placed horizontally across the top of some of the existing books. My proposal is to allow visitors to the store to nominate up to three titles each, and after a several months of voting, paint the new books on the wall in June. It will be especially interesting to me to see if the choices favor local authors or nationally known authors.
As of now, 48 books are depicted on the wall. Some represent writers of world-wide renown, some local talents who aspire to such stature. But all are books to which, by including them, I intended to pay homage. Several local writers have asked (some indirectly) to have their books added to the wall. I hadn't calculated the impressive number of writers we have in the area, but once I began the process of building the list, it became clear that the choices I made would likely have repercussions that aren't entirely positive. No matter how much reading you do, you can't read every good book, and even though I am keenly interested in local writers, there are some good ones that I still haven't encountered. And, of course, there are a few not so good. More than anything else, the wall reflects my bookshelf at home. In addition to many works of fiction, I've included some poetry, drama, history, science and sociology; there are books from every decade of the 20th century. Nearly every book was either written in North Carolina, or by a North Carolinian. The one obvious exception is "Light in August", but in my thinking, all Southern writers owe to Faulkner at least some small part of their voice.
Let me present here for the first time in print, the entire roster:
The Lost Colony – Paul Green
Only in America – Harry Golden
Franklin D. Roosevelt and the New Deal – William Leuchtenburg
Look Homeward, Angel – Thomas Wolfe
From Slavery to Freedom – John Hope Franklin
Raney – Clyde Edgerton
Big Fish – Daniel Wallace
Beasts of the Southern Wild – Doris Betts
The Hope of Liberty – John Moses Horton
I Know Why the Caged Bird Sings – Maya Angelou
Tantalus in Love – Alan Shapiro
Cold Mountain – Charles Frazier
The Heart is a Lonely Hunter – Carson McCullers
Light in August – William Faulkner
A Gallery of Southerners – Louis Rubin
With the Lightnings – David Drake
The Light in the Piazza – Elizabeth Spencer
Woodrow's Trumpet – Tim McLaurin
Gather at the River – Hal Crowther
Children of Heaven – Roxanne Henderson
Old Southern Apples – Lee Calhoun
Lusty Wind for Carolina – Inglis Fletcher
Silk Hope, N.C. – Laurence Naumoff
Bootlegger's Daughter – Margaret Maron
Literary North Carolina – Richard Walser
Accidental Birds of North Carolina – Marjorie Hudson
Kate Vaiden – Reynolds Price
Biodiesel Power – Lyle Estill
Proud Shoes – Pauli Murray
Dagon – Fred Chappell
Oldest Living Confederate Woman Tells All – Alan Gurganus
The Conjure Woman – Charles Chesnutt
They Called Him Stonewall – Burke Davis
Debby – Max Steele
The Parchman Hour – Mike Wiley
The Four Million – O. Henry
Clash of Angels – Jonathan Worth Daniels
Blood Done Sign My Name – Timothy Tyson
The Mind of the South – Wilbur J. Cash
Oral History – Lee Smith
Still Valley – Manly Wade Wellman
Dragonbreath – Ursula Vernon
Literary Trails of North Carolina – Georgann Eubanks
The Cheerleader – Jill McCorkle
Ellen Foster – Kaye Gibbons
Winter People – John Ehle
Seeking the Hook – Lou Lipsitz
Mural Painting – Friedman and Kerscher
I won't expound on every title here, but a few comments might be useful for readers outside of the South. Paul Green's outdoor symphonic drama, "The Lost Colony" (1937), has been in almost constant summer performance near Manteo, N. C., for nearly 75 years. "The Hope of Liberty," by George Moses Horton (he lived about five miles from the store) was the first book published (1829) by a Black writer in the South. "Clash of Angels" was Jonathan Worth Daniels' first book, written (1930) before he was to spend two generations as the progressive editor of the Raleigh News and Observer. "Still Valley" was the title Rod Serling gave a short story by Manly Wade Wellman that was used as a episode of the Twilight Zone (1961).