Disclaimer: I have no affiliation with The Art of Books, I am a paying customer of theirs.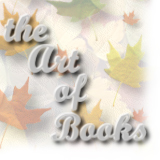 The Art of Books (AOB) is an online bookseller's inventory management system.
Different sellers with differing needs will find their own way of using the system. Here's how I use it.
For the time being I use Abe's free database, Homebase, to enter and manage my inventory. I will be switching to a much more powerful database, such as the ones you can find in resource management software from NetSuite shortly, but for now (and for most sellers) Homebase works fine. I strongly feel that whatever management system you use it is vital to keep a local copy of your database and back it up regularly. Once or twice a day I upload changes to AOB and they subsequently disperse this to my venues. I currently sell on Abe/Alibris/Choosebooks/Biblio/Amazon.ca/eBay as well as my own website and the World Book Market network (these are handled separately). Once I receive a sale notice from a particular venue, I process the order then update the status on AOB. They then update the venue and send an email to the customer (or not depending on your selection). I can completely customize the email with my information including store policies, shipping expectations, newsletter info and our website address. This all adds up to a seriously efficient system.
One other nice feature is the ability to adjust prices per venue. I can say all my books on Amazon get a price reduction of 15% and raise my prices on Abe 20%.
The eBay setup on AOB I must say can be daunting if you have no programming experience. They have standard templates which do the job but if you want any kind of customization you have to get into a bit of coding. Personally I love it. I have created my own template (there are a few available on their forum) and also have a script setup so that only books worth more than $30.00 get listed.
One thing that was apparent from the start is the level of support and involvement of the owner. They rank up there with the best. Every question I have asked was taken care of quickly. On one occasion I noticed a small issue with my eBay listings. I logged onto their live chat and mentioned the problem. While I waited they looked over something, found the issue and corrected it immediately. That was impressive.
One other tool available is the AOB Road Tools. Many of you may be familiar with Scout Pal, road tools is a slimmed down version. While I'm out book hunting I can quickly check up a few prices using my PDA. I don't make a habit of this as I prefer to use instincts when it comes to buying but once and a while it helps. The nice part is that it is absolutely free with your account.
The price of AOB makes it an attractive proposition as well. You only pay $10.00 per month plus 1% of revenue over $1000 per month. If your monthly revenue is $1 500 then your bill will be $15.00.
Any comments are appreciated and if you use Fillz or another management system and would like to see it reviewed here then drop me a line at editor@bookshopblog.com