The United States is made up of history dark enough to leave lingering souls behind to forever haunt its terrain. Why, in our talks of haunted places, are bookshops never mentioned? They are home to history, stories, and pages filled with lives. What if some of these lives aren't on paper but rather walking the halls between bookshelves beside us? 
Fiction or non-fiction, you decide. 
Related: 7 of the Most Interesting Themed Bookshops in the United States
This article will prove that structures that hold books, and those that hold spirits, are sometimes one and the same. Some of these spirits protect their home, others chose to play and giggle through the bookshelves, and some spread a palpable terror that sends a cold chill through all who enter. With Halloween just around the corner, these bookshops make the perfect destination for a terrifying and tantalizing trip. Keep reading to find the bookshop nearest to you. 
Barber's Bookstore – Fort Worth, Texas 
Having opened in 1925, Barber's is the oldest bookshop in Texas. The building that these books reside in has a long history. Room numbers can even be seen above some of the door frames on the third floor where hotel guest once spent their (sometimes last) nights. This may be the key to the hauntings since book shoppers occasionally hear footsteps on the staircase that lead to their old rooms.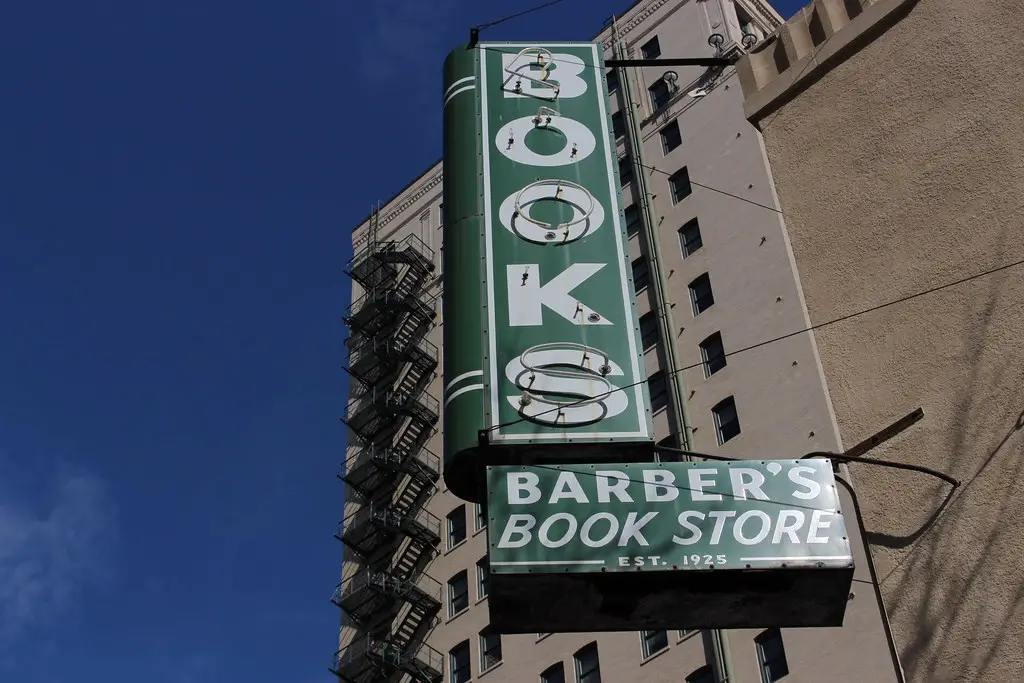 Visit Barber's Bookstore and the ghost that resides within it at 901 Throckmorton St, Fort Worth, TX 76102
Wicked Good Books – Salem, Massachusetts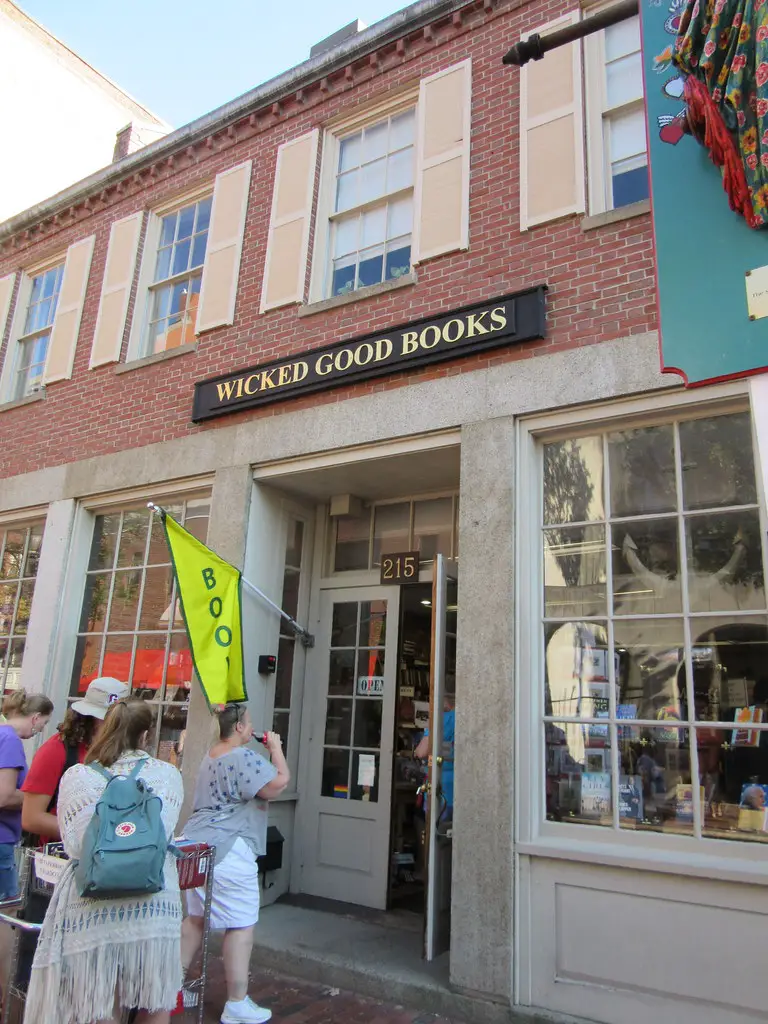 You probably aren't surprised to see this location on the list. After all, the entirety of Salem has a dark and haunted history due to the witch trials of 1692 when at least 20 people were legally murdered and hundreds more accused and abused for being "witches." A few hundred years later, Wicked Good Books is born, perhaps harboring some of those tortured souls. 
The owner of the shop discovered something mysterious while renovating the space: an underground tunnel that leads to a warehouse. The tunnel was most likely used to transport people and goods in secret. Upon further inspection, evidence of human remains was found in the tunnel. These remains were never given a name. Of course, a paranormal investigator was called in. They claimed to feel a "warm welcoming presence" that shifted into the feeling of hands around their neck as if they were being strangled by the air around them. 
To discover these sensations yourself or just find some cool books, visit Wicked Good Books at 215 Essex St, Salem, MA 01970
Browse Awhile Books – Tipp City, Ohio
It turns out that Ohio has some aggressive ghosts! Visitors claim to have been punched, poked, scratched, and even screamed at by the ghosts that haunt Browse Awhile Books. Sometimes, this violence comes in handy to the shop owner when those trying to steal books are slapped in the face. These ghosts are obviously not the shy type, and most of them have even shared their names with the workers of the store. Surprisingly, they are gentle names, such as Becky, Mike, and Sue. 
You can even watch paranormal investigators talk to Sue in this video. It has been suggested that some of these spirits are attached to the books themselves rather than the shop. Do you think any spirits have found a home on your bookshelf? 
To visit Becky, Mike, Sue, and the rest of the ghost crew at Browse Awhile Books, go to 118 E Main St, Tipp City, OH 45371
Moravian Book Shop – Bethlehem, Pennsylvania
Being the oldest bookstore in the country (and perhaps one of the oldest continuously operating bookstores in the world) comes with a few hauntings. Moravian Book Shop was founded in 1745 and has since taken over neighboring buildings, growing bigger and bigger, as if the store itself is alive. The ghosts that dwell within these book-lined walls are of a friendlier nature.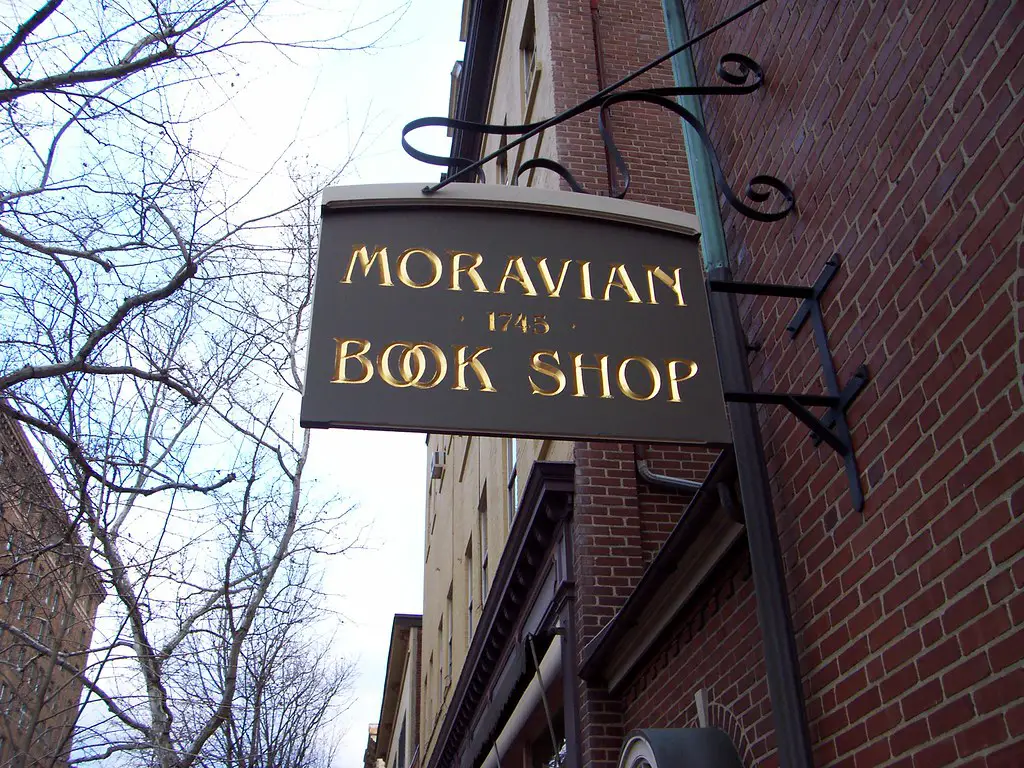 Staff members claim to have spotted a dark figure while closing up shop one night. Most likely thinking this must be a lost customer, they followed the dark figure through the hall and into the kitchen, where a stove had been left on. This guardian ghost saved the entire bookshop from going up in flames! 
Visit Moravian Bookshop and its helpful ghost at 428 Main St, Bethlehem, PA 18018
The Book House – St. Louis, Missouri
It isn't too surprising to find a Victorian Farmhouse full of ghosts. This farmhouse just happens to be a bookstore. Tell that to Valarie, a ghost child that lived in the farmhouse in the early 1800s, when she was still flesh and bone, and still lives in the building today. The building has had a long and strange history since human Valarie walked its halls. It was an inn, a brothel (allegedly), and a hospital with a "dying room." It turns out that ghost children are a lot like human children. Valarie spends her time re-arranging books in the store and flickering the lights. Guests have even said they can hear giggles on the other side of the shelves when no one is there.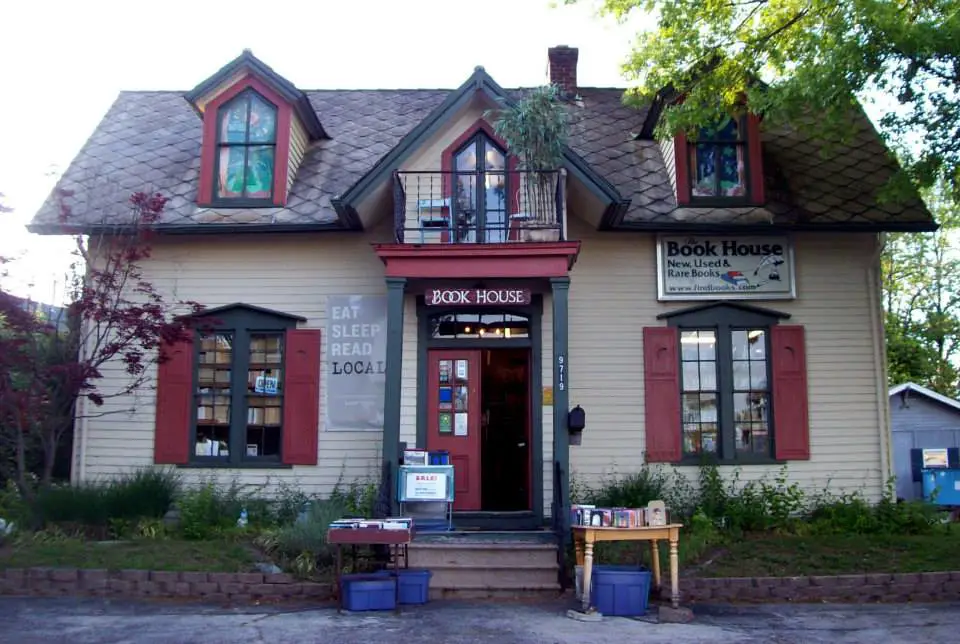 If you do visit The Book House, look for Valarie but try to avoid The Dark Man. He is mostly seen at night, dressed in all black. You will know he is near when a chill runs through your body. All of a sudden, you'll be very cold. You'll shake, not only from the cold but because you will be overwhelmed with the unmistakable sensation of fear. You won't want to turn around, but if you do, you'll see The Dark Man staring back at you. Even Valarie is known to hide when The Dark Man is around. These ghosts reside at 7352 Manchester Rd, Maplewood, MO 63143
Exploring these bookshops is to explore multiple worlds at once. Every bookshop may feel alive, but these five are truly filled with all kinds of life, having torn the veil between our world and the world that lies beyond it. While it may feel like a good episode of Doctor Who, it is all too real in multiple states throughout the country. 
While some ghosts are attached to the building the bookshop is in, others are thought to be attached to the books themselves, going wherever they do. 
Have you brought any home with you?