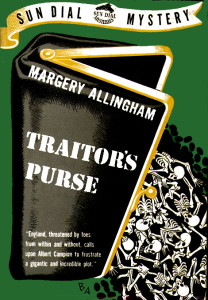 Traitor's Purse  Margery Allingham   1940
Finally, I've reread one of my best 100, and it not only lives up to a vague memory of  greatness, it excels it. Up until this point, Margery Allingham had written rather lightweight traditional mysteries with Albert Campion as the amateur detective, and his faithful sidekick, Lugg. They were excellent whodunits, with witty and well rounded characters, but nothing deadly serious about them. Traitor's Purse is a radical change. In startling ways. The war was on in Great Britain, it was an unsettled time, with danger from the skies, the sea, and even within the homeland. Spies could be anywhere. Plots were popping up and had to be slammed down. In a strange way, the book is not unlike the situation in the US regarding terrorists. We, the people have no idea what is lurking out there, we learn of incidents after the fact, after a plot has been discovered, or a bomb dismantled. And God knows, we hope it stays that way. During the early years of the war, I can only imagine how tense the population was and how much responsibility was on the shoulders of local police.
"The muttering was indistinct. It crept down the dark ward, forcing itself upon the man who lie in the patch of light at the far end of the vast room,
It was pleasant muttering. It made a reassuring undercurrent below the worry, that terrifying anxiety which was thrusting icy fingers deep into his diaphragm. — In a little while the words might start connecting and them please God he would learn something and this appalling fear would recede. "
Thus is the opening of the book. A man is in hospital, and overhears talk between a constable and a nurse about someone who killed a policeman. The man puts things together, and decides he must flee before he's hung for the crime. He manages to escape, steal a car. He's completely at sea. He has no memory of why he was in hospital, what his injuries are, except for a blinding headache, what happened yesterday, and most importantly, who he is. And he is racked with anxiety over something important, he has no idea what that blank is. We as the reader, if starting with no preconceptions, have no idea who he is either. Not until later one when someone calls him by name, do we understand that the amnesiac is none other than our regular hero, Albert Campion–in his 30s, thin, wiry, blond, tall, somewhat intellectual and therefore a bit cold. Oh, and engaged to Amanda for 8 years. We see what Albert sees, everything fresh, new, and emotionally charged. We learn as Albert does, of his importance within law enforcement, the expectations others have of him to succeed in whatever dire something is to occur. His realization of how much he depends on Amanda, and how much he loves her, a sentiment he's never approached when in full control of his faculties. His personality changes, he, just like his country, was evolving to become deadly serious, with a responsibility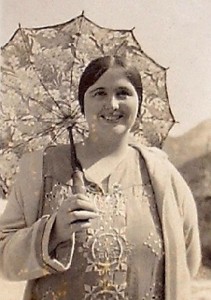 so great, to fail would mean disaster. Amanda has led him to an Institute that diligently works on everything and anything new that could possibly make money–inventions, etc have been discovered at the well known respected place, and now weapons were also being developed. Campion can't imagine why he was sent here, as it seems he was, nor what possible connection to anything it holds. The only piece of info searing across his brain is fifteen. The number fifteen–with no context to help discover its importance. Almost immediately after Campion's arrival, a well known man within the picturesque ancient town has died, murdered to be sure. And the police superintendent expects Campion to solve the puzzle. No one is aware of Campion's distress, and he holds tight to his sanity and the secret while his head causes him to become progressively ill. While all the time on the run from the regular police force, for escaping the hospital, and in Campion's mind, killing a copper.
I believe Allingham found a poetic place for herself writing the book–some of her passages are lovely, magical.
"Most English country towns are picturesque in the moon's eye, but this winding hill was like a part of an old fairy story in the cold yellowish light.. . . .It was probably the most hackneyed picture postcard in the world, but Campion saw it with the eyes of a child and its charm startled him.  The crazy roofs were like witches hoods  huddling together for whispered  consultations and the dark windows winked their panes at him from a bygone world."
As the book commences, we gather more information along with Campion about fifteen, and whatever catastrophe that entails. Campion believes whatever is to happen will occur on the 15th of the month–only one day away. The suspense is worthy of a Hitchcock thriller, and it's a shame a film was never made from this book–I can see it within my mind's eye, and it's darn good. It has all the trappings for Hitchcock too–the hunted man, wrongly accused, a terrible plot that needs unfolding and  destruction, a race against the clock to figure out where and when such disaster will occur. Practically every Hitchcock, from the 39 Steps to  North By Northwest has that very plot. Without the amnesia.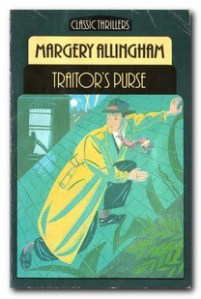 And the ending doesn't disappoint. My husband laughed at how my face looked as I was reading the final chapters–he claimed my mouth made a huge O with eyebrows raised and popped out eyes. That could be true, I was taken in quite nicely by the action scenes. But the best aspect of the novel for me was Campion's coming to terms with who he has been, how he has treated Amanda and Lugg, the coldness with which he presented himself, and the supercilious expressions, the almost juvenile way he conducted himself. That old Campion has blended with the new more mature, serious one, the one who is unafraid to admit his love for Amanda, and to take himself and his work to a different level, one of gravity and importance. It's a story of the shedding of gay Great Britain, and the donning of a country fighting for it's existence.